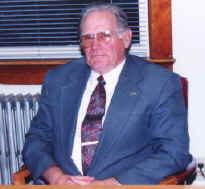 Patrick B. Boyle
Patrick B. Boyle was elected a commissioner in 1998 and served as president of the council until April of 2004, at which time he stepped down from the council.
Dispatch: Where did you grow up?
Boyle: I was born in Doc Cadle's office on West Main Street in 1933. Doc Cadle's wife, who often assisted him in the office, would remind me over the years that she was the "first one to smack my little butt." My parents were Bernard and Mary E. Boyle. I have two sisters, Anna Marie Koontz and Loretta Sprankle, and one brother, Leo, all of Emmitsburg. My older brother, Bernard H. Jr. is deceased. I attended St. Euphemia's school for eight years and graduated from St. Joseph's High School in 1951. One of my favorite memories of growing up in Emmitsburg is going to the movie theater (on West Main Street) with 25 cents in my pocket, enough to get into the movie and a nickel for popcorn. I also have lots of memories of the bowling alley. I used to go up every Sunday from noon until 8 o'clock. I was in a bowling league and carried a 182 average.
Dispatch: What did you do after graduating from high school?
Boyle: Because of the Korean War, I was drafted into the army after high school. When I finished basic training I was stationed in Detroit, Michigan, where I worked with the early warning radar system. I was discharged in October 1955. Then I came back to Emmitsburg and went into the family business. My father owned the B.H. Boyle and Sons, Inc. grocery store which was located on East Main Street in the building which is now the Main Street Deli. I managed the store, doing all the buying. At the same time I attended Mount Saint Mary's College, majoring in history and education. I was licensed to teach but never did. While in college I participated on the cross-country track team, indoor and outdoor track, and soccer. I graduated in 1960. When our family closed the store in 1983, I went into the insurance business selling life insurance until I retired.
Dispatch: Tell us about your family.
Boyle: I married Nancy LeGore in August 1958. She's my "silent partner" who keeps me straight. We have four children: Susan Seabaugh of Fairfield, Pa.; Angela Buszinski of Slippery Rock, Pa., Christopher, of Frederick, and Timothy, who lives in Emmitsburg. We have six grandchildren and I babysit for three of them (one of them born last September) in the afternoon three times a week. When the weather is good we play ball and go for walks and I even give bottles and change diapers. I don't mind that.
Dispatch: What are some of your hobbies?
Boyle: I enjoy going to auctions looking for things to collect. I am a member of St. Joseph's Church and the Vigilant Hose Company, and for 27 years I coached and managed Babe Ruth baseball teams. .
Dispatch: Why did you want to be a commissioner?
Boyle: Actually two friends, the late Dave Copenhaver and Tom Topper, talked me into running for the commissioner seat. They thought I was qualified to do it, and because I was retired would have the time to give to it. They said they would help me, but sadly, both died within months of each other. I've learned a lot since then.
Dispatch: Do you see any problems for Emmitsburg?
Boyle: Not really. We have a good working group of commissioners. We don't always agree, but after discussion we find a way to go. The town has to grow to increase our tax base. If we don't, we'll have to raise taxes that our people couldn't afford. But with the new motel and office park, our tax base will increase. Also, we can expect to see in the next 10 years at least 100 new homes built in Emmitsburg. For those people who worry about the old part of the town changing, that will never happen. The zoning ordinances won't let it.
Dispatch: What would you like to see come to Emmitsburg?
Boyle: Our town is good. We have great restaurants, but I would like to see the movie theater and bowling alley come back.
Dispatch: Why do you want to be re-elected?
Boyle: As the liaison to the Streets Commission I want to see programs that have been started, finished. The commission plans to extend the sidewalks on West Main Street out to Rutters Store and the sidewalks on North Seton Avenue out to the North Gate subdivision. They also plan to extend the sidewalk on the north side of East Main Street out to the bridge and to change the entrance at DePaul Street and North Seton Avenue for better sight. These programs just don't get finished in one or two years. We have to get money appropriated in the state budget and that takes several years. The town will put up $10,000 for the projects, but that is already in the budget.