First New Forest Society
Scholarship Fund Awarded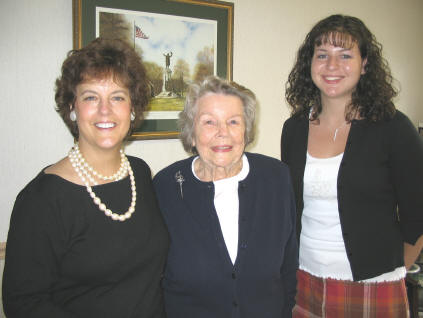 Community Foundation Trustee Karlys Kline joins Kay Hill of the New Forest Society to congratulate Maria Stevens on receiving the first New Forest Scholarship.
Frederick, Maryland; June 20, 2006: Maria Stevens of Woodsboro is the first recipient of a scholarship from The New Forest Society Scholarship Fund, one of over 550 funds held by The Community Foundation of Frederick County. Founded by The New Forest Society, Inc., this fund awards annual scholarships to Frederick County residents who preferably are pursuing careers in the environmental sciences. Preference is given, but not limited, to those studying the protection of the environment through the conservation of natural resources. The New Forest Society is dedicated to protecting natural resources in northern Frederick County, including the watershed area, and to promoting reforestation programs, conservation efforts, and environmental education, research and outreach services.

Ms. Stevens is a 2006 Walkersville High School graduate who plans to attend Butler Community College in Kansas to major in agricultural communications. He goal is to become a representative for an agricultural-based business. An active member of the FFA, Johnsville 4-H Club, the Frederick County Beef, Sheep and Swine Club, as well as the Maryland Shorthorn Association, she has raised beef cattle on her familyís farm and competed in local, state and national shows.

Students who wish to be considered for The New Forest Society Scholarship Fund as well as the other 100+ scholarships managed by the Community Foundation for the 2007-2008 academic year are asked to complete the Community Foundationís one Universal Scholarship Application, which will be available through the web site after December 15, 2006. To donate to the fund to make future scholarships possible, contribute online using Visa or MasterCard or send checks payable to The Community Foundation of Frederick County to 312 East Church Street, Frederick, Maryland, 21701. Insert the fundís name in the checkís memo line.

Since 1986, the Community Foundation has been weaving the fabric of a better Frederick County community by awarding grants and scholarships. In addition to making grants, it is among the leading local resources for scholarships, working with individuals, families, businesses, and organizations to establish charitable funds that provide deserving students with scholarships. To learn more about the Community Foundation, visit the web site or call 301.695.7660.