IUCC Calls Reginald Rice as Pastor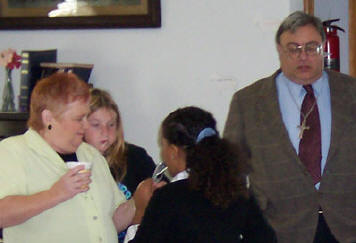 Pastor Rice, his wife Sue and daughter Annie and her friend
Incarnation United Church of Christ's congregation is delighted to announce the call on September 26, 2004 of Rev. Reginald Rice as our pastor. Pastor "Reggie" begins his ministry with us immediately. Rev. Rice was raised in the Hagerstown, MD area and is residing there with his wife, Sue, and daughter Annie.
He received his Bachelor of Music degree in 1977 from Shenandoah Conservatory of Music, and his Master of Music degree from the University of Maryland. He graduated form the Lancaster Theological Seminary in 1992; while studying for his Master of Divinity degree he served as interim pastor and pulpit supply at nearby churches.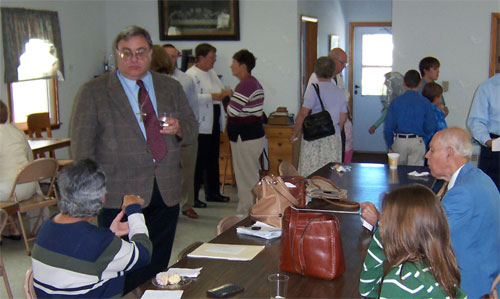 Pastor Rice visiting with members during coffee hour following morning worship service
Since 1999, Rev. Rice has served as Chaplain at Homewood Retirement Center in Williamsport, MD; he will continue with that position. He is certified as a Level 1 Bereavement Facilitator, a Sage-ing Circle Facilitator, and as an Eden Alternative Associate.
When Pastor Rice is not occupied at Homewood or Incarnation, he enjoys imaginal psychology, zoology, creative writing, clarinet performance, drama, latchhook and related crafts. Incarnation United Church of Christ heartily welcomes Pastor Rice and his family and looks forward to his installation as our pastor in the near future.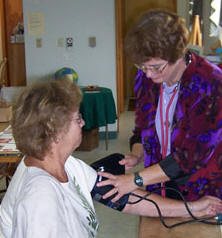 On Sunday, September 19, 2004, Emmitsburg's Parish Nursing Coordinator, visited Incarnation United Church of Christ, spoke during our worship service about the parish nursing ministry and recorded blood pressure screenings for members after the service.
Here she is taking Wanda Harner's blood pressure reading, which she will record on her charts for comparison in future visits.