Thanksgiving Sunday at IUCC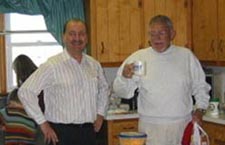 Incarnation United Church of Christ had many blessings to be thankful for on Thanksgiving Sunday, November 24, 2002.
Our Sunday began with the men preparing a made-to-order omelet breakfast for members and visitors. That's Mike Piatak and Herb Gingell in the photo smilingly taking orders.

During the worship service, Phyllis Kelly, chairman of the Emmitsburg CROP WALK, presented Brian Glass, Incarnation's CROP WALK recruiter, with the plaque for the most money raised for the walk. This year the walk raised $3800 and Incarnation led the pack with $1606. Congratulations to our walkers! 25% of this money stays with our local food bank.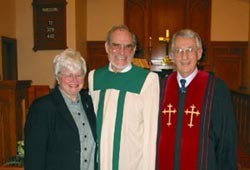 Our choir sang an emotional "Special Moments" anthem to celebrate two special moments for our church. One is the receiving back into our membership the Rev. Dr. William "Bill" Simpson and his wife, Peg. Bill is our very own home-grown son of the ministry, having been raised in the Incarnation Evangelical and Reformed Church when he was growing up on a nearby farm. He has retired from his ministry in Lynn, MA, and he and Peg hope to move back into the Emmitsburg community in the future. Bill lent his wonderful tenor voice to the choir's anthem that morning. That's Bill and Peg with Rev. Ted Haas in the photo.
Our second "special moment" was the dedication of the church's refurbished stained glass windows.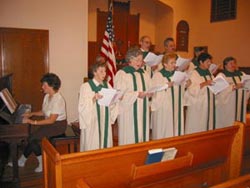 The windows were removed in the fall of 2001 and re-leaded and cracked portions replaced by the Ehrhart Stained Glass Company of York, PA. This is the same company that installed the windows when Incarnation was rebuilt after a fire destroyed the building in 1950. The refurbished windows were presented by:
The Chatlos family--Phyllis Kelly, Rudy Chatlos, Calvin Chatlos and Sheila Peters
Allen Crouse
The estate of Donald Crouse
Janet Springer
Anna Margaret Martin
Helen Wildegans
The children of Eric and Audrey Glass--Kimberly Skellan, Karen Glass-Haddon, Jeffrey Glass and Brian Glass
Members and friends of the congregation
We invite you to come worship with us; worship service and Sunday school begin at 10:00 a.m.
Incarnation will be presenting a Christmas cantata, "He is Born," on Christmas Eve at 7:00 p.m. with Holy Communion. We will be part of the Candlelight Christmas Tour on Sunday, December 29. Our program will be at 7:00 p.m.