Incarnation United Church of Christ
Celebrates Harvest Home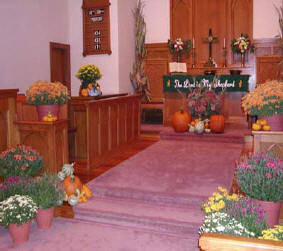 On Sunday, September 22, Incarnation United Church of Christ at West Main Street, Emmitsburg, Maryland observed Harvest Home during its regular worship service at 10:00 a.m.
The church was seasonally decorated with local flowers, corn stalks and vegetables by members of Incarnation. The congregation is asked to bring in canned foods, paper products and cleaning essentials to be donated to the Emmitsburg Food Bank.
The Emmitsburg Food Bank has just relocated to its temporary quarters in the Elias Lutheran Church until a permanent site is ready. Thank you, Elias Lutheran!
Pastor Ted Haas' sermon was entitled "Sowing and Reaping." The scripture was Matthew 13: 3-9-the parable of the sower. Pastor Ted has summarized his Harvest Home sermon with the following message: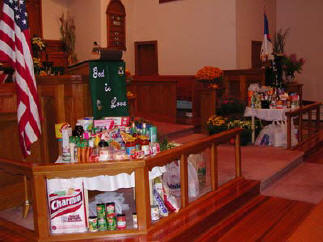 "Harvest Home in the church of my youth was a beautiful September service. The altar was decorated with a cornucopia of foods to remind us of God's bounteous provisions, and the chancel was filled with foods given by worshippers to share with the needy. The people of Incarnation Church this past Sunday repeated this special experience for me! The sanctuary was beautiful and the shared food bounteous. I reminded everyone what a vital partnership of nature and human effort farming is, and what a blessing every harvest is! We need to share our harvests with others; our sharing went to the Community Food Bank in Emmitsburg.
St. Paul reminds us that in giving, in human relationships, in getting an education, in working for a better world for all people and in our religious life "…that what a person sows he will reap. Who sows sparingly will reap sparingly, while those who sow bountifully will reap bountifully." Good harvests take time, but if we keep on working according to God's laws of life, in due time we shall reap joyously."