An American, a Russian, and an Egyptian, were circumnavigating the globe...
... a la Jules Verne. The Russian man put his hand out and reached down into the clouds.
"Aaah!" he said. "We're right over my homeland."
"How can you tell?" asked the American.
"I can feel the cold air." he replied.
A few days later the African man put his hand through the clouds.
"Aah we're right over my homeland." he said.
"How do you know that?" asked the Russian.
"I can feel the heat of the desert."
Several more days later the American put his hand through the clouds.
"Aah, we're right over New York." The Russian and the African were amazed.
"How do you know all of that?!" they exclaimed.
The American pulled his hand in and held it up for them to see. "My watch is missing."
Submitted by Kenneth, Shropshire, England

Return to: Top of Page, List of Un-Categorizable Jokes, My Little Sister's Jokes,
---
Interesting Ads and Signs
Used Cars: Why go elsewhere to be cheated? Come here first!
For sale: A quilted high chair that can be made into a table, potty chair, rocking horse, refrigerator, spring coat, size 8 and fur collar.
Tired of cleaning yourself? Let me do it.
20 dozen bottles of excellent Old Tawny Port, sold to pay for charges, the owner having lost sight of, and bottled by us last year.
Toaster: A gift that every member of the family appreciates. Automatically burns toast.
Christmans tag-sale. Handmade gifts for the hard-to-find person.
Modular Sofas. Only $299 For rest or fore play.
Auto Repair Service. Free pickup and delivery. Try us once, you'll never go anywhere again.
Holcross pullets. Starting to lay Betty Clayton, Granite 5-6204.
Mixing bowl set designed to please a cook with round bottom for efficient beating.
Semi-Annual after-Christmas Sale
And now, the Superstore - unequaled in size, unmatched in variety, unrivaled inconvenience.
We will oil your sewing machine and adjust tension in your home for $1.
Ladies and gentlemen, now you can have a bikini for a ridiculous figure.
When you are thirsty, try 7-Up, the refreshing drink in the green bottle with the big 7 on it and Up after.
Now is your chance to have your ears pierced and get an extra pair to take home, too.
We do not tear your clothing with machinery. We do it carefully by hand.
No matter what your topcoat is made of, this miracle spray will make it really repellent.
Have several very old dresses from grandmother in beautiful condition.
Save regularly in our bank. You'll never reget it.
This is the model home for your future. It was panned by Better Homes and Gardens.
For Rent: 6-room hated apartment.
For Sale: Diamonds $20; microscopes $15.
Offer expires December 31 or while supplies last
Stock up and save. Limit: one
We build bodies that last a lifetime
See ladies blouses. 50% Off!
Our bikinis are exciting. They are simply the tops!
Submitted by Bill, Ardmore, Pa.

Return to: Top of Page, List of Humorous Sayings, My Little Sister's Jokes,
---
Top Ten Reasons Why God Created Eve:
God was worried that Adam would frequently become lost in the garden because he would not ask for directions.
God knew that one day Adam would require someone to locate and hand him the remote.
God knew Adam would never go out and buy himself a new fig leaf when his wore out and would therefore need Eve to buy one for him.
God knew Adam would never be able to make a doctor's dentist's or haircut appointment by himself.
God knew Adam would never remember which night to put the garbage on the curb.
God knew if the world was to be populated, men would never be able to handle the pain and discomfort of childbearing.
As the Keeper of the Garden, Adam would never remember where he left his tools.
Apparently, Adam needed someone to blame his troubles on when God caught him hiding in the garden.
As the Bible says, "It is not good for man to be alone."
And, finally, the Number 1 reason why God created Eve....
When God finished the creation of Adam, He stepped back, scratched his head, and said, "I can do better than that!"
Submitted by Vicki, Downingtown, PA.

Return to: Top of Page, List of Jokes About Men, My Little Sister's Jokes,
---
Signs you've drunk too much ...
You lose arguments with inanimate objects.
You have to hold onto the lawn to keep from falling off the earth.
Your doctor finds traces of blood in your alcohol stream.
The back of your head keeps getting hit by the toilet seat.
Sincerely believe alcohol to be the elusive 5th food group.
You can focus better with one eye closed.
The parking lot seems to have moved while you were in the bar.
You fall off the floor...
Your twin sons are named Barley and Hops.
Hey, 5 beers has just as many calories as a burger...who needs dinner?
Mosquitoes catch a buzz after attacking you.
Your idea of cutting back is less salt.
The whole bar says 'Hi' when you come in...
Don't recognize wife unless seen through bottom of glass.
That darned pink elephant followed me home again.
I'm as jober as a sudge.
Submitted by Dick, Williamsport, Md.

Return to: Top of Page, List of Drinking Jokes, My Little Sister's Jokes,
---
Universal Laws
Law of Mechanical Repair - After your hands become coated with grease, your nose will begin to itch and you'll have to go to the bathroom.
Law of Gravity - Any tool, nut, bolt, screw, when dropped, will roll to the least accessible corner.
Law of Probability -The probability of being watched is directly proportional to the stupidity of your act
Law of Random Numbers - If you dial a wrong number, you never get a busy signal and someone always answers.
Law of the Alibi - If you tell the boss you were late for work because you had a flat tire, the very next morning you will have a flat tire.
Variation Law - If you change lines (or traffic lanes), the one you were in will always move faster than the one you are in now (works every time).
Law of the Bath - When the body is fully immersed in water, the telephone rings.
Law of Close Encounters -The probability of meeting someone you know increases dramatically when you are with someone you don't want to be seen with.
Law of the Result - When you try to prove to someone that a machine won't work, it will.
Law of Bio-mechanics - The severity of the itch is inversely proportional to the reach.
Law of the Theater and Hockey Arena - At any event, the people whose seats are furthest from the aisle, always arrive last. They are the ones who will leave their seats several times to go for food, beer, or the toilet and who leave early before the end of the performance or the game is over. The folks in the aisle seats come early, never move once, have long gangly legs or big bellies, and stay to the bitter end of the performance. The aisle people also are very surly folk.
The Coffee Law - As soon as you sit down to a cup of hot coffee, your boss will ask you to do something which will last until the coffee is cold.
Murphy's Law of Lockers - If there are only two people in a locker room, they will have adjacent lockers.
Law of Physical Surfaces - The chances of an open-faced jelly sandwich landing face down on a floor, are directly correlated to the newness and cost of the carpet or rug.
Law of Logical Argument - Anything is possible if you don't know what you are talking about.
Brown's Law of Physical Appearance - If the clothes fit, they're ugly.
Oliver's Law of Public Speaking - A closed mouth gathers no feet.
Wilson's Law of Commercial Marketing Strategy - As soon as you find a product that you really like, they will stop making it.
Doctors' Law - If you don't feel well, make an appointment to go to the doctor, by the time you get there you'll feel better. But don't make an appointment, and you'll stay sick.
Submitted by Bruce, Cold Harbor, Ill

Return to: Top of Page, Clean Joke List, My Little Sister's Jokes,
---
Master tradesmen at work - Download Video

Submitted by Bill, Ardmore, Pa.

Return to: Top of Page, List of Audio/Videos, My Little Sister's Jokes,
---
Do you think it's time for her to retire?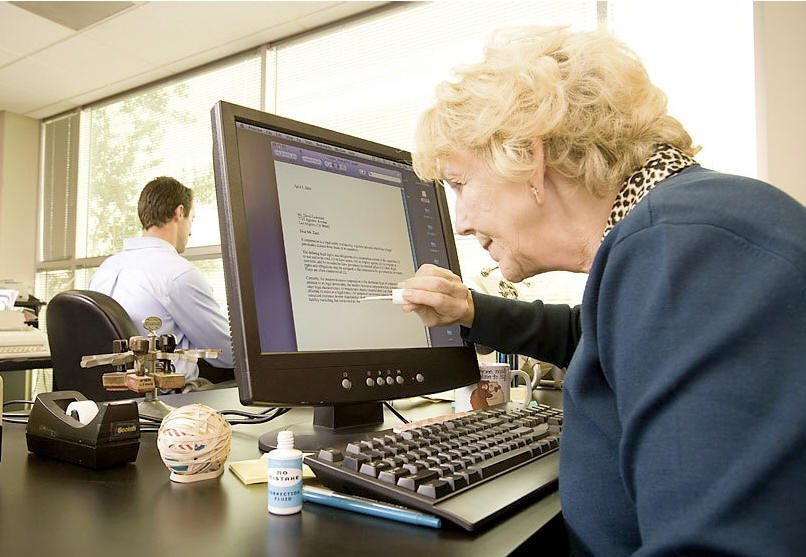 Return to: Top of Page, List of Photos, My Little Sister's Jokes,
---