Moses and Jesus are part of a Threesome playing golf one day.
Moses pulls up to the tee and drives a long one. The ball lands on the fairway, but rolls directly toward a water trap. Quickly, Moses raises his club, the water parts, and the ball rolls to the other side, safe and sound.
Next, Jesus strolls up to the tee and hits a nice long one directly toward the same water trap. It lands right in the center of the pond and kind of hovers over the water. Jesus casually walks out on the water and chips the ball right up onto the green.
Then, the third guy gets up and sort of randomly whacks the ball. It heads out over the fence and into oncoming traffic on a nearby street. It bounces off a truck and hits a nearby tree. From there, it bounces onto the roof of a shack close by and rolls down into the gutter, down the drain spout, out onto the fairway and straight toward the fore mentioned pond.
On the way to the pond, the ball hits a little stone and bounces out over the water and onto a lily pad, where it comes quietly to rest. Suddenly, a very large bullfrog jumps on the lily pad and snatches the ball into his mouth. Just then, an eagle swoops down, grabs the frog and flies away. As they pass over the green, the frog squeals with fright and drops the ball, which bounces right into the hole for a beautiful hole in one.
Moses leans over toward Jesus and whispers, "Do you think your Dad would teach me that shot?"
Submitted by Bill, Ardmore, Pa.

Return to: Top of Page, Clean Joke List, My Little Sister's Jokes,
---
A cashier told a older woman that plastic bags werenít good for the environment.
The woman apologized to her and explained, "We didnít have the green thing back in my day."
That's right, they didn't have the green thing in her day.
Back then, they returned their milk bottles, Coke bottles and beer bottles to the shop. The shop sent them back to the factory to be washed and sterilized and refilled, using the same bottles over and over. So they really were recycled. But they didn't have the green thing back in her day.
In her day, they walked up stairs, because they didn't have an escalator in every store and office building. They walked to the grocery store and didn't climb into a 200-horsepower machine every time they had to go half a mile. But she's right. They didn't have the green thing in her day.
Back then, they washed the baby's nappies because they didn't have the throw-away kind. They dried clothes on a line, not in an energy gobbling machine burning up 3000 watts. Wind and solar power really did dry the clothes. Kids got hand-me-down clothes from their brothers or sisters, not always brand-new clothing. But that old lady is right, they didn't have the green thing back in her day.
Back then, they had one TV, or radio, in the house, not a TV in every room. And the TV had a small screen the size of a baking dish, not one the size of a bath tub. In the kitchen, they blended and stirred by hand because they didn't have electric machines to do everything for them. When they packaged a fragile item to send in the post, they used crumpled up newspaper to cushion it, not Styrofoam or plastic bubble wrap.
They drank from a fountain when they were thirsty, instead of using a cup or a plastic bottle every time they had a drink of water. They refilled pens with ink, instead of buying a new pen, and they replaced the razor blades in a razor instead of throwing away the whole razor just because the blade got dull. But they didn't have the green thing back then.
Back then, people used public transport and kids rode their bikes to school or rode the school bus, instead of turning their mums into a 24-hour taxi service. They had one power point in a room, not an entire bank of sockets to power a dozen appliances. And they didn't need a computerized gadget to receive a signal beamed from satellites 2,000 miles out in space in order to find the nearest pizza joint.
Back then, they didn't fire up an engine and burn gasoline just to cut the lawn. They used a push mower that ran on human power. They exercised by working so they didn't need to go to a health club to run on treadmills that operate on electricity. But she's right, they didn't have the green thing back then.
But that old lady is right. They didn't have the green thing back in her day!

Return to: Top of Page, List of Inspirational Stories, My Little Sister's Jokes,
---
Funny Signs
At a Santa Fe gas station: "We will sell gasoline to anyone in a glass container."
In a New York restaurant: "Customers who consider our waitresses uncivil ought to see the manager."
On the wall of a Baltimore estate: "Trespassers will be prosecuted to the full extent of the law. --Sisters of Mercy"
On a long-established New Mexico dry cleaners: "38 years on the same spot."
In a Los Angeles dance hall: "Good clean dancing every night but Sunday."
In a Florida maternity ward: "No children allowed."
In a New York drugstore: "We dispense with accuracy."
In the offices of a loan company: "Ask about our plans for owning your home."
In a New York medical building: "Mental Health Prevention Center"
On a New York convalescent home: "For the sick and tired of the Episcopal Church."
On a Maine shop: "Our motto is to give our customers the lowest possible prices, and workmanship."
At a number of military bases: "Restricted to unauthorized personnel."
On a display of "I love you only" Valentine cards: "Now available in multi-packs."
In the window of a Kentucky appliance store: "Don't kill your wife. Let our washing machine do the dirty work."
In a funeral parlor: "Ask about our layaway plan."
In a clothing store: "Wonderful bargains for men with 16 and 17 necks."
In a Tacoma, Washington men's clothing store: "15 men's wool suits, $10. They won't last an hour!"
On a shopping mall marquee: "Archery Tournament -- Ears pierced"
Outside a country shop: "We buy junk and sell antiques."
In the window of an Oregon store: "Why go elsewhere and be cheated when you can come here?"
In a Maine restaurant: "Open 7 days a week and weekends."
In the vestry of a New England church: "Will the last person to leave please see that the perpetual light is extinguished."
In a Pennsylvania cemetery: "Persons are prohibited from picking flowers from any but their own graves."
On a roller coaster: "Watch your head."
On the grounds of a public school: "No trespassing without permission."
On a Tennessee highway: "When this sign is under water, this road is impassable."
Similarly, in front of a New Hampshire car wash: "If you can't read this, it's time to wash your car."
And apparently, somewhere in England in an open field otherwise untouched by human presence, there is a sign that says, "Do not throw stones at this sign."
Submitted by Al, Seattle, Wa.

Return to: Top of Page, List of Humorous Sayings, My Little Sister's Jokes,
---
Top 5 reasons why computers must be male
They're heavily dependent on external tools and equipment.
They periodically cut you off right when you think you've established a network connection.
They'll usually do what you ask them to do, but they won't do more than they have to and they won't think of it on their own.
They're typically obsolete within five years and need to be traded in for a new model. Some users, however, feel they've already invested so much in the damn machine that they're compelled to remain with an underpowered system.
They get hot when you turn them on, and that's the only time you have their attention.
Top 5 reasons why computers must be female
No one but their creator understands their logic.
Even the smallest mistakes are immediately committed to memory for future reference.
The native language used to communicate with other computers is incomprehensible to everyone else.
The message, "Bad command or file name," is about as informative as "If you don't know why I'm mad at you, then I'm certainly not going to tell you."
As soon as you make a commitment to one, you find yourself spending half your pay check on accessories for it.
Submitted by Kenneth, Shropshire, England

Return to: Top of Page, Computer Joke List, My Little Sister's Jokes,
---
The kamikaze spirit lives on! Download Video

How did Forrest Grump Say it..? "Stupid is as stupid does"......!

Submitted by Dewey, Pensacola, Fl.

Return to: Top of Page, List of Audio/Videos, My Little Sister's Jokes,
---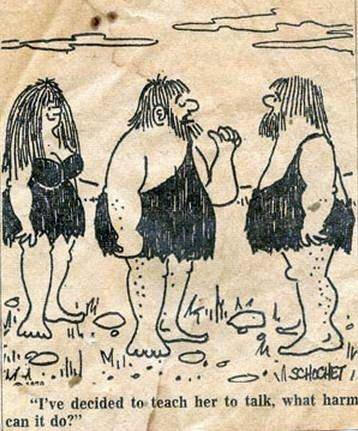 Submitted by Bill, Ardmore, Pa.

Return to: Top of Page, List of Photos, My Little Sister's Jokes,
---