A very large, old, building was being torn down in Chicago to make room for a new skyscraper.
Due to its proximity to other buildings it could not be imploded and had to be dismantled floor by floor. While working on the 49th floor, two construction workers found a skeleton in a small closet behind the elevator shaft. They decided that they should call the police.
When the police arrived they directed them to the closet and showed them the skeleton fully clothed and standing upright. They said, "This could be Jimmy Hoffa or somebody really important."
Two days went by and the construction workers couldn't stand it any more; they had to know who they had found. They called the police and said, "We are the two guys who found the skeleton in the closet and we want to know if it was Jimmy Hoffa or somebody important."
The police said, "It's not Jimmy Hoffa, but it was somebody kind of important."
"Well, who was it?"
"The 1956 Blonde National Hide-and-Seek Champion."
Submitted by Bill, Ardmore, Pa.
Return to: Top of Page, Blonde Joke List, My Little Sister's Jokes,
---
A filthy rich North Carolina man decided that he wanted to throw a party ...
... and invited all of his buddies and neighbors. He also invited Leroy, the only redneck in the neighborhood.
He held the party around the pool in the backyard of his mansion. Leroy was having a good time drinking, dancing, eating shrimp, oysters and BBQ and flirting with all the women.
At the height of the party, the host said, "I have a 10ft man-eating gator in my pool and I'll give a million dollars to anyone who has the nerve to jump in."
The words were barely out of his mouth when there was a loud splash and everyone turned around and saw Leroy in the pool!
Leroy was fighting the gator and kicking its @$$! Leroy was jabbing the gator in the eyes with his thumbs, throwing punches, head butts and choke holds, biting the gator on the tail and flipping the gator through the air like some kind of Judo Instructor.
The water was churning and splashing everywhere. Both Leroy and the gator were screaming and raising h***. Finally Leroy strangled the gator and let it float to the top like a dime store goldfish. Leroy then slowly climbed out of the pool.
Everybody was just staring at him in disbelief.
Finally the host says, "Well, Leroy, I reckon I owe you a million dollars."
"No, that's okay. I don't want it," said Leroy.
The rich man said, "Man, I have to give you something. You won the bet. How about half a million bucks then?"
"No thanks. I don't want it," answered Leroy.
The host said, "Come on, I insist on giving you something. That was amazing. How about a new Porsche and a Rolex and some stock options?"
Again Leroy said no.
Confused, the rich man asked, "Well, Leroy, then what do you want?"
Leroy said, "I want the name of the idiot who pushed me in the pool"!
Submitted by Debbie, Middletown, Md.

Return to: Top of Page, Clean Joke List, My Little Sister's Jokes,
---
A Furniture Dealer A furniture dealer from Auburn ...
... decided that he wanted to expand the line of furniture in his store, so he decided to go to Paris, France to see what he could find.
After arriving in Paris (this being his first trip ever to the French capitol), he met with some manufacturers and finally selected a line that he thought would sell well back home in Auburn.
To celebrate the new acquisition, he decided to visit a small bistro and have a glass of wine. As he sat enjoying his wine, he noticed that the small place was quite crowded, and that the one other chair at his table was the only vacant seat in the house
Before long, a very beautiful young Parisian girl came to his table, asked him something in French (which he did not understand), and motioned toward the chair. He invited her to sit down.
He tried to speak to her in English, but she didn't speak his language so, after a couple of minutes of trying to communicate with her, he took a napkin and drew a picture of a wine glass and showed it her. She nodded, and he ordered a glass of wine for her. After sitting together at the table for a while, he took another napkin, and drew a picture of a plate with food on it, and she nodded. So, they left the bistro and found a quiet cafe that featured a small group playing romantic music.
They ordered dinner, and after he took another napkin and drew a picture of a couple dancing. She nodded, and they got up to dance. They danced until the cafe closed and the band was packing up.
Back at their table, the young lady took a napkin and drew a picture of a four-poster bed. To this day, he has no idea how she figured out he was in the furniture business....
Some drink at the fountain of knowledge. Others just gargle.
Submitted by Andy, Gettysburg, PA.
Return to: Top of Page, Groaner Joke List, My Little Sister's Jokes,
---
Innovative excuses for getting out of work ...
If it's all the same to you, I won't be coming in to work. The voices told me to clean all the guns today.
On Saturday, I set half the clocks in my house ahead an hour and the other half back an hour, I can never remember which it is-accordingly, I will be in late or early.
I can't come in to work today because I'll be stalking my previous boss, who fired me for not showing up for work. Okay?
I'm stuck in the blood pressure machine at Walgreen's.
Yes, I seem to have contracted some attention-deficit disorder and, hey, how about them Falcons, huh? So I won't be able to, yes, could I help you? No, no, I'll be sticking with Sprint, but thank you for calling.
I just found out that I was switched at birth. Legally, I shouldn't come to work, knowing my employee records may now contain false information.
The psychiatrist said it was an excellent session. He even gave me this jaw restraint so I won't bite things when I am startled.
I am converting my calendar from Julian to Gregorian.
Return to: Top of Page, List of Jokes about Work, My Little Sister's Jokes,
---
A woman was sipping on a glass of wine while sitting on the patio with her husband.
She says, "I love you so much. I don't know how I could ever live without you."
Her husband asks, "Is that you or the wine talking?"
She replies, "It's me...... talking to the wine."
Submitted by My little Sister Anna, Narberth, Pa.

Return to: Top of Page, List of Jokes About Men, My Little Sister's Jokes,
---
What Would Dear Abby Say?
Dear Abby, I joined the Navy to see the world. I've seen it. Now how do I get out?
Dear Abby, My forty-year-old son has been paying a psychiatrist $50 an hour every week for two-and-a-half years. He must be crazy.
Dear Abby, I was married to Bill for three months and I didn't know he drank until one night he came home sober.
Dear Abby, Do you think it would be all right if I gave my doctor a little gift? I tried for years to get pregnant and couldn't and he did it.
Dear Abby, My mother is mean and short-tempered. I think she is going through her mental pause.
Dear Abby, You told some woman whose husband had lost all interest in sex to send him to a doctor. Well, my husband lost all interest in sex years ago and he is a doctor.
Dear Abby, A couple of women moved in across the hall from me. One is a middle-aged gym teacher and the other is a social worker in her mid twenties. These two women go everywhere together and I've never seen a man go into their apartment or come out. Do you think they could be Lebanese?
Dear Abby, What can I do about all the sex, nudity, language and violence on my VCR?
Dear Abby, I suspected that my husband had been fooling around, and when I confronted him with the evidence he denied everything and said it would never happen again.
Dear Abby, Our son writes that he is taking Judo. Why would a boy who was raised in a good Christian home turn against his own?
Submitted by Kenneth, Shropshire, England

Return to: Top of Page, List of Un-Categorizable Jokes, My Little Sister's Jokes,
---
Why men are not allowed in the kitchen - Download Video

Submitted by Dave, Bolder, Co.

Return to: Top of Page, List of Audio/Videos, My Little Sister's Jokes,
---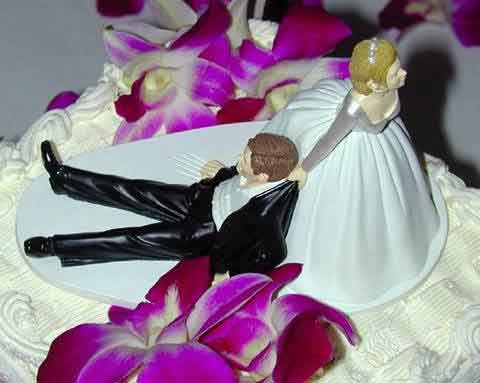 Return to: Top of Page, List of Photos, My Little Sister's Jokes,
---