The Pharmacist's Monday Morning
Upon arriving home, a husband was met at the door by his sobbing wife. Tearfully she explained: "It's the druggist. He insulted me terribly this morning on the phone. I had to call multiple times before he would even answer the phone."
Immediately, the husband drove downtown to confront the druggist and demand an apology. Before he could say more than a word or two, the druggist told him, "Now, just a minute, listen to my side of it."
"This morning the alarm failed to go off, so I was late getting up. I went without breakfast and hurried out to the car, just to realize I'd locked the house with both house and car keys inside and had to break a window to get my keys. Then, driving a little too fast, I got a speeding ticket. Later, when I was about three blocks from the store, I had a flat tire. When I finally got to the store a bunch of people were waiting for me to open up. I got the store opened and started waiting on these people, all the time the darn phone was ringing off the hook."
He continued, "Then I had to break a roll of nickels against the cash register drawer to make change, and they spilled all over the floor. I had to get down on my hands and knees to pick up the nickels and the phone was still ringing. When I came up I cracked my head on the open cash drawer, which made me stagger back against a showcase with a bunch of perfume bottles on it. Half of them hit the floor and broke."
"Meanwhile, the phone is still ringing with no let up, and I finally got back to answer it. It was your wife. She wanted to know how to use a Rectal thermometer. And believe me, mister, as God is my witness, all I did was tell her."
Submitted by Bill, Ardmore, Pa.

Return to: Top of Page, List of Un-Categorizable Jokes, My Little Sister's Jokes,
---
Words of Wisdom
Do not argue with an idiot. He will drag you down to his level and beat you with experience.
The last thing I want to do is hurt you. But it's still on my list.
Light travels faster than sound. This is why some people appear bright until you hear them speak.
If I agreed with you, we'd both be wrong.
We never really grow up, we only learn how to act in public.
War does not determine who is right - only who is left.
Knowledge is knowing a tomato is a fruit. Wisdom is not putting it in a fruit salad.
Evening news is where they begin with 'Good Evening,' and then proceed to tell you why it isn't.
To steal ideas from one person is plagiarism. To steal from many is research..
A bus station is where a bus stops. A train station is where a train stops. On my desk, I have a work station.
I thought I wanted a career. Turns out I just wanted paychecks.
Whenever I fill out an application, in the part that says, 'In case of emergency, notify:' I put 'DOCTOR.'
I didn't say it was your fault, I said I was blaming you.
Women will never be equal to men until they can walk down the street with a bald head and a beer gut, and still think they are sexy.
Behind every successful man is his woman. Behind the fall of a successful man is usually another woman.
A clear conscience is the sign of a fuzzy memory.
I asked God for a bike, but I know God doesn't work that way. So I stole a bike and asked for forgiveness.
You do not need a parachute to skydive. You only need a parachute to skydive twice.
Money can't buy happiness, but it sure makes misery easier to live with.
There's a fine line between cuddling and holding someone down so they can't get away.
I used to be indecisive. Now I'm not so sure.
You're never too old to learn something stupid.
To be sure of hitting the target, shoot first and call whatever you hit the target.
Nostalgia isn't what it used to be.
Change is inevitable, except from a vending machine.
Going to church doesn't make you a Christian any more than standing in a garage makes you a car.
A diplomat is someone who tells you to go to hell in such a way that you look forward to the trip.
Hospitality is making your guests feel at home even when you wish they were.
I always take life with a grain of salt. Plus a slice of lemon, and a shot of tequila.
When tempted to fight fire with fire, remember that the Fire Department usually uses water.
The early bird may get the worm, but the second mouse gets the cheese.
Submitted by Dave, Bolder, Co.
Return to: Top of Page, List of Humorous Sayings, My Little Sister's Jokes,
---
Excerpts from a Dog's Daily Diary...
8:00 am - Dog food! My favourite thing!
9:30 am - A car ride! My favourite thing!
9:40 am - A walk in the park! My favourite thing!
10:30 am - Got stroked and petted! My favourite thing!
12:00 PM - Lunch! My favourite thing!
1:00 PM - Played in the garden! My favourite thing!
3:00 PM - Wagged my tail! My favourite thing!
5:00 PM - Bones! My favourite thing!
7:00 PM - Playing with a ball! My favourite thing!
8:00 PM - Watched TV with the people! My favourite thing!
11:00 PM - Sleeping on the bed! My favourite thing!
Excerpts from a Cat's Daily Diary...
Day 983 of my captivity...
My captors continue to taunt me with bizarre little dangling objects. They dine lavishly on fresh meat, while the other inmates and I are fed hash or some sort of dry nuggets.
Although I make my contempt for the rations perfectly clear, I nevertheless must eat something in order to keep up my strength.
The only thing that keeps me going is my dream of escape. In an attempt to disgust them, I once again vomit on the carpet.
Today I decapitated a mouse and dropped its headless body at their feet. I had hoped this would strike fear into their hearts, since it clearly demonstrates what I am capable of. However, they merely made condescending comments about what a 'good little hunter' I am.
There was some sort of assembly of their accomplices tonight. I was placed in solitary confinement for the duration of the event. However, I could hear the noises and smell the food. I overheard that my confinement was due to the power of 'allergies.' I must learn what this means and how to use it to my advantage.
Today I was almost successful in an attempt to assassinate one of my tormentors by weaving around his feet as he was walking. I must try this again tomorrow -- but at the top of the stairs.
I am convinced that the other prisoners here are flunkies and snitches. The dog receives special privileges. He is regularly released - and seems to be more than willing to return. He is obviously retarded.
The bird has got to be an informant. I observe him communicating with the guards regularly. I am certain that he reports my every move. My captors have arranged protective custody for him in an elevated cell, so he is safe. For now................
Submitted by Cathy, Storington, England

Return to: Top of Page, List of Jokes about Animals, My Little Sister's Jokes,
---
At the rear of his farm, an old farmer had a large pond ...
... which had been developed for swimming some years back.
The area around it was fixed up nice with some picnic tables by it, as well as a couple of horseshoe courts.
The old farmer hadn't been to the pond for quite awhile, so late one afternoon he decided to go back and look it over. As he neared the pond, he heard shouting and laughing. As he got closer, he saw it was a bunch of young women skinny dipping in his pond. He made the women aware of his presence and they all went to the deep end of the pond.
One of the women shouted to him, "We're not coming out until you leave!"
The old man replied, "I didn't come down here to watch you ladies swim or make you get out of the pond naked. I only came to feed the alligator."
Moral: Old age and treachery will triumph over youth and inexperience.
Submitted by Sister Wink, Yonkers, NY

Return to: Top of Page, List of Jokes About Aging, My Little Sister's Jokes ,
---
Who ticked of Marv - Download Video

Submitted by Dewey, Pensacola, Fl.

Return to: Top of Page, List of Audio/Videos, My Little Sister's Jokes,
---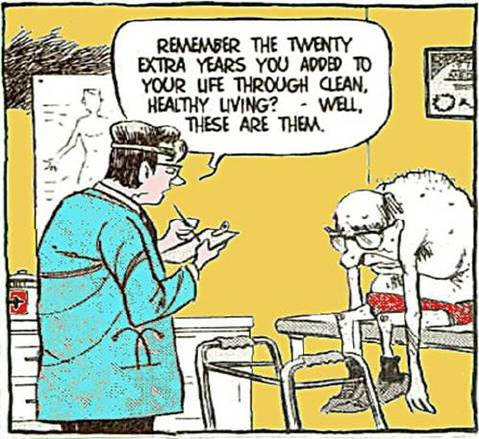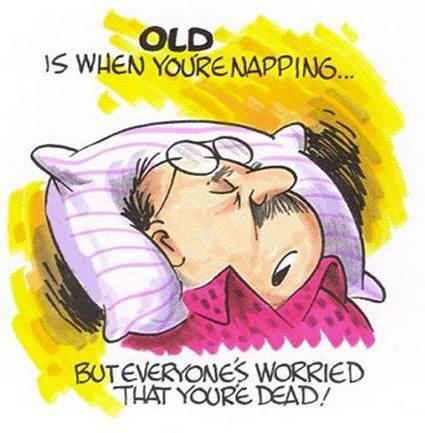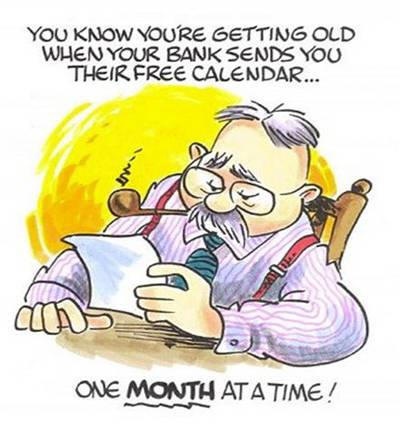 Submitted by former Emmitsburg Mayor Ed!

Return to: Top of Page, List of Photos, My Little Sister's Jokes,
---