It seems a farm boy accidentally overturned his wagon load of corn.
The farmer who lived nearby heard the noise. "Hey Willis!!" the farmer yelled, "Forget your troubles. Come in with us. Then I'll help you get the wagon up."
"That's mighty nice of you, " Willis answered, "but I don't think Pa would like me to."
"Aw, come on," the farmer insisted.
"Well okay," the boy finally agreed, and added, "but Pa won't like it."
After a hearty dinner, Willis thanked his host and said, "I feel a lot better now, but I know Pa is going to be real upset."
"Don't be foolish," the neighbor said with a smile, "by the way, where is he?"
"Under the wagon."
Submitted by Brian, Emmitsburg, Md.

Return to: Top of Page, Clean Joke List, My Little Sister's Jokes,
---
A United States Marine was attending some college courses between assignments.
He had completed missions in Iraq and Afghanistan . One of the courses had a professor who was an avowed atheist, and a member of the ACLU. One day the professor shocked the class when he came in. He looked to the ceiling and flatly stated, God if you are real then I want you to knock me off this platform. I'll give you exactly 15 min.' The lecture room fell silent. You could hear a pin drop..
Ten minutes went by and the professor proclaimed, 'Here I am God, I'm still waiting.'
It got down to the last couple of minutes when the Marine got out of his chair, went up to the professor, and cold-cocked him; knocking him off the platform. The professor was out cold. The Marine went back to his seat and sat there, silently. The other students were shocked and stunned, and sat there looking on in silence..
The professor eventually came to, noticeably shaken, looked at the Marine and asked, 'What in the world is the matter with you? 'Why did you do that?'
The Marine calmly replied, 'God was too busy today protecting America's soldiers who are protecting your right to say stupid stuff and act like an idiot. So He sent me.'
The classroom erupted in cheers!
Submitted by Dick, Williamsport, Md.
Return to: Top of Page, List of Un-Categorizable Jokes, My Little Sister's Jokes,
---
This year we will experience 4 unusual dates, 2 are already done!....
1/1/11, 1/11/11, 11/1/11, 11/11/11 ...
Now go figure this out.... take the last 2 digits of the year you were born plus the age you will be this year and it will be equal to 111... If it doesn't, then you're lying about your age.
Submitted by way to many people to list!
Return to: Top of Page, List of Interesting Facts, My Little Sister's Jokes,
---
Since more and more Seniors are texting and tweeting...
..., there appears to be a need for a STC (Senior Texting Code).
ATD: At The Doctor's
BFF: Best Friend Fainted
BTW: Bring The Wheelchair
BYOT: Bring Your Own Teeth
CBM: Covered By Medicare
CUATSC: See You At The Senior Center
DWI: Driving While Incontinent
FWB: Friend With Beta Blockers
FWIW: Forgot Where I Was
FYI: Found Your Insulin
GGPBL: Gotta Go, Pacemaker Battery Low!
GHA: Got Heartburn Again
HGBM: Had Good Bowel Movement
IMHO: Is My Hearing-Aid On?
LMDO: Laughing, My Dentures Out
LOL: Living On Lipitor
LWO: Lawrence Welk's On
OMMR: On My Massage Recliner
OMSG: Oh My! Sorry, Gas.
ROTFL... CGU: Rolling On The Floor Laughing..... Can't Get Up
SGGP: Sorry, Gotta Go Poop
TTYL: Talk To You Louder
WAITT: Who Am I Talking To?
WTFA: Wet The Furniture Again
WTP: Where's The Prunes?
WWNO: Walker Wheels Need Oil
Submitted by Former Emmitsburg Mayor Ed!

Return to: Top of Page, List of Jokes About Aging, My Little Sister's Jokes ,
---
Last month a world-wide survey was conducted by the UN.
The only question asked was: "Could you please give your honest opinion about solutions to the food shortage in the rest of the world?" The survey was a massive failure because of the following:
In Eastern Europe they didn't know what "honest" meant.
In Western Europe they didn't know what "shortage" meant.
In Africa they didn't know what "food" meant.
In China they didn't know what "opinion" meant.
In the Middle East they didn't know what "solution" meant.
In South America they didn't know what "please" meant.
In the USA they didn't know what "the rest of the world" meant.
In the UK they hung up as soon as they heard the Indian accent.
Submitted by Cathy, Storington, England

Return to: Top of Page, List of Political Jokes, My Little Sister's Jokes,
---
Summer's almost here ...we can now see the deer moving around. Yep, won't be long.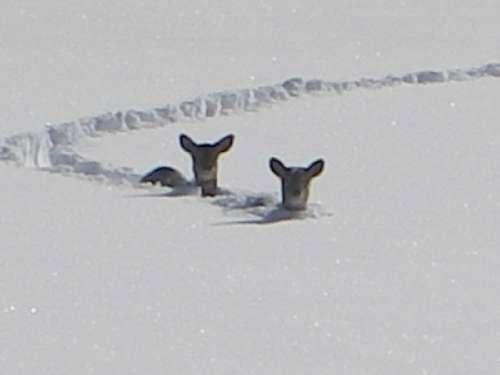 Return to: Top of Page, List of Photos, My Little Sister's Jokes,
---