Notes from an inexperienced chili taster...
... named FRANK, who was visiting Texas from New Jersey & fell into it:
"Recently I was lucky enough to be the 10,000th attendee at the State Fair in Texas, & was asked to fill in to be a judge at a chili cook-off. Apparently the original judge #3 called in sick at the last moment, & I happened to be standing there when the call came in. I was assured by the other two judges (Native Texans) that it would be a fun event & a true taste of Texas hospitality. They assured me that the chili wouldn't be all that spicy, & besides they told me I could have free beer during the tasting, so I accepted.
Here are the scorecards from the event:
Chili # 1: Mike's Maniac Mobster Monster Chili
JUDGE ONE: A little too heavy on tomato. Amusing kick.
JUDGE TWO: Nice, smooth tomato flavor. Very mild..
FRANK: Holy Crap, what the hell is this stuff? You could remove dried paint from your driveway with it. Took me two beers to put the flames out. Hope that's the worst one. These Texans are crazy.

Chili # 2: Arthur's Afterburner Chili
JUDGE ONE: Smoky, with a hint of pork. Slight Jalapeno tang.
JUDGE TWO: Exciting BBQ flavor, needs more peppers to be taken seriously.
FRANK: Keep this out of reach of children! I'm not sure what I am supposed to taste besides pain. I had to wave off 3 people who wanted to give me the Heimlich maneuver. They had to walkie-talkie in 3 extra beers when they saw the look on my face.

Chili # 3: Fred's Famous Burn Down the Barn Chili
JUDGE ONE: Excellent firehouse chili! Great kick. Needs more beans.
JUDGE TWO: A beanless chili, a bit salty, good use of red peppers.
FRANK: Call the EPA, I've located a uranium spill. My nose feels like I have been snorting Drano. Everyone knows the routine by now. Barmaid pounded me on the back; now my backbone is in the front part of my chest.

Chili # 4: Bubba's Black Magic
JUDGE ONE: Black bean chili with almost no spice. Disappointing.
JUDGE TWO: Hint of lime in the black beans. Good side dish for fish or other mild foods, not much of a chili.
FRANK: I felt something scraping across my tongue, but was unable to taste it. Sally, the bar maid, was standing behind me with fresh refills; that 300 lb. bitch is starting to look HOT, just like this nuclear-waste I'm eating.

Chili # 5: Linda's Legal Lip Remover
JUDGE ONE: Meaty, strong chili. Cayenne peppers freshly ground, adding considerable kick. Very impressive.
JUDGE TWO: Chili using shredded beef; could use more tomato. Must admit the cayenne peppers make a strong statement.
FRANK: My ears are ringing, and I can no longer focus my eyes. I farted & 4 people behind me needed paramedics. The contestant seemed offended when I told her that her chili had given me brain damage. Sally saved my tongue from bleeding by pouring beer directly on it from a pitcher. It really pisses me off that the other judges asked me to stop screaming. Screw those rednecks!

Chili # 6: Vera's Very Vegetarian Variety
JUDGE ONE: Thin yet bold vegetarian variety chili. Good balance of spice & peppers.
JUDGE TWO: The best yet. Aggressive use of peppers, onions & garlic. Superb.
FRANK: My intestines are now a straight pipe filled with gaseous, sulfuric flames. No one seems inclined to stand behind me except that slut Sally. I need to wipe my ass with a snow cone!

Chili # 7: Susan's Screaming Sensation Chili
JUDGE ONE: A mediocre chili with too much reliance on canned peppers.
JUDGE TWO: Ho Hum, tastes as if the chef literally threw in a can of chili peppers at the last moment. I should note that I am worried about Judge Number 3. He appears to be in a bit of distress as he is cursing uncontrollably.
FRANK: You could put a grenade in my mouth, pull the pin, & I wouldn't feel a damn thing. I've lost the sight in one eye, & the world sounds like it is made of rushing water. My shirt is covered with chili which slid unnoticed out of my mouth. My pants are full of lava-like brown goo to match my damn shirt. At least during the autopsy they'll know what killed me. I've decided to stop breathing, it's too painful. Screw it, I'm not getting any oxygen anyway. If I need air, I'll just suck it in through the 4 inch hole in my stomach.

Chili # 8: Helen's Mount Saint Chili
JUDGE ONE: A perfect ending, this is a nice blend chili, safe for all, not too bold but spicy enough to declare its existence.
JUDGE TWO: This final entry is a good, balanced chili, neither mild nor hot. Sorry to see that most of it was lost when Judge Number 3 passed out, fell & pulled the chili pot on top of himself. Not sure if he's going to make it. Poor Yank.
FRANK: -------------- (editor's note: Judge #3 was unable To report)
Submitted by Mike, Broomfield, Co.

Return to: Top of Page, List of Funny Stories, My Little Sister's Jokes,
---
A Horoscope For The Workplace
Astrology tells us about you and your future simply by your birthday. The Chinese Zodiac uses the year of your birth. Demographics tell us what you like, dislike, whom you vote for, what you buy, and what you watch on TV. Well, the Corporate Zodiac goes a step further: simply by your job title, people will have you all figured out...
MARKETING: You are ambitious yet stupid. You chose a marketing degree to avoid having to study in college, concentrating instead on drinking and socializing, which is pretty much what your job responsibilities are now. Least compatible with Sales.
SALES: Laziest of all signs, often referred to as "marketing without a degree," you are also self-centered and paranoid. Unless someone calls you and begs you to take their money, you like to avoid contact with "customers" so you can " concentrate on the big picture." You seek admiration for your golf game throughout your life.
TECHNOLOGY: Unable to control anything in your personal life, you are instead content to completely control everything that happens at your workplace. Often even YOU don't understand what you are saying, but who the heck can tell?! It is written that the geeks shall inherit the Earth.
ENGINEERING: One of only two signs that actually studied in school, it is said that ninety percent of all personal ads are placed by engineers. You can be happy with yourself: your office is typically full of all the latest "ergodynamic" gadgets.
ACCOUNTING: The only other sign that studied in school, you are mostly immune from office politics. You are the most feared person in the organization; combined with your extreme organizational traits, the majority of rumors concerning you say that you are completely insane.
HUMAN RESOURCES: Ironically, given your access to confidential information, you tend to be the biggest gossip within the organization. Possibly the only other person that does less work than marketing, you are unable to return any calls today because you have to get a haircut, have lunch, and mail a letter!
MIDDLE MANAGEMENT/DEPARTMENT MANAGEMENT/"TEAM LEADS": Catty, cut-throat, yet completely spineless, you are destined to remain at your current job for the rest of your life. Unable to make a single decision you tend to measure your worth by the number of meetings you can schedule for yourself. Best suited to marry other "Middle Managers," as everyone in your social circle is a "Middle Manager."
SENIOR MANAGEMENT: Catty, cut-throat, yet completely spineless, you are destined to remain at your current job for the rest of your life. Unable to make a single decision you tend to measure your worth by the number of meetings you can schedule for yourself. Best suited to marry other "Senior Managers," as everyone in your social circle is a "Senior Manager."
CUSTOMER SERVICE: Bright, cheery, positive, you are a fifty-cent cab ride from taking your own life. As a child very few of you asked your parents for a little cubicle for your room and a headset so you could pretend to play "Customer Service." Continually passed over for promotions, your best bet is to date your boss.
Submitted by Jackie, Phila, Pa.

Return to: Top of Page, List of Jokes about Work, My Little Sister's Jokes,
---
An American scientist once visited the offices of the great Nobel Prize-winning physicist...
... Neils Bohr, in Copenhagen, and was amazed to find that over his desk a horseshoe was nailed to the wall.
The American said with a nervous laugh, "Surely you don't believe that horseshoe will bring you good luck, do you, Professor Bohr?"
Bohr chuckled. "I believe no such thing, my good friend. Not at all. I am scarcely likely to believe in such foolish nonsense. However, I am told that a horseshoe will bring you good luck whether you believe in it or not!"
Submitted by Jim, Germantown, Md.

Return to: Top of Page, Clean Joke List, My Little Sister's Jokes,
---
It's so hot here that ...
The birds have to use pot holders to pull worms out of the ground.
Farmers are feeding their chickens crushed ice to keep them from laying hard boiled eggs.
The cows are giving evaporated milk.
The trees are whistling for the dogs.
You can say 110 degrees without fainting.
You eat hot chilies to cool your mouth off.
The temperature drops below 95, you feel a bit chilly.
You discover that in August, it takes only 2 fingers to drive your motorcycle.
You discover that you can get a sunburn through your face shield.
You notice the best parking place is determined by shade instead of distance.
Hot water now comes out of both taps.
You can actually burn your hand on the clutch lever.
No one would dream of wearing shorts and sitting on a vinyl motorcycle seat!
Your biggest motorcycle wreck fear is, "What if I get knocked out and end up lying on the pavement and cook to death?"
You realize that asphalt has a liquid state.
Riding breaks are measured by bottles of water rather than the need for gas.
Now that your yard has burnt, you do not have to spend time mowing but it is still to hot to ride.
You have to chew the air properly before you can swallow it.
Submitted by Kenneth, Shropshire, England

Return to: Top of Page, Groaner Joke List, My Little Sister's Jokes,
---
How to really celebrate a goal -
Download Video
Submitted by Gary, Emmitsburg, Md.

Return to: Top of Page, List of Audio/Videos, My Little Sister's Jokes,
---
Bighorn Sheep at the Buffalo Bill Dam, Shoshoni River in Cody, Wyoming
For those unfamiliar with the view - it's the downstream face of the dam and those dots are Bighorn Sheep walking across it. They're licking the surface – for salt or minerals, maybe? I'm just sitting here with my mouth hanging open....

These animals are CRAZY, but incredibly surefooted!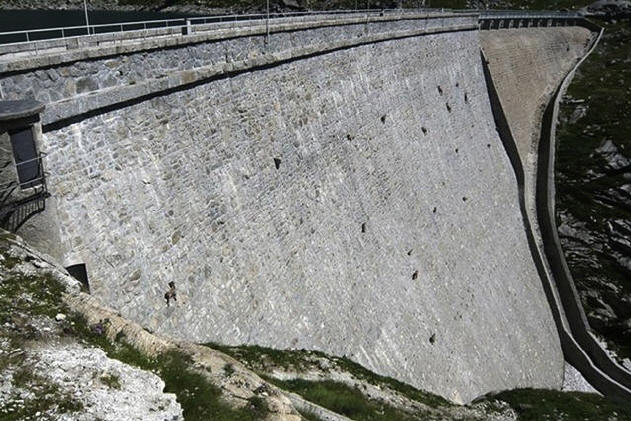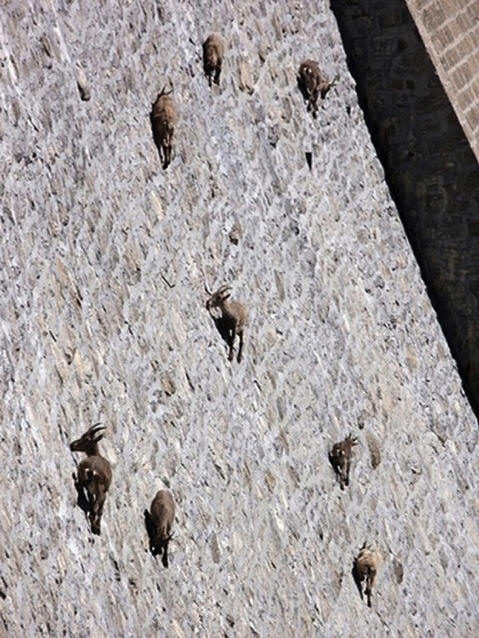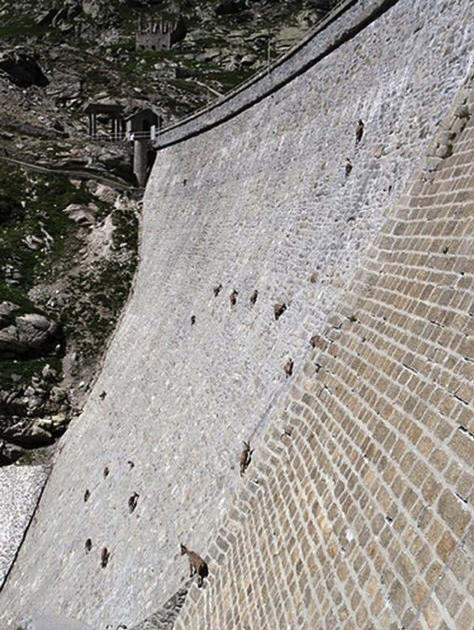 Submitted by Tim, Tampa, Fl.

Return to: Top of Page, List of Photos, My Little Sister's Jokes,
---