A businessman was in a great deal of trouble.
His business was failing, he had put everything he had into the business, he owed everybody-- it was so bad he was even contemplating suicide. As a last resort he went to a minister and poured out his story of tears and woe.
When he had finished, the minister said, "Here's what I want you to do Put a beach chair and your Bible in your car and drive down to the beach. Take the beach chair and the Bible to the water's edge, sit down in the beach chair, and put the Bible in your lap Open the Bible; the wind will rifle the pages, but finally the open Bible will come to rest on a page. Look down at the page and read the first thing you see. That will be your answer, that will tell you what to do."

A year later the businessman went back to the minister and brought his wife and children with him. The man was in a new custom-tailored suit, his wife in a mink coat, the children shining. The businessman pulled an envelope stuffed with money out of his pocket, gave it to the minister as a donation in thanks for his advice.
The minister recognized the benefactor, and was curious. "You did as I suggested?" he asked.
"Absolutely," replied the businessman.
"You went to the beach?"
"Absolutely."
"You sat in a beach chair with the Bible in your lap?"
"Absolutely."
"You let the pages rifle until they stopped?"
"Absolutely."
"And what were the first words you saw?"
"Chapter 11."
Return to: Top of Page, Clean Joke List, My Little Sister's Jokes,
---
Twelve Step Internet Recovery Program
I will have a cup of coffee in the morning and read my newspaper like I used to, before the Internet.
I will eat breakfast with a knife and fork and not with one hand typing.
I will get dressed before noon.
I will make an attempt to clean the house, wash clothes, and plan dinner before even thinking of the Internet.
I will sit down and write a letter to those unfortunate few friends and family that are Internet-deprived.
I will call someone on the phone who I cannot contact via the Internet.
I will read a book...if I still remember how.
I will listen to those around me and their needs and stop telling them to turn the TV down so I can hear the music on the Internet.
I will not be tempted during TV commercials to check for email.
I will try and get out of the house at least once a week, if it is necessary or not.
I will remember that my bank is not forgiving if I forget to balance my checkbook because I was too busy on the Internet.
Last, but not least, I will remember that I must go to bed sometime ... and the Internet will always be there tomorrow!
Submitted by Jim, Emmitsburg, Md.

Return to: Top of Page, Computer Joke List, My Little Sister's Jokes,
---
The personnel office received an email requesting a listing of the department staff...
... broken down by age and sex. The personnel office sent this reply...

"Attached is a list of our staff. We currently have no one broken down by age or sex. However, we have a few alcoholics."
Submitted by Kathy, Gettysburg, Pa.

Return to: Top of Page, List of Jokes about Work, My Little Sister's Jokes,
---
If men got pregnant
There'd be a cure for stretch marks.
Natural childbirth would become obsolete.
Morning sickness would rank as the nation's number one health problem.
All methods of birth control would be improved 100 percent effectiveness.
Children would be kept in the hospital until they were toilet trained.
Men would be EAGER to talk about commitment.
They wouldn't think twins were quite so cute.
Fathers would demand that their SONS be home from dates by 10:00pm.
Men could use THEIR briefcases as diaper bags.
They'd have to stop saying, "I'm afraid I'll drop him."
Paternity suits would be a line of clothes.
They'd stay in bed for the entire nine months.
Menus at most restaurants would list ice cream and pickles as an entrée.
Submitted by Kenneth, Shropshire, England

Return to: Top of Page, List of Jokes About Men, My Little Sister's Jokes,
---
A young boy, about eight years old was picking out a pretty good size box of laundry detergent.
The grocer walked over, and, trying to be friendly, asked the boy if he had a lot of laundry to do.
"Oh, no laundry," the boy said, "I'm going to wash my dog."
"But you shouldn't use this to wash your dog. It's very powerful and if you wash your dog in this, he'll get sick. In fact, it might even kill him."
But the boy was not to be stopped and carried the detergent to the counter and paid for it, even as the grocer still tried to talk him out of washing his dog.
About a week later the boy was back in the store to buy some candy. The grocer asked the boy how his dog was doing.
"Oh, he died," the boy said.
The grocer, trying not to be an I-told-you-so, said he was sorry the dog died but added, "I tried to tell you not to use that detergent on your dog."
"Well," the boy replied, "I don't think it was the detergent that killed him."
"Oh? What was it then?"
"I think it was the spin cycle!"
Submitted by Bill, Ardmore, PA.

Return to: Top of Page, Groaner Joke List, My Little Sister's Jokes,
---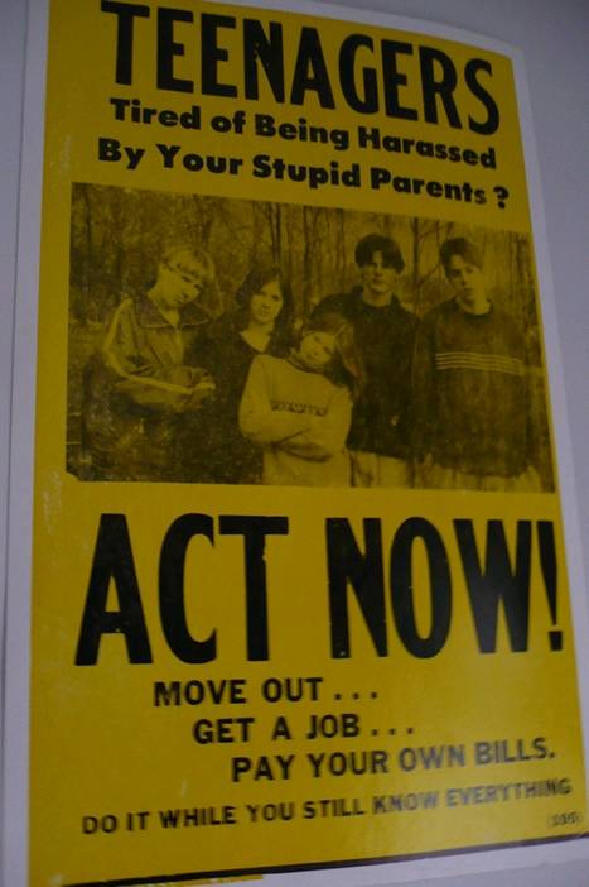 ---
Return to: Top of Page, List of Photos, My Little Sister's Jokes,