A very large, old, building was being torn down in Chicago...
... to make room for a new skyscraper. Due to its proximity to other buildings it could not be imploded and had to be dismantled floor by floor.

While working on the 49th floor, two construction workers found a skeleton in a small closet behind the elevator shaft. They decided that they should call the police.

When the police arrived they directed them to the closet and showed them the skeleton fully clothed and standing upright. They said, "This could be Jimmy Hoffa or somebody really important."

Two days went by and the construction workers couldn't stand it any more; they had to know who they had found. They called the police and said, "We are the two guys who found the skeleton in the closet and we want to know if it was Jimmy Hoffa or somebody important."

The police said, "It's not Jimmy Hoffa, but it was somebody kind of important."

"Well, who was it?"

"The 1956 Blonde National Hide-and-Seek Champion."
Submitted by Dave, Bolder, Co.

Return to: Top of Page, Blonde Joke List, My Little Sister's Jokes,
---
Not long ago I met the waitress of my dreams...

About halfway through dinner I called the waitress over and said, "Ma'am, this potato is bad."

She nodded, picked up the potato and smacked it. Then she put it back on my plate and said, "Sir, if that potato causes any more trouble, you just let me know."

Submitted by Bill, Ardmore, Pa.

Return to: Top of Page, List of Un-Categorizable Jokes, My Little Sister's Jokes,
---
New Drugs on the Market
St. Mom's Wort - Plant extract that treats mom's depression by rendering preschoolers unconscious for up to six hours.
Empty Nestrogen - Highly effective suppository that eliminates melancholy by enhancing the memory of how awful they were as teenagers and how you couldn't wait til they moved out.
Peptobimbo - Liquid silicone for single women. Two full cups swallowed before an evening out increases breast size, decreases intelligence, and improves flirting.
Dumerol - When taken with Peptobimbo, can cause dangerously low I.Q. causing enjoyment of country western music.
Antiboyotics - When administered to teenage girls, is highly effective in improving grades, freeing up phone lines, and reducing money spent on make-up.
Submitted by Dick, Williamsport, Md.
Return to: Top of Page, List of Humorous Sayings, My Little Sister's Jokes,
---
A number of Primary Schools were doing a project on "The Sea."
Kids were asked to draw pictures or write about their experiences. Teachers got together to compare the results and put together some of the comments. Here are some of them -- the funny ones. The kids were all aged between 5 and 8 years...
If you are surrounded by sea you are an Island. If you don't have sea all round you, you are in continent. (Wayne age 7)
I think sharks are ugly and mean, and have big teeth, just like Emily Richardson. She's not my friend any more. (Kylie age 6)
A dolphin breaths through an a**hole on the top of its head. (Billy age 8)
When ships had sails, they used to use the trade winds to cross the ocean. Sometimes, when the wind didn't blow, the sailors would whistle to make the wind come. My brother said they would be better off eating beans. (William age 7)
I like mermaids. They are beautiful, and I like their shiny tails. How do mermaids get pregnant? (Helen age 6)
Some fish are dangerous. Jelly fish can sting. Electric eels can give you a shock. They have to live in caves under the sea where I think they have to plug themselves into chargers. (Christopher age 7)
On holiday my Mom went water skiing. She fell off when she was going very fast. She says she won't do it again because water shot up her fanny. (Julie age 7 )
Submitted by Kenneth, Shropshire, England

Return to: Top of Page, List of Cute Kids Sayings, My Little Sister's Jokes,
---
My husband and I were boarding an airplane...
... with our two small children when he commented that it was too bad we weren't flying first class, where we'd have more room for our infant.

"They probably don't allow babies in first class," I said.

"On the contrary," a nearby flight attendant jokingly confided to us. "ALL our first-class passengers are babies."
Submitted by Vicki, Downingtown, Pa.

Return to: Top of Page, List of Jokes about Work, My Little Sister's Jokes,
---
Guys and Beer - Download Video

Submitted by Jay, Long Island, NY

Return to: Top of Page, List of Audio/Videos, My Little Sister's Jokes,
---
Notice the suspect behind the car, apparently firing a gun - you see the smoke from the muzzle, and a split second later - the Shepherd Police Dog leaps across the roof of the auto, clamps onto the suspect, and brings him down so quickly - you'll watch it several times to really appreciate the valor of this dog.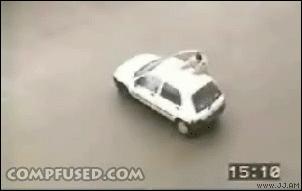 Return to: Top of Page, List of Photos, My Little Sister's Jokes,
---