A blonde is taking the driving portion of her driver's license exam.

She handles most of the maneuvers quite well. She has a little trouble parallel parking, however, and winds up a couple of feet from the curb.

"Could you get a little closer?" the examiner asks.

The blonde then unbuckles her seat belt and slides over toward the examiner.

"Now what?"

Submitted by Bill, Ardmore, Pa.

Return to: Top of Page, Blonde Joke List, My Little Sister's Jokes,
---
As an instructor in driver education at the local area High School...
... I've learned that even the brightest students can become flustered behind the wheel.

One day I had three beginners in the car, each scheduled to drive for 30 minutes.

When the first student had completed his time, I asked him to change places with one of the others.

Gripping the wheel tightly and staring straight ahead, he asked in a shaky voice, "Should I stop the car first?"
Submitted by Vicki, Unionville, Pa.

Return to: Top of Page, List of Cute Kids Sayings, My Little Sister's Jokes,
---
Let's Grade a Nigerian Scam Letter
It's time to grade a Nigerian scam letter that has just been received. Ready?
HOW ARE YOU AND YOUR FAMILY?. (Period after a question mark) HOPE ALL IS WELL (I am glad that he cares so much about my brother in jail, my uncle who just married a witch, and my parents who passed away twenty-years ago).
MY NAME IS ( SGT 1ST CLASS MIKE PETERS, I AM AN AMERICAN SOLDIER, SERVING IN THE MILITARY WITH THE ARMY'S 3RD INFANTRY DIVISION. WITH A VERY DESPERATE NEED FOR ASSISTANCE, I HAVE SUMMED UP COURAGE (He has no courage? He's supposed to an American soldier) TO CONTACT YOU. I FOUND YOUR CONTACT PARTICULARS IN AN ADDRESS JOURNAL (right! Any old email address will do).
I AM SEEKING YOUR KIND (always kind this and that!) ASSISTANCE TO MOVE THE SUM OF ( $28 MILLION U.S. DOLLARS )(say it again as if it was actually on a check!) TWENTY EIGHT MILLION UNITED STATES DOLLARS TO YOU,(should have been a period, not a comma) AS FAR AS I CAN BE ASSURED THAT MY SHARE WILL BE SAFE IN YOUR CARE (trusting soul, isn't he?) UNTIL I COMPLETE MY SERVICE HERE. SOURCE OF MONEY: SOME MONEY IN VARIOUS CURRENCIES (Shekels, Spanish doubloons, Old French Francs and Monopoly money). WAS DISCOVERED IN (Whiskey)BARRELS AT A FARM (?) HOUSE NEAR ONE OF SADDAM'S OLD PALACES (by the Seven-Eleven) , (next to IN TIKRIT-IRAQ DURING A RESCUE OPERATION, AND IT WAS AGREED BY STAFF SGT KENNETH BUFF (I see, a staff sergeant runs the scam there!) AND I THAT SOME PART OF THIS MONEY BE SHARED AMONG BOTH OF US BEFORE INFORMING ANYBODY ABOUT IT SINCE BOTH OF US SAW THE MONEY FIRST. (finders keepers!)THIS WAS QUITE AN ILLEGAL THING TO DO, (so he's now on our side!), BUT I TELL YOU WHAT? NO COMPENSATION CAN MAKE UP FOR THE RISK WE HAVE TAKEN WITH OUR LIVES IN THIS HELL HOLE (A True American saying that!). OF WHICH MY BROTHER IN-LAW WAS KILLED BY A ROAD SIDE BOMB LAST TIME (and the time before that, too! That makes all of this scam okay!). THE ABOVE FIGURE WAS GIVEN TO ME AS MY SHARE, AND TO CONCEAL THIS KIND OF MONEY BECAME A PROBLEM FOR ME, SO WITH THE HELP OF A BRITISH CONTACT WORKING HERE (let make sure everybody on our side gets involved!) AND HIS OFFICE (them, too! He forgot the Canadians) ENJOY SOME IMMUNITY, (everybody must be a crook over there!) I WAS ABLE TO GET THE PACKAGE OUT (Great non-punctuation)
I HAVE NOW FOUND A VERY SECURED WAY OF GETTING THE PACKAGE OUT OF IRAQ TO YOUR (What his country is somewhere else? I thought he said that he was an American soldier) COUNTRY FOR YOU TO PICK UP, AND I WILL DISCUSS THIS WITH YOU WHEN I AM SURE THAT YOU ARE WILLING TO ASSIST ME, AND I BELIEVE THAT MY MONEY WILL BE WELL SECURED IN YOUR HAND (goody, he trusts me already!) BECAUSE YOU HAVE FEAR OF GOD. (What happens if I am an Atheist or maybe I have no fear?)I WANT YOU TO TELL ME HOW MUCH YOU WILL TAKE FROM THIS MONEY FOR THE ASSISTANCE YOU WILL GIVE TO ME. (All of it you crook!)ONE PASSIONATE (The last time I was passionate, my wife slapped me)APPEAL I WILL MAKE TO YOU IS NOT TO DISCUSS THIS MATTER WITH ANYBODY, SHOULD YOU HAVE REASONS TO REJECT THIS OFFER, PLEASE PLEASE (third time is the charm)AND PLEASE DESTROY THIS MESSAGE AS ANY LEAKAGE OF THIS INFORMATION WILL BE TOO BAD FOR US SOLDIER'S HERE IN IRAQ. (You mean that nobody else is to know?) I DO NOT KNOW HOW LONG WE WILL REMAIN HERE (He hasn't heard from Obama, yet), AND I HAVE BEEN SHOT (should have been shot in the brain before he thought of this), WOUNDED AND SURVIVED TWO SUICIDE BOMB ATTACKS BY THE SPECIAL GRACE OF GOD (The grace of God tried to commit suicide twice?), THIS AND OTHER REASONS I WILL MENTION LATER (Later?—this is the end of this correspondence) HAS PROMPTED ME TO REACH OUT FOR HELP, I HONESTLY (?!?!) WANT THIS MATTER TO BE RESOLVED IMMEDIATELY, PLEASE CONTACT ME AS SOON AS POSSIBLE WITH MY E-MAIL ADDRESS WHICH IS MY ONLY WAY OF COMMUNICATION (telegrams can be traced?).
Sincerely a true American,
SGT. MIKE PETERS (Peters over and out!)
Submitted by Bruce, Cold Harbor, Ill.

Return to: Top of Page, List of Un-Categorizable Jokes, My Little Sister's Jokes,
---
Tired of having to balance his wife's checkbook...
...a husband made a deal with her; he would look at it, but only after she had spent a few hours trying to wrestle it into shape.

The following night, after spending hours poring over stubs and figures, the wife said proudly, "I've done it! I made it balance!"

Impressed, the husband came over to take a look. "Let's see... mortgage 550.00, electricity 70.50, phone 35.00." His brow wrinkled as he read the last entry. "It says here ESP, $615. What the heck is that?"

"Oh," she said, "That means, Error Some Place!"
Submitted by Kenneth, Shropshire, England

Return to: Top of Page, List of Jokes About Women, My Little Sister's Jokes,
---
After enlisting in the 82nd Airborne Division...
... I eagerly asked my Recruiter what I could expect from jump school.

"Well," he said, "it's three weeks long."

"What else," I asked.

"The first week they separate the men from the boys," he said. "The second week, they separate the men from the fools."

"And the third week?" I asked.

"The third week, the fools jump."

Return to: Top of Page, Clean Joke List, My Little Sister's Jokes,
---
Marriage Is Like A Slurpee -
Download Video
Also submitted by Dewey, Pensacola, Fl.

Return to: Top of Page, List of Audio/Videos, My Little Sister's Jokes,
---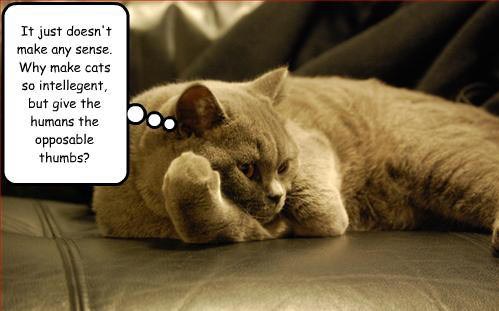 Submitted by Dewey, Pensacola, Fl.

Return to: Top of Page, List of Photos, My Little Sister's Jokes,
---