As an instructor in driver education at the local area High School...
..., I've learned that even the brightest students can become flustered behind the wheel.
One day I had three beginners in the car, each scheduled to drive for 30 minutes.
When the first student had completed his time, I asked him to change places with one of the others.
Gripping the wheel tightly and staring straight ahead, he asked in a shaky voice, "Should I stop the car first?"
Submitted by John, Williamsport, Md.

Return to: Top of Page, Clean Joke List, My Little Sister's Jokes,
---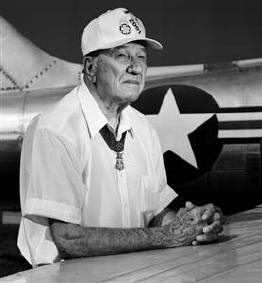 You're a 19 year old kid.
You're critically wounded and dying in the jungle in the Ia Drang Valley. November 11, 1965. LZ X-ray , Vietnam
Your infantry unit is outnumbered 8-1 and the enemy fire is so intense, from 100 or 200 yards away, that your own Infantry Commander has ordered the MediVac helicopters to stop coming in.
You're lying there, listening to the enemy machine guns and you know you're not getting out. Your family is 1/2 way around the world, 12,000 miles away, and you'll never see them again. As the world starts to fade in and out, you know this is the day.
Then - over the machine gun noise - you faintly hear that sound of a helicopter. You look up to see an unarmed Huey. But ... it doesn't seem real because no Medi-Vac markings are on it.
Ed Freeman is coming for you.
He's not Medi-Vac so it's not his job, but he's flying his Huey down into the machine gun fire anyway. Even after the Medi-Vacs were ordered not to come. He's coming anyway. And he drops it in and sits there in the machine gun fire, as they load 2 or 3 of you on board. Then he flies you up and out through the gunfire to the doctors and nurses.
And, he kept coming back!! 13 more times!!
He took about 30 of you and your buddies out who would never have gotten out. Medal of Honor Recipient, Ed Freeman, died last Wednesday at the age of 80, in Boise , Idaho . May God Rest His Soul. I bet you didn't hear about this hero's passing, but we've sure seen a whole bunch about Tiger Woods. . .
But nothing on the death of Medal of Honor Winner Ed Freeman.
Shame on the American media!!!
Now ... YOU pass this along on YOUR mailing list.
Submitted by former Huey pilot Dick, Williamsport, Md.
Return to: Top of Page, List of Heart Warming Stories, My Little Sister's Jokes,
---
This is a story about four people named Everybody, Somebody, Anybody, and Nobody.
There was an important job to be done and Everybody was sure Somebody would do it.
Anybody could have done it, but Nobody did it.
Somebody got angry about that, because it was Everybody's job.
Everybody thought Anybody could do it, but Nobody realized that Everybody wouldn't do it.
It ended up that Everybody blamed Somebody when Nobody did what Anybody could have.

Return to: Top of Page, List of Jokes about Work, My Little Sister's Jokes,
---
Words of Wisdom
Life can be only understood backwards, but it must be lived forwards.
Trust everybody . . . then cut the cards.
Don't do for others what, given the chance, they wouldn't do for themselves.
Summer must be over. My neighbour just returned my lawn furniture.
If you are willing to admit you are wrong when you are wrong, then you are all right.
It's good to question authority, but not mine.
Love doesn't really make the world go round, but it makes the ride worthwhile.
Age is just a number and mine is unlisted.
An expert is someone called in at the last minute to share the blame.
The first Ten Commandments are the hardest.
A retired husband is a wife's full time job.
Heredity is something parents comfortably believe in, if they have a bright child.
Only one shopping day left until tomorrow!
Happiness is the place between too little and too much.
Circular arguments often make the rounds.
Even at a Mensa convention, someone is the dumbest person in the room.
When in doubt. . . mumble.
Money can't buy everything . .but then again, neither can no money.
Submitted by Kenneth, Shropshire, England

Return to: Top of Page, List of Humorous Sayings, My Little Sister's Jokes,
---
A duck walks into a bar and orders a beer and a sandwich.

The bartender looks at him and says, "But you're a duck."

"I see your eyes are working," replies the duck.

"And you talk!" exclaims the bartender.

"I see your ears are working," says the duck, "Now can I have my beer and my sandwich, please?"

"Certainly," says the bartender, "sorry about that, it's just we don't get many ducks in this pub. What are you doing round this way?"

"I'm working on the building site across the road," explains the duck.

So the duck drinks his beer, eats his sandwich, pays and leaves. This continues for 2 weeks. Then one day the circus comes to town. The ringmaster of the circus comes into the pub and the bartender tells him about the incredible talking duck.

"Marvelous!" says the ringmaster, "get him to come see me."

So the next day, the duck comes into the pub. The bartender says, "Hey, Mr. Duck, I lined you up with a top job paying really good money!"

"Yeah?" says the duck, "Sounds great, where is it?"

"At the circus" says the bartender.

"The circus?" the duck enquires.

"That's right," replies the bartender.

"The circus? That place with the big tent? With all the animals? With the big canvas roof with the hole in the middle?" asks the duck.

"That's right!" says the bartender.

The duck looks confused and asks: "What the heck do they want with a plasterer?"

Submitted by Bill, Ardmore, Pa.

Return to: Top of Page, Groaner Joke List, My Little Sister's Jokes,
---
What men say but really mean ...
"I can't find it," REALLY MEANS, "It didn't fall into my outstretched hands, so I'm completely clueless."
"That's women's work," REALLY MEANS, "It's dirty, difficult and thankless."
"Will you marry me?" REALLY MEANS, "Both my room mates have moved out, I can't find the washer, and there is no more peanut butter."
"It's a guy thing," REALLY MEANS, "There is no rational thought pattern connected with it, and you have no chance at all of making it logical."
"Can I help with dinner?" REALLY MEANS, "Why isn't it already on the table?"
"It would take too long to explain, "REALLY MEANS, "I have no idea how it works."
"I'm getting more exercise lately," REALLY MEANS, "The batteries in the remote are dead."
"We're going to be late," REALLY MEANS, "Now I have a legitimate excuse to drive like a maniac."
"Take a break, honey, you're working too hard, "REALLY MEANS, "I can't hear the game over the vacuum cleaner."
"That's interesting, dear," REALLY MEANS, "Are you still talking?"
"Honey, we don't need material things to prove our love, REALLY MEANS, "I forgot our anniversary again."
"It's really a good movie," REALLY MEANS, "It's got guns, knives, fast cars, and good looking women."
"You know how bad my memory is," REALLY MEANS, "I remember the words to the theme song of "F Troop", the address of the first girl I kissed, the Vehicle Identification Number of every car I've ever owned, but I forgot your birthday."
"Oh, don't fuss. I just cut myself. It's no big deal," REALLY MEANS, "I have actually severed a limb, but will bleed to death before I admit I'm hurt."
"I do help around the house," REALLY MEANS, "I once threw a dirty towel near the laundry basket."
"What did I do this time?" REALLY MEANS, "What did you catch me doing?"
"She's one of the rabid feminists," REALLY MEANS, "She refused to make my coffee."
"I heard you," REALLY MEANS, "I haven't the foggiest clue what you just said, and am hoping desperately that I can fake it well enough so that you don't spend the next 3 days yelling at me."
"You really look terrific in that outfit," REALLY MEANS, "Please don't try on another outfit. I'm starving."
"I missed you," REALLY MEANS, "I can't find my sock drawer, the kids are hungry and we are out of toilet paper."
"I'm not lost. I know exactly where we are," REALLY MEANS, "No one will ever see us alive again."
"We share the housework," REALLY MEANS, "I make the messes. She cleans them up."
"I don't need to read the instructions," REALLY MEANS, "I am perfectly capable of messing it up without printed help."
Submitted by Bill, Ardmore, Pa.

Return to: Top of Page, List of Jokes About Men, My Little Sister's Jokes,
---
There's always one who clowns up a good photo.....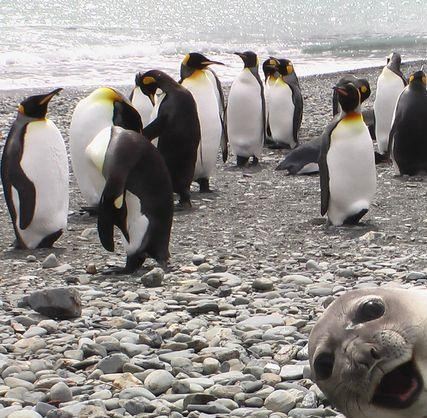 Submitted by Cathy, Storrington, England!

Return to: Top of Page, List of Photos, My Little Sister's Jokes,
---