The other day while driving home, after being delayed at my office...
..., I suddenly saw flashing lights in my rearview mirror.
The police officer pulled me over for speeding. Hoping for a little leniency I explained to him that I was rushing home to be with my wife on our first anniversary.
But rather than letting me off with just a warning, he went ahead and wrote out the ticket, handed it to me, and said, "Congratulations! The first year is paper, right?"
Submitted by Kenneth, Shropshire, England

Return to: Top of Page, Clean Joke List, My Little Sister's Jokes,
---
The Bachelor's Diet
Monday: Breakfast - Who can eat Breakfast on a Monday? Swallow some toothpaste while brushing your teeth. Lunch - Send your secretary out for six "gutbombers" - those little hamburgers that used to cost a dime but now cost sixty five cents. Also order French fries, a bowl of chili, a soft drink and have her stop on the way back for a family size bottle of Maalox. Afternoon Snack - Drink the Maalox. Dinner - Six pack of beer and Kentucky fried chicken three-piece Dinner, don't eat the coleslaw.
Tuesday: Breakfast - Eat the coleslaw. Lunch - Go to the office vending machine and put ninety five cents in and close your eyes, push a button and eat whatever comes out swallowing it whole to prevent nausea. Dinner - Four tacos and a pitcher of Sangria at El Flasho's.
Wednesday: Breakfast - Stomach couldn't handle breakfast after a night at El Flasho's. Lunch - Rolaids and a coke. Dinner - Drop in at a married friends house and beg for scraps.
Thursday Breakfast - Order out for pizza. Lunch - Your secretary is out sick, check Mondays gutbomber sack for leftovers. Dinner - Go to a bar. Ask the bartender for extra olives.
Friday: Breakfast - Eggs, sausage and an English muffin at McDonalds. Eat the Styrofoam plate and leave the food. It tastes better and it's better for you. Lunch - Skip Lunch, Fridays are murder. Dinner - Steak, medium-rare, baked potato and asparagus. Don't eat the asparagus, nobody really likes asparagus.
Saturday: Breakfast - Sleep through it. Lunch - Ditto. Dinner - Steak, well done, baked potato, and Brussels Sprouts. Don't eat the Brussel Sprouts. Take them home and plant them in a hanging basket.
Sunday: Breakfast - Three Bloody Mary's and a Twinkie. Lunch - Eat Lunch? And waste a good buzz? Dinner - Chicken noodle soup. Call home and ask about renting your old room.
Submitted by Bill, Ardmore, Pa.

Return to: Top of Page, List of Jokes About Men, My Little Sister's Jokes,
---
Actual analogies and metaphors found in high school essays:
Her face was a perfect oval, like a circle that had its two sides gently compressed by a Thigh Master.
His thoughts tumbled in his head, making and breaking alliances like underpants in a dryer without Cling Free.
He spoke with the wisdom that can only come from experience, like a guy who went blind because he looked at a solar eclipse without one of those boxes with a pinhole in it and now goes around the country speaking at high schools about the dangers of looking at a solar eclipse without one of those boxes with a pinhole in it.
She grew on him like she was a colony of E. coli and he was room-temperature Canadian beef.
She had a deep, throaty, genuine laugh, like that sound a dog makes just before it throws up.
Her vocabulary was as bad as, like, whatever.
He was as tall as a six-foot-three-inch tree.
The revelation that his marriage of 30 years had disintegrated because of his wife's infidelity came as a rude shock, like a surcharge at a formerly surcharge-free ATM.
The little boat gently drifted across the pond exactly the way a bowling ball wouldn't.
McBride fell 12 stories, hitting the pavement like a Hefty bag filled with vegetable soup.
From the attic came an unearthly howl. The whole scene had an eerie, surreal quality, like when you're on vacation in another city and Jeopardy comes on at 7:00 p.m. instead of 7:30.
Her hair glistened in the rain like a nose hair after a sneeze.
The hailstones leaped from the pavement, just like maggots when you fry them in hot grease.
Long separated by cruel fate, the star-crossed lovers raced across the grassy field toward each other like two freight trains, one having left Cleveland at 6:36 p.m. traveling at 55 mph, the other from Topeka at 4:19 p.m. at a speed of 35 mph.
They lived in a typical suburban neighborhood with picket fences that resembled Nancy Kerrigan's teeth.
John and Mary had never met. They were like two hummingbirds who had also never met.
He fell for her like his heart was a mob informant and she was the East River.
Even in his last years, Grandpappy had a mind like a steel trap, only one that had been left out so long, it had rusted shut.
Shots rang out, as shots are wont to do.
The plan was simple, like my brother-in-law Phil. But unlike Phil, this plan just might work.
The young fighter had a hungry look, the kind you get from not eating for a while.
He was as lame as a duck. Not the metaphorical lame duck, either, but a real duck that was actually lame, maybe from stepping on a land mine or something.
The ballerina rose gracefully en pointe and extended one slender leg behind her, like a dog at a fire hydrant.
It was an American tradition, like fathers chasing kids around with power tools.
He was deeply in love. When she spoke, he thought he heard bells, as if she were a garbage truck backing up.
Her eyes were like limpid pools, only they had forgotten to put in any pH cleanser.
She walked into my office like a centipede with 98 missing legs.
Submitted by Dick, Williamsport, Md.
Return to: Top of Page, List of Humorous Sayings, My Little Sister's Jokes,
---
Ten Common Full-Time Employee Ailments
The Macy's One Day Sale Flu.
The Drivers License Renewal Appointment 24-Hour Virus.
The Friday-Afternoon-Start-The-Weekend-Early Sudden Unbearable Stomach Pains.
The I'm Looking for a New Job and I Don't Know How Long It's Going to Take, but I Want To Stay On The Payroll Until Then Mysterious Infection.
The My Boyfriend's Got the Week Off So Suddenly I'm Too Contagious To Come In To The Office Disease.
The I Need a Hair Cut and My Stylist Doesn't Make Evening Appointments Bout of Influenza.
The There's No Federal Holidays for Two Months and I Want a Day Off Sickness.
The It's Spring Break and I Want To Pretend I'm a Teenager Again General Ailment.
The I've Messed Up Royally and I Won't Come In To Face the Music Terminal Illness.
The I Really Am Sick and I've Got The Doctor's Bills and the Completed Medical Expense Reimbursement Forms to Prove It Infirmity.
Return to: Top of Page, List of Jokes about Work, My Little Sister's Jokes,
---
This was this guy's first boat and he was taking it to the lake...
..., but he did not know the correct procedure for launching a boat off a ramp. However, he figured it couldn't be that difficult to do, so he stopped by his Union office for advice, and was told, "Don't let the trailer get too deep in the water when you're launching your boat. Later, he couldn't understand what they meant by that, as he just could barely get his trailer in the water. They walk among us, get married, have children, and vote.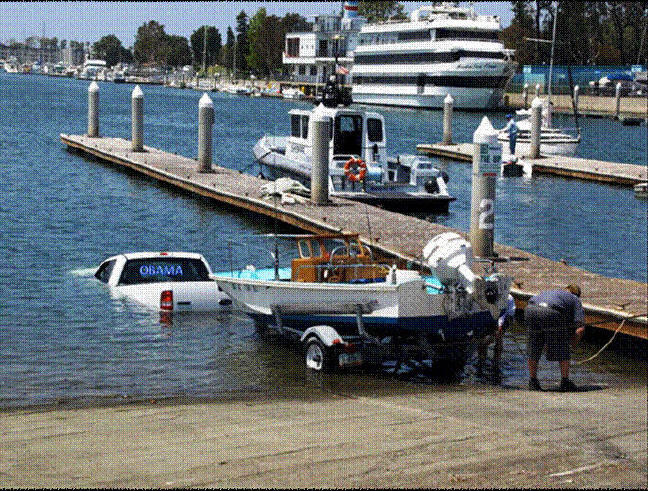 Return to: Top of Page, List of Photos, My Little Sister's Jokes,
---