A man driving down the road behind an 18 wheeler...
.... at every stop light the trucker would get out of the cab, run back and bang on the trailer door. After seeing this at several intersections in a row the motorist followed him until he pulled into a parking lot.
When they both had come to a stop the truck driver once again jumped out and started banging on the trailer door. The motorist went up to him and said, "I don't mean to be nosey but why do you keep banging on that door?"
To which the trucker replied, "Sorry, can't talk now, I have 20 tons of canaries and a 10 ton limit, so I have to keep half of them flying at all times."
Submitted by Bill, Ardmore, PA.

Return to: Top of Page, Clean Joke List, My Little Sister's Jokes,
---
For thirty years, Johnson had arrived at work at 9 A.M., on the dot.
He had never missed a day and was never late.
Consequently, when on one particular day 9 A.M. passed without Johnson's arrival, it caused a sensation.
All work ceased and the boss himself, looking at his watch and muttering, came out into the corridor.
Finally, precisely at ten, Johnson showed up, clothes dusty and torn, his face scratched and bruised, his glasses bent.
He limped painfully to the time clock, punched in, and said, aware that all eyes were upon him, "I tripped and rolled down two flights of stairs in the subway. Nearly killed myself."
The boss said, "And to roll down two flights of stairs took you an entire hour?"
Submitted by Dick, Williamsport, Md.

Return to: Top of Page, List of Jokes about Work, My Little Sister's Jokes,
---
Stupid True Headlines
Never Withhold Herpes Infection from Loved One
Drunken Drivers Paid $1000 in `84
War Dims Hope for Peace
If Strike isn't Settled Quickly, It May Last a While
Cold Wave Linked to Temperatures
Enfields Couple Slain; Police Suspect Homicide
Red Tape Holds Up New Bridge
Deer Kill 17,000
Typhoon Rips Through Cemetery; Hundreds Dead
Man Struck by Lightning Faces Battery Charge
New Study of Obesity Looks for Larger Test Group
Astronaut Takes Blame for Gas in Spacecraft
Kids Make Nutritious Snacks
Chef Throws His Heart into Helping Feed Needy
Arson Suspect is Held in Massachusetts Fire
British Union Finds Dwarfs in Short Supply
Ban On Soliciting Dead in Trotwood
Lansing Residents Can Drop Off Trees
Local High School Dropouts Cut in Half
New Vaccine May Contain Rabies
Man Minus Ear Waives Hearing
Deaf College Opens Doors to Hearing
Air Head Fired
Steals Clock, Faces Time
Prosecutor Releases Probe into Undersheriff
Old School Pillars are Replaced by Alumni
Bank Drive-in Window Blocked by Board
Hospitals are Sued by 7 Foot Doctors
Some Pieces of Rock Hudson Sold at Auction
Sex Education Delayed, Teachers Request Training
Submitted by Ray, King of Prussia, Pa.
Return to: Top of Page, List of Humorous Sayings, My Little Sister's Jokes,
---
It was the first day of school, after summer vacations...
... and time for me to pick up the children in my school bus and take them home again. After I had made the complete run that afternoon, one little boy remained on the bus.
Thinking he had simply missed his stop, I started driving slowly back through the neighborhood and asked him to be sure to let me know if any of the houses or people looked familiar. The boy sat in his seat contentedly and shook his head whenever I asked him if he recognized a person or place.
After the second unsuccessful tour of the area, I started back to the school to ask for his address. When we arrived, the child got off the bus and started walking away. "Wait!" I called. "We have to go inside and find out where you live."
"I live right there," he said, pointing to a house across the street. "I just always wanted to ride in a school bus."

Return to: Top of Page, List of Cute Kids Sayings, My Little Sister's Jokes,
---
A travel agent looked up from his desk to see an old lady and an old gentleman...
... peering in the shop window at the posters showing the glamorous destinations around the world. The agent had had a good week and the dejected couple looking in the window gave him a rare feeling of generosity. He called them into his shop: 'I know that on your pension you could never hope to have a holiday, so I am sending you off to a fabulous resort at my expense, and I won't take no for an answer.'
He took them inside and asked his secretary to write two flight tickets and book a room in a five star hotel. They, as can be expected, gladly accepted, and were off!
About a month later the little old lady came in to his shop. 'And how did you like your holiday?' he asked eagerly.
'The flight was exciting and the room was lovely,' she said.
'I've come to thank you but, one thing puzzled me.
Who was that old guy I had to share the room with?'
Submitted by Kenneth, Shropshire, England

Return to: Top of Page, List of Jokes About Aging, My Little Sister's Jokes ,
---
Abbott & Costello Explain the "Stimulus Plan" -
Download Video
Submitted by Dewey, Pensacola, Fl.

Return to: Top of Page, List of Audio/Videos, My Little Sister's Jokes,
---
Classified Ads That Shouldn't Have Been Printed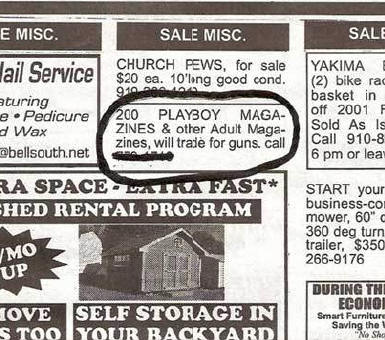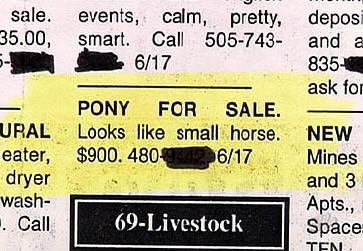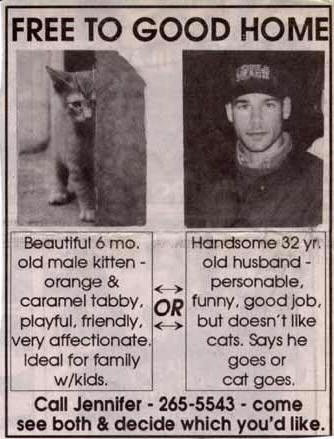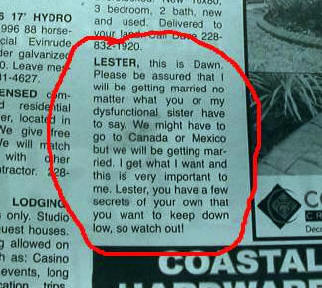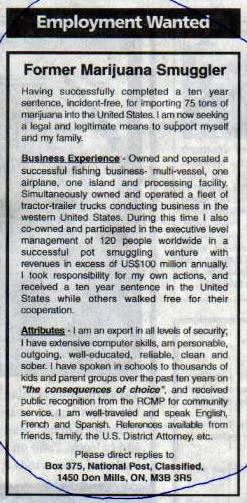 Return to: Top of Page, List of Photos, My Little Sister's Jokes,
---