Our Scoutmaster told us to write to our parents...
... in case you saw the flood on TV and are worried. We are okay. Only one of our tents and 2 sleeping bags got washed away. Luckily, none of us got drowned because we were all up on the mountain looking for Adam when it happened.
Oh yes, please call Adam's mother and tell her he is okay. He can't write because of the cast. I got to ride in one of the search and rescue jeeps. It was neat. We never would have found Adam in the dark if it hadn't been for the lightning.
Scoutmaster Keith got mad at Adam for going on a hike alone without telling anyone. Adam said he did tell him, but it was during the fire so he probably didn't hear him. Did you know that if you put gas on a fire, the gas will blow up?
The wet wood didn't burn, but one of the tents did and also some of our clothes. Matthew is going to look weird until his hair grows back.
We will be home on Saturday if Scoutmaster Keith gets the bus fixed. It wasn't his fault about the wreck. The brakes worked okay when we left. Scoutmaster Keith said that with a bus that old you have to expect something to break down; that's probably why he can't get insurance.
We think it's a neat bus. He doesn't care if we get it dirty and if it's hot, sometimes he lets us ride on the fenders. It gets pretty hot with 45 people in a bus made for 24. He let us take turns riding in the trailer until the highway patrol man stopped and talked to us.
Scoutmaster Keith is a neat guy. Don't worry, he is a good driver. In fact, he is teaching Jessie how to drive on the mountain roads where there isn't any cops. All we ever see up there are logging trucks.
This morning all of the guys were diving off the rocks and swimming out to the rapids. Scoutmaster Keith wouldn't let me because I can't swim, and Adam was afraid he would sink because of his cast, it's concrete because we didn't have any plaster, so he let us take the canoe out. It was great. You can still see some of the trees under the water from the flood.
Scoutmaster Keith isn't crabby like some scoutmasters. He didn't even get mad about the life jackets. He has to spend a lot of time working on the bus so we are trying not to cause him any trouble.
Guess what? We have all passed our first aid merit badges. When Andrew dived into the lake and cut his arm, we got to see how a tourniquet works.
Steven and I threw up, but Scoutmaster Keith said it probably was just food poisoning from the leftover chicken. He said they got sick that way with food they ate in prison. I'm so glad he got out and became our scoutmaster. He said he sure figured out how to get things done better while he was doing his time. By the way, what is a pedal-file? I have to go now. We are going to town to mail our letters & buy some more beer and ammo.
Submitted by Julie, Middleburg, Va.

Return to: Top of Page, List of Un-Categorizable Jokes, My Little Sister's Jokes,
---
Going On The Wagon
I had eighteen bottles of whiskey in my cellar and was told by my wife that I had a drinking problem, and to empty the contents of each and every bottle down the sink, or else. I said I would and proceeded with the unpleasant task.
I withdrew the cork from the first bottle and poured the contents down the sink with the exception of one glass, which I drank.
I then withdrew the cork from the second bottle and did likewise with it, with the exception of one glass, which I drank.
I then withdrew the cork from the third bottle and poured the whiskey down the sink which I drank.
I pulled the cork from the fourth bottle down the sink and poured the bottle down the glass, which I drank.
I pulled the bottle from the cork of the next and drank one sink out of it, and threw the rest down the glass.
I pulled the sink out of the next glass and poured the cork down the bottle. Then I corked the sink with the glass, bottled the drink and drank the pour.
When I had everything emptied, I steadied the house with one hand, counted the glasses, corks, bottles, and sinks with the other, which were twenty-nine, and as the houses came by I counted them again, and finally I had all the houses in one bottle, which I drank.
I'm not under the affluence of incohol as some thinkle peep I am. I'm not half as thunk as you might drink. I fool so feelish I don't know who is me, and the drunker I stand here, the longer I get.
Submitted by Kenneth, Shropshire, England

Return to: Top of Page, List of Drinking Jokes, My Little Sister's Jokes,
---
The Basic Rules for Clotheslines:
You had to wash the clothes line before hanging any clothes--walk the entire lengths of each line with a damp cloth around the lines.
You had to hang the clothes in a certain order, and always hang "whites" with "whites," and hang them first.
You never hung a shirt by the shoulders, always by the tail! What would the neighbors think?
Wash day on a Monday! .... Never hang clothes on the Weekend, or Sunday, for Heaven's sake!
Hang the sheets and towels on the outside lines so you could hide your "unmentionables" in the middle (perverts & busybodies, ya know!).
It didn't matter if it was sub zero weather....clothes would "freeze-dry."
Always gather the clothes pins when taking down dry clothes! Pins left on the lines were "tacky!"
If you were efficient, you would line the clothes up so that each item did not need two clothes pins, but shared one of the clothes pins with the next washed item.
Clothes off of the line before dinner time, neatly folded in the clothes basket, and ready to be ironed.
IRONED? Well, that's a whole other subject!
Submitted by Paul, Oklahoma City, OK

Return to: Top of Page, Clean Joke List, My Little Sister's Jokes,
---
A guy was being sold a very cheap suit.
"But the left arm is a lot longer than the right arm," he complained.
"That's why the suit is such a bargain," the sales clerk explained. "Just cock your left shoulder up a little, like this, and tuck this left lapel under your chin a bit, like this."
"But the right leg is way too short," argued the customer.
"No problem," the sales clerk answered. "Just keep your right knee bent a little at all times, walk like this, and no one will notice. That's why this suit is only thirty dollars."
Finally, the fellow bought the suit, cocked his left shoulder into the air, tucked the suit's left lapel under his chin, bent his right knee, and limped out of the store toward his car.
Two doctors happened along and noticed him.
"Good heavens," the first doctor said to the second, "look at that poor crippled fellow."
"Yeah," answered the second doctor. "But doesn't that suit fit great?"
Submitted by Dick, Williamsport, Md.

Return to: Top of Page, List of Un-Categorizable Jokes, My Little Sister's Jokes,
---
Extreme Bowling -
Download Video
Submitted by Kenneth, Shropshire, England

Return to: Top of Page, List of Audio/Videos, My Little Sister's Jokes,
---
Ralph, My neighbor is a "lefty" of sorts ..."guns should be banned", etc...
So last week I put this sign up in my yard after one of his anti-gun rants at a neighborhood cocktail party. The sign wasn't up more than an hour before he called the police and wanted them to make me take down the sign. Fortunately, the officer politely informed him that it was not their job to take such action without a court order and that he had to file a complaint "downtown" first, which would be reviewed by the city attorney to see if it violated any city, county, or state ordinances, which if there was a violation a court order would be sent to the offending party (me) to "remove the sign in seven days".
After several weeks he was informed that the sign was legal (by a quarter of an inch) and there was nothing the city could do, which obviously made him madder. I tried to smooth things over by inviting him to go shooting with me and my friends at the hunt club but that seemed to make him even more angry. I then asked him if he wanted to go to a Tea Party rally but again he declined my outreach efforts to bring about a better understanding between political and social opponents.
I am at a loss how to reconcile our long relationship (notice I did not say friendship), any suggestions would be welcome.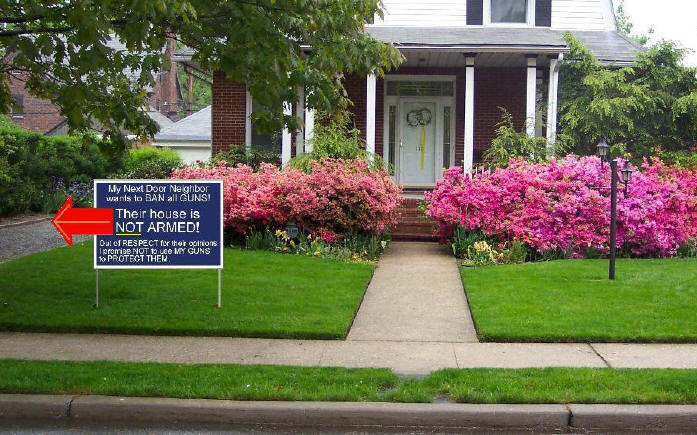 Submitted by Bill, Ardmore, Pa.

Return to: Top of Page, List of Photos, My Little Sister's Jokes,
---