A game warden noticed how a particular fellow named Sam...
... consistently caught more fish than anyone else, whereas the other guys would only catch three or four a day. Sam would come in off the lake with a boat full. Stringer after stringer was always packed with freshly caught trout. The warden, curious, asked Sam his secret. The successful fisherman invited the game warden to accompany him and observe. So the next morning the two met at the dock and took off in Sam's boat. When they got to the middle of the lake, Sam stopped the boat, and the warden sat back to see how it was done.
Sam's approach was simple. He took out a stick of dynamite, lit it, and threw it in the air. The explosion rocked the lake with such a force that dead fish immediately began to surface. Sam took out a net and started scooping them up. Well, you can imagine the reaction of the game warden. When he recovered from the shock of it all, he began yelling at Sam. "You can't do this! I'll put you in jail, buddy! You will be paying every fine there is in the book!"
Sam, meanwhile, set his net down and took out another stick of dynamite. He lit it and tossed it in the lap of the game warden with these words, "Are you going to sit there all day complaining, or are you going to fish?"
Submitted by Bill, Ardmore, Pa.

Return to: Top of Page, Groaner Joke List, My Little Sister's Jokes,
---
While I was working in the men's section of a department store...
... a woman asked me to help her choose a white dress shirt for her husband.

When I asked about his size, the woman looked stumped at first, then her face brightened. She held up her hands, forming a circle with her forefingers and thumbs.

"I don't know his size," she said, "but my hands fit perfectly around his neck."
Submitted by Dick, Williamsport, Md.

Return to: Top of Page, List of Jokes About Marriage, My Little Sister's Jokes,
---
Signs that you are Webbed Out...
Your opening line is, "So what's your home page address?"
Your best friend is someone you have never met.
You are overcome with disbelief, anger and finally depressed when you encounter a Web page with no links.
You are driving on a dark and rainy night when you hydroplane on puddle, sending your car careening toward the flimsy guard rail that separates you from the precipice of a rocky cliff and death. You look for the "Back" button.
Your dog has his own Web page. So does your hamster.
When you read a magazine, you have an irresistible urge to click on the underlined passages.
Submitted by Julie, Middleburg, Va.

Return to: Top of Page, Computer Joke List, My Little Sister's Jokes,
---
A firm with a sense of humour.
A man with a bald head and a wooden leg is invited to a Xmas fancy dress party. He doesn't know what to wear to hide his head and his wooden leg, so he writes to a fancy dress company to explain his problem.
A few days later he receives a parcel with a note:
Dear Sir,

Please find enclosed a Pirate's outfit. The spotted handkerchief will cover your bald head and with your wooden leg you will be just right as a Pirate.
The man is offended that the outfit emphasizes his disability, so he writes a letter of complaint. A week passes and he receives another parcel and note:
Dear Sir,

Sorry about the previous parcel. Please find enclosed a monk's habit. The long robe will cover your wooden leg and with your bald head you will really look the part.
The man is really incandescent with rage now, because the company has gone from emphasizing his wooden leg to drawing attention to his bald head. So he writes a really strong letter of complaint. A few days later he gets a very small parcel from the company with the accompanying letter:
Dear Sir,

Please find enclosed a tin of Golden Syrup.

We suggest you pour the tin of Golden Syrup over your bald head, stick your wooden leg up your arse and go as a toffee apple.
Submitted by Kenneth, Shropshire, England

Return to: Top of Page, List of Un-Categorizable Jokes, My Little Sister's Jokes,
---
It was the first day of school, after summer vacations...
... and time for me to pick up the children in my school bus and take them home again. After I had made the complete run that afternoon, one little boy remained on the bus.

Thinking he had simply missed his stop, I started driving slowly back through the neighborhood and asked him to be sure to let me know if any of the houses or people looked familiar. The boy sat in his seat contentedly and shook his head whenever I asked him if he recognized a person or place.

After the second unsuccessful tour of the area, I started back to the school to ask for his address. When we arrived, the child got off the bus and started walking away. "Wait!" I called. "We have to go inside and find out where you live."

"I live right there," he said, pointing to a house across the street. "I just always wanted to ride in a school bus."

Return to: Top of Page, List of Cute Kids Sayings, My Little Sister's Jokes,
---
I got stopped for speeding yesterday
I thought I could talk my way out of it until the officer looked at my dog in the back seat.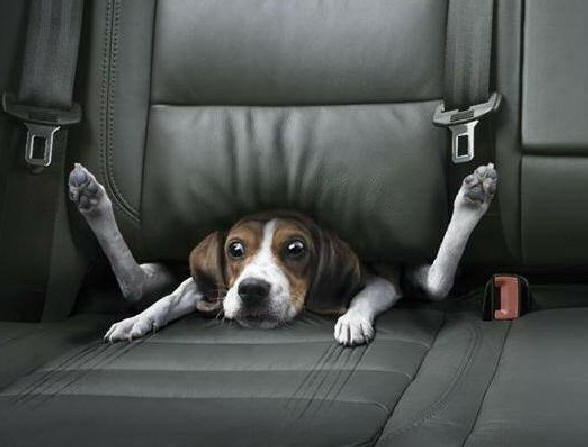 Submitted by Cindy, Emmitsburg, Md.
Return to: Top of Page, List of Photos, My Little Sister's Jokes,
---