Buying gifts for men is not nearly as complicated as it is for women.
Follow these rules and you should have no problems.
Rule #1: When in doubt - buy him a cordless drill. It does not matter if he already has one. I have a friend who owns 17 and he has yet to complain. As a man, you can never have too many cordless drills. No one knows why.
Rule #2: If you cannot afford a cordless drill, buy him anything with the word ratchet or socket in it. Men love saying those two words. "Hey George, can I borrow your ratchet?" "OK. By the way, are you through with my 3/8-inch socket yet?" Again, no one knows why.
Rule #3: If you are really, really broke, buy him anything for his car. A 99-cent ice scraper, a small bottle of de-icer or something to hang from his rear view mirror. Men love gifts for their cars. No one knows why.
Rule #4: Do not buy men socks. Do not buy men ties. And never buy men bathrobes. I was told that if God had wanted men to wear bathrobes, he wouldn't have invented Jockey shorts.
Rule #5: You can buy men new remote controls to replace the ones they have worn out. If you have a lot of money buy your man a big-screen TV with the little picture in the corner. Watch him go wild as he flips, and flips, and flips.
Rule #6: Do not buy a man any of those fancy liqueurs. If you do, it will sit in a cupboard for 23 years. Real men drink whiskey or beer.
Rule #7: Do not buy any man industrial-sized canisters of after shave or deodorant. I'm told they do not stink - they are earthy.
Rule #8: Buy men label makers. Almost as good as cordless drills. Within a couple of weeks there will be labels absolutely everywhere. "Socks. Shorts. Cups. Saucers. Door. Lock. Sink." You get the idea. No one knows why.
Rule #9: Never buy a man anything that says "some assembly required" on the box. It will ruin his Special Day and he will always have parts left over.
Rule #10: Men enjoy danger. That's why they never cook - but they will barbecue. Get him a monster barbecue with a 100-pound propane tank. Tell him the gas line leaks. "Oh the thrill! The challenge! Who wants a hamburger?"
Rule #11: Tickets to a Red Wing/Lions/Pistons/Tigers game are a smart gift. However, he will not appreciate tickets to "A Retrospective of 19th Century Quilts." Everyone knows why.
Rule #12: Men love chainsaws. Never, ever, buy a man you love a chainsaw. If you don't know why - please refer to Rule #8 and what happens when he gets a label maker.
Rule #13: It's hard to beat a really good wheelbarrow or an aluminum extension ladder. Never buy a real man a step ladder. It must be an extension ladder. No one knows why.
Rule #14: Rope. Men love rope. It takes us back to our cowboy origins, or at least the Boy Scouts. Nothing says love like a hundred feet of 3/8" manilla rope. No one knows why...
Submitted by Vicki, Downingtown, Pa.

Return to: Top of Page, List of Jokes About Men, My Little Sister's Jokes,
---
When a guy's printing on his printer began to grow faint...
..., he called a local repair shop where a friendly man informed him that the printer probably needed only to be cleaned.
Because the store charged $50 for cleaning, he told him he might be better off reading the printer's manual and trying the job himself.
Pleasantly surprised by his candor, he asked, "Does your boss know that you discourage business?"
"Actually, it's my boss's idea," the employee replied sheepishly. "We usually make more money on repairs if we let people try to fix things themselves first."
Submitted by Dave, Bolder, Co.

Return to: Top of Page, Computer Joke List, My Little Sister's Jokes,
---
A Sunday School teacher was trying to explain about saying grace before meals.
One of the pupils was the young son of the minister of that church, so she started the discussion by asking him, "Jerry, what does your father say when the family sits down to dinner?"
Jerry answered, "Dad says, 'Go easy on the butter, kids, it's three dollars a pound!'"

Return to: Top of Page, List of Cute Kids Sayings, My Little Sister's Jokes,
---
Procrastinator's Creed...
You may wish to delay reading this until you have more free time.
I believe that if anything is worth doing, it would have been done already.
I shall never move quickly, except to avoid more work or find excuses.
I will never rush into a job without a lifetime of consideration.
I shall meet all of my deadlines directly in proportion to the amount of bodily injury I could expect to receive from missing them.
I firmly believe that tomorrow holds the possibility for new technologies, astounding discoveries, and a reprieve from my obligations.
I truly believe that all deadlines are unreasonable regardless of the amount of time given.
If at first I don't succeed, there is always next year.
I shall always decide not to decide, unless of course I decide to change my mind.
I shall always begin, start, initiate, take the first step, and/or write the first word, when I get around to it.
I will never put off tomorrow, what I can forget about forever.
Submitted by Kenneth, Shropshire, England

Return to: Top of Page, List of Humorous Sayings, My Little Sister's Jokes,
---
My friend and I joined a weight-loss organization.
At one meeting the instructor held up an apple and a candy bar.
"What are the attributes of this apple," she asked, "and how do they relate to our diet?"
"Low in calories" and "lots of fiber," were among the answers.
She then detailed what was wrong with eating candy, and concluded, "Apples are not only more healthful but also less expensive. Do you know I paid fifty-five cents for this candy bar?" We stared as she held aloft the forbidden treat.
From in back of the room a small voice spoke up. "I'll give you seventy-five cents for it."
Submitted by Dick, Williamsport, Md.

Return to: Top of Page, Clean Joke List, My Little Sister's Jokes,
---
How Indian's resolve traffic jams -
Download Video
Submitted by Kenneth, Shropshire, England

Return to: Top of Page, List of Audio/Videos, My Little Sister's Jokes,
---
I guess that this is going to be the new wave of the future.....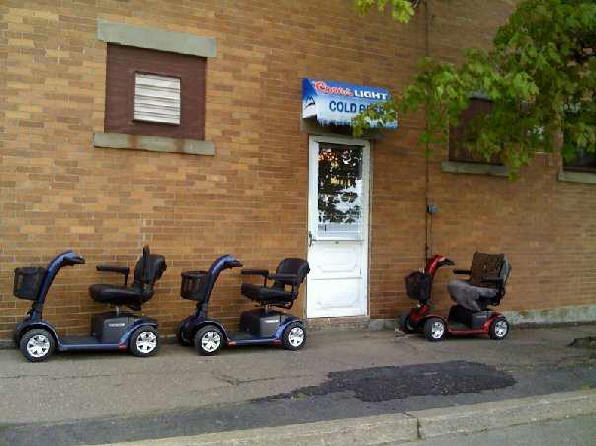 Submitted by Dewey, Pensacola, Fl.

Return to: Top of Page, List of Photos, My Little Sister's Jokes,
---