The IRS sent their auditor to a synagogue.
The auditor was doing all the checks and then turned to the Rabbi and says, "I noticed that you buy a lot of candles."
"Yes," answered the Rabbi.
"Well, Rabbi, what do you do with the candle drippings?" he asked.
"A good question," noted the Rabbi. "We actually save them up and when we have enough, we send them back to the candle maker and every now and then, they send us a free box of candles."
"Oh," replied the auditor somewhat disappointed that his unusual question actually had a practical answer. So he thought he'd go on, in his obnoxious way.
"Rabbi, what about all these matzo purchases? What do you do with the crumbs from the matzo?"
"Ah, yes," replied the Rabbi calmly, "We actually collect up all the crumbs from the matzo and when we have enough, we send them in a box back to the manufacturer and every now and then, they send us a free box of matzo balls."
"Oh," replied the auditor, thinking hard how to fluster the Rabbi.
"Well, Rabbi," he went on, "what do you do with all the foreskins from the circumcisions?"
"Yes, here too, we do not waste," answered the Rabbi. "What we do is save up all the foreskins, and when we have enough we actually send them to the IRS."
"IRS?" questioned the auditor in disbelief.
"Ah, yes," replied the Rabbi, "IRS ... and about once a year, they send us someone like you.

Return to: Top of Page, List of Un-Categorizable Jokes, My Little Sister's Jokes,
---
An elderly woman had just returned to her home from an evening of Church services ...
... when she was startled by an intruder. She caught the man in the act of robbing her home of its valuables and yelled, "Stop! Acts 2:38!" (Repent and be baptized, in the name of Jesus Christ so that your sins may be
forgiven.) The burglar stopped in his tracks.
The woman calmly called the police and explained what she had done. As the officer cuffed the man to take him in, he asked the burglar, "Why did you just stand there? All the old lady did was yell a scripture to you."
"Scripture?" replied the burglar. "She said she had an Ax and Two 38's!"
Submitted by Don, Hagerstown, Md.

Return to: Top of Page, Clean Joke List, My Little Sister's Jokes,
---
Two robins were sitting in a tree.
"I'm really hungry," said the first one. "Let's fly down and find some lunch"
They flew down to the ground and found a nice plot of newly plowed ground that was full of worms. They ate and ate and ate till they could eat no more.
"I'm so full, I don't think I can fly back up into the tree," said the first one." Let's just lay back here and bask in the warm sun," said the second.
"O K," said the first. So they plopped down, basking in the sun. No sooner than they had fallen asleep, when a big fat tomcat up and gobbled them up.
As the cat sat washing his face after his meal, he thought. ... "I Just Love Baskin Robins."
Submitted by Dave, Bolder Co.

Return to: Top of Page, Groaner Joke List, My Little Sister's Jokes,
---
A woman went to a computer dating service and said she didn't care about looks ...
... income or background. All she wanted was a man of upright character.

Then a man came in and told them the only thing he was seeking in a woman was intelligence.

The service matched them together at once because they had one thing in common - they were both pathological liars.
Submitted by Dave, Bolder, Co.

Return to: Top of Page, List of Jokes About Marriage, My Little Sister's Jokes,
---
Actual letter sent to a bank.
Dear Sir:
I am writing to thank you for bouncing my check with which I endeavored to pay my plumber last month. By my calculations, three nanoseconds must have elapsed between his presenting the check and the arrival of the funds needed to honor it. I refer, of course, to the automatic monthly deposit of my entire salary... an arrangement which, I admit, has been in place for only 8 years.
You are to be commended for seizing that brief window of opportunity, and also for debiting my account $50 by way of penalty for the inconvenience caused to your bank.
My thankfulness springs from the manner in which this incident has caused me to rethink my errant financial ways. I noticed whereas I personally attend to your telephone calls and letters, that when I try to contact you I am confronted by the impersonal, overcharging, prerecorded, faceless entity which your bank has become. From now on I, like you, choose to deal only with a flesh-and-blood person.
My mortgage and loan repayments will, therefore and hereafter, no longer be automatic, but will arrive at your bank, by check, addressed personally and confidentially to an employee at your bank whom you must nominate. Be aware that it is an offense under the Postal Act for any other person to open such an envelope.
Please find attached an Application Contact Status which I require your chosen employee to complete. I am sorry it runs to eight pages, but in order that I know as much about him or her as your bank knows about me, there is no alternative.
Please note that all copies of his or her medical history must be countersigned by a Notary Public, and the mandatory details of his/her financial situation (income, debts, assets and liabilities) must be accompanied by documented proof. In due course I will issue your employee with a PIN number which he/she must quote in dealings with me. I regret that it cannot be shorter than 28 digits but, again, I have modeled it after the number of button presses required to access my account balance on your phone banking service.
As they say, imitation is the sincerest form of flattery. Let me level the playing field even further. While this may, on occasion, involve a lengthy wait, uplifting music will play for the duration of the call.
Press buttons as follows:
To make an appointment to see me.
To query a missing payment.
To transfer the call to my living room in case I am there.
To transfer the call to my bedroom in case I am sleeping.
To transfer the call to my toilet in case I am attending to nature.
To transfer the call to my mobile phone if I am not at home.
To leave a message on my computer, a password to access my computer is required. Password will be communicated at a later date.
To return to the main menu and to listen to options 1 through 7.
To make a general complaint or inquiry.
The contact will then be put on hold, pending the attention of my automated answering service. Regrettably, but again following your example, I must also levy an establishment fee to cover the setting up of this new arrangement. May I, however, wish you a happy, if ever-so-slightly less, prosperous day.
Your humble client, Judy
Submitted by Bill, Narberth, Pa.
Return to: Top of Page, List of Jokes about Work, My Little Sister's Jokes,
---
Photo taken from the roof at Doncaster shopping centre - Black Saturday

The terrible bush fires that have devastated Australia are now almost all out, but the toll has been terrible. 210 dead, losses approaching 1 billion, whole towns wiped out. The photo below was sent to me by a friend, and it's taken from the top of a large shopping centre about 15kn from the centre of Melbourne. Looking north, It shows the flames that burnt for four days, and that came within 50 km of the center. A stark contrast of well-lit houses and well-burning bushland.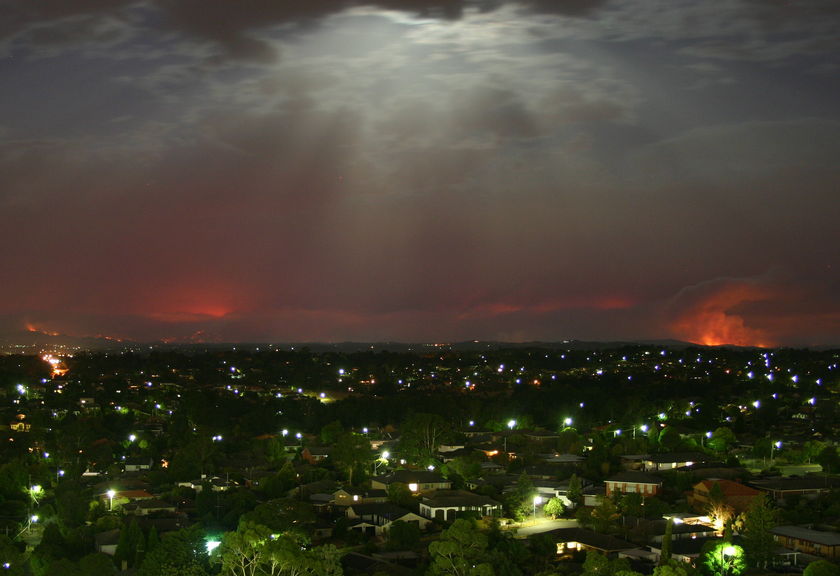 Submitted by Lindsay, Melbourne, Australia
Return to: Top of Page, List of Photos, My Little Sister's Jokes,
---