An applicant was filling out a job application.

When he came to the question, "Have you ever been arrested?" he wrote, "No."

The next question, intended for people who had answered in the affirmative to the previous question, was "Why?"

The applicant answered it anyway: "Never got caught."

Submitted by Dick, Williamsport, Md.

Return to: Top of Page, Clean Joke List, My Little Sister's Jokes,
---
The teacher then announced, "Ladies, exercise is good for you during pregnancy...

Walking is especially beneficial. And, gentlemen, it wouldn't hurt you to take the time to go walking with your partner!"

The room really got quiet.

Finally, a man in the middle of the group raised his hand.

"Yes?" replied the teacher.

"Is it alright if she carries a golf bag while we walk?"

Submitted by Bill, Ardmore, Pa.

Return to: Top of Page, List of Jokes About Women, My Little Sister's Jokes,
---
A suspicious husband hired a private eye to check on the movements of his wife.
In addition to a written report, the husband wanted a video of his wife's activities.
A week later, the detective returned with a film. They sat down together and proceeded to watch it.
Although the quality was less than professional, the man saw his wife meeting another man! He saw the two of them strolling arm in arm and laughing in the park. He saw them enjoying themselves at an outdoor cafe. He saw them dancing in a dimly lit nightclub. He saw them take part in a dozen activities with utter glee.
"I just can't believe this," said the distraught husband.
"What's not to believe?" the detective said. "It's right up there on the screen!"
"I simply can't believe my wife could be so much fun!" the husband replied.
Submitted by Kenneth, Shropshire, England

Return to: Top of Page, List of Jokes About Marriage, My Little Sister's Jokes,
---
A man walks into an insurance office and asks for a job.
"We don't need any one," they replied.

"You can't afford not to hire me. I can sell anyone anytime any thing."

"We have two prospects that no one has been able to sell. If you can sell just one, you have a job."

He was gone for about two hours and returned and handed them two checks, one for a $80,000 policy and another for a $50,000 policy. "How in the world did you do that," they asked.

"I told you I'm the world's best salesman, I can sell anyone anywhere anytime."

"Did you get a urine sample?" they asked him.

"Why's that?" he asked.

"Well, if you sell a policy over $40,000 the company requires a urine sample. Take these two bottles and go back and get urine samples."

He was gone for about eight hours and then he walks in with two five gallon buckets, one in each hand. He sets the buckets down and reaches in his shirt pocket and produces two bottles of urine and sets them on the desk and says, "Here's Mr. Brown's and this one is Mr. Smith's."

"That's good," they said, "but what's in those two buckets?"

"Well, I passed by the school house and they were having a state teachers convention and I sold them a group policy!"

Return to: Top of Page, List of Un-Categorizable Jokes, My Little Sister's Jokes,
---
A school teacher injured his back and had to wear a plaster cast...
... around the upper part of his body. It fit under his shirt and was not noticeable at all. On the first day of the term, still with the cast under his shirt, he found himself assigned to the toughest students in school.

Walking confidently into the rowdy classroom, he opened the window as wide as possible and then busied himself with desk work. When a strong breeze made his tie flap, he took the desk stapler and stapled the tie to his chest.

He had no trouble with discipline that term.

Return to: Top of Page, Clean Joke List, My Little Sister's Jokes,
---
No wonder great-gramma had such a happy childhood....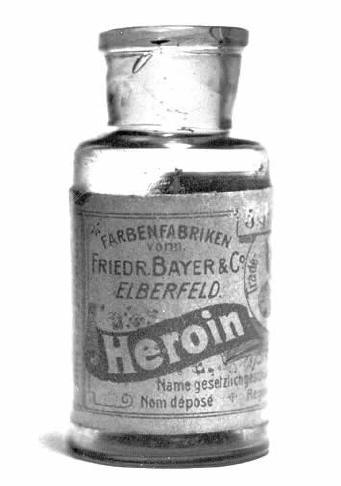 A bottle of Bayer's heroin. Between 1890 - 1910 heroin was sold as a non-addictive substitute for morphine. It was also used to treat children with strong cough.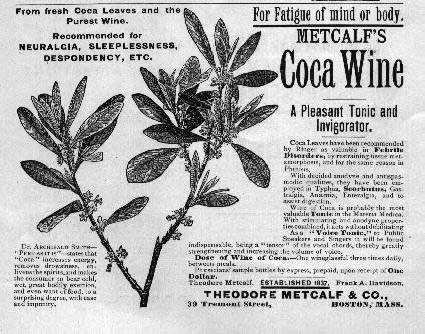 Metcalf Coca Wine was one of a huge variety of wines with cocaine on the market. Everybody used to say that it would make you happy while it worked as a medicinal treatment.
Opium for Asthma
Cocaine tablets (1900)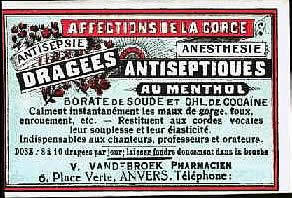 All stage actors, singers teachers and preachers had to have them for a maximum performance. Great to "smooth" the voice.
Cocaine drops for toothache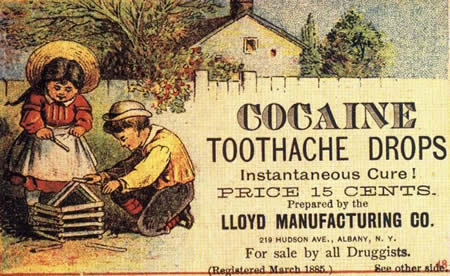 Very popular for children in 1885. Not only they relieved the pain, they made the children happy!
Submitted by Cathy, Storrington, England!

Return to: Top of Page, List of Photos, My Little Sister's Jokes,
---