The Inevitable Laws of Work
If you can't get your work done in the first 24 hours, work nights.
A pat on the back is only a few centimeters from a kick in the butt.
Don't be irreplaceable, if you can't be replaced, you can't be promoted.
It doesn't matter what you do. It only matters what you say you've done and what you're going to do.
After any salary raise, you will have less money at the end of the month than you did before.
The more you put up with, the more you are going to get.
You can go anywhere you want if you look serious and carry a clipboard.
Eat one live toad the first thing in the morning and nothing worse will happen to you the rest of the day.
When the bosses talk about improving productivity, they are never talking about themselves.
If at first you don't succeed, try again. Then quit. No use being a darn fool about it.
There will always be beer cans rolling on the floor of your car when the boss asks for a ride home from the office.
Keep your boss's boss off your boss's back.
Everything can be filed under "miscellaneous."
Never delay the ending of a meeting or the beginning of a cocktail hour.
More Inevitable Laws of Work
To err is human; to forgive is not our policy.
Anyone can do any amount of work provided it isn't the work he/she is supposed to be doing.
Important letters that contain no errors will develop errors in the mail.
If you are good, you will be assigned all the work. If you are really good, you will get out of it.
You are always doing something marginal when the boss drops by your desk.
People who go to conferences are the ones who shouldn't.
If it wasn't for the last minute, nothing would get done.
At work, the authority of a person is inversely proportional to the number of pens that person is carrying.
When you don't know what to do, walk fast and look worried.
Following the rules will not get the job done.
Getting the job done is no excuse for not following the rules.
When confronted by a difficult problem you can solve it more easily by reducing it to the question, "How would the Lone Ranger handle this?"
No matter how much you do, you never do enough.
The last person that quit or was fired will be held responsible for everything that goes wrong.
Return to: Top of Page, List of Jokes about Work, My Little Sister's Jokes,
---
A small lady, 60+ years, pink hair, turned up specs, orange pants suit...
..., trolley at the ready, is saying to the young guy that collects trolleys, "Young man, I cannot find my car. I need your help."
With a look of utter resignation, and waving his arm round, he says, "Which area did you park it in?"
" P4" she replies.
"P4? Lady, we don't have numbered parking areas."
"Oh, yes you do, I parked right next to the P4 sign."
A look of painful disbelief dawns on hos face. "Lady, that means you can park for four hours." Sigh.
What colour and make is your car, then?"
She might have been blond in a former life.
Submitted by Lindsay, Melbourne, Australia.

Return to: Top of Page, List of Jokes About Aging, My Little Sister's Jokes ,
---
An investment counselor decided to go out on her own.
She was shrewd and diligent, so business kept coming in, and pretty soon she realized that she needed an in-house counsel.
She began to interview young lawyers. "As I'm sure you can understand," she started off with one of the first applicants, "in a business like this, our personal integrity must be beyond question." She leaned forward. "Mr. Peterson, are you an honest lawyer?"
"Honest?" replied the job prospect. "Let me tell you something about honest. Why, I'm so honest that my father lent me $15,000 for my education, and I paid back every penny the minute I tried my very first case."
"Impressive. And what sort of case was that?"
The lawyer squirmed in his seat and admitted, "He sued me for the money."
Submitted by Dick, Williamsport, Md.

Return to: Top of Page, List of Lawyer Jokes, My Little Sister's Jokes,
---
A man rushed into a bar and ordered a double martini.
The man downed it with one swallow, put a five dollar bill on the bar, and turned and rushed out of the bar.
The bartender picked up the five dollar bill, and folded it carefully and tucked it in his vest pocket.
Just at that moment he looked up at the boss standing in the doorway staring at him.
Doing a bit of fast thinking he said, "Hi boss, did you see that fellow just now? Came in here, bought a double martini, gave me a five dollar tip, and rushed out without paying."
Submitted by Bill, Ardmore, Pa.

Return to: Top of Page, List of Drinking Jokes, My Little Sister's Jokes,
---
Why it's better to be a Woman!
We got off the Titanic first.
We get to flirt with systems support men who always return our calls, and are nice to us when we blow up our computers.
Our boyfriend's clothes make us look elfin & gorgeous. Guys look like complete idiots in ours.
We can be groupies. Male groupies are stalkers.
We can cry and get off speeding fines.
We've never lusted after a cartoon character or the central female figure in a computer game.
Taxis stop for us.
Men die earlier, so we get to cash in on the life insurance.
We don't look like a frog in a blender when dancing.
Free drinks, Free dinners, Free movies ... (you get the point).
New lipstick gives us a whole new lease on life.
It's possible to live our whole lives without ever taking a group shower.
We don't have to "noisily pass wind" to amuse ourselves.
Submitted by Kenneth, Shropshire, England

Return to: Top of Page, List of Jokes About Men, My Little Sister's Jokes,
---
This almost put a lump in my throat...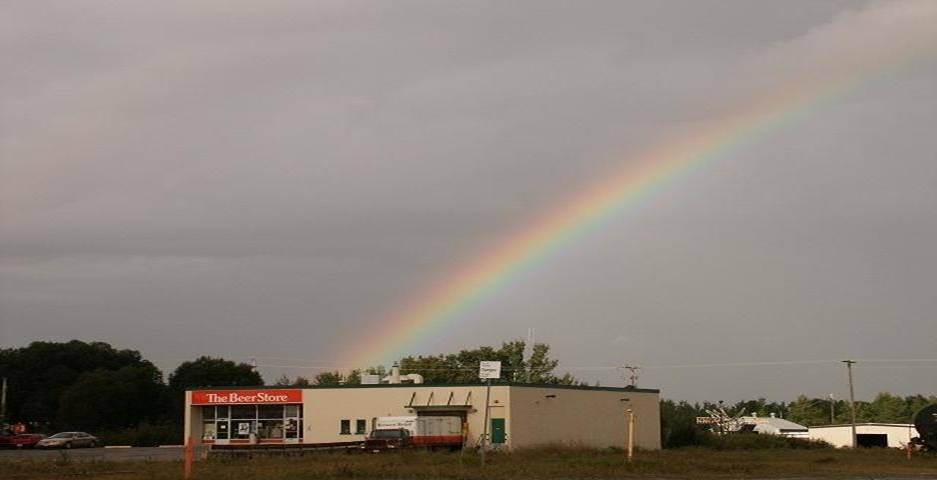 Submitted by Dewy, Pensacola, Fl.

Return to: Top of Page, List of Photos, My Little Sister's Jokes,
---