Red Skelton's Recipe for the Perfect Marriage
Two times a week we go to a nice restaurant, have a little beverage, good food and companionship She goes on Tuesdays; I go on Fridays.
We also sleep in separate beds. Hers is in California , and mine is in Texas
I take my wife everywhere.... but she keeps finding her way back.
I asked my wife where she wanted to go for our anniversary. 'Somewhere I haven't been in a long time!' she said. So I suggested the kitchen.
We always hold hands. If I let go, she shops.
She has an electric blender, electric toaster and electric bread maker. She said 'There are too many gadgets, and no place to sit down!' So I bought her an electric chair.
My wife told me the car wasn't running well because there was water in the carburetor. I asked where the car was. She told me, 'In the lake.'
She got a mud pack, and looked great for two days. Then the mud fell off.
She ran after the garbage truck, yelling, 'Am I too late for the garbage?' The driver said, 'No, jump in!'
Remember: Marriage is the number one cause of divorce.
I married Miss Right. I just didn't know her first name was Always.
I haven't spoken to my wife in 18 months I don't like to interrupt her.
The last fight was my fault though. My wife asked, 'What's on the TV?' I said, 'Dust!'
Can't you just hear him say all of these? I love it........these were the good old days when humor didn't have to start with a four letter word. It was just clean and simple fun. And he always ended his programs with the words, 'God Bless.'
Submitted by Bill, Ardmore, PA.

Return to: Top of Page, Clean Joke List, My Little Sister's Jokes,
---
This is very interesting and not the ending I had expected!!!!
A few years after I was born, my Dad met a stranger who was new to our small Michigan town. From the beginning, Dad was fascinated with this enchanting newcomer and soon invited him to live with our family. The stranger was quickly accepted and was around from then on.
As I grew up, I never question ed his place in my family. In my young mind, he had a special niche. My parents were complementary instructors: Mom taught me good from evil, and Dad taught me to obey. But the stranger...he was our storyteller. He would keep us spellbound for hours on end with Adventures, mysteries and comedies.
If I wanted to know anything about politics, history or science, he always knew the answers about the past, understood the present and even seemed able to predict the future! He took my family to the first major league ball game. He made me laugh, and he made me cry. The stranger never stopped Talking, but Dad didn't seem to mind.
Sometimes, Mom would get up quietly while the rest of us were shushing each other to listen to what he had to say, and she would go to the kitchen for peace and quiet. (I wonder now if she ever prayed for the stranger to leave.) Dad ruled our household with certain moral convictions, but the stranger never felt obligated to honor them. Profanity, for example, was not allowed in our home... Not from us, our friends or any visitors. Our longtime visitor, however, got away with four-letter words that burned my ears and made my dad squirm and my mother blush. My Dad didn't permit the liberal use of alcohol, but the stranger encouraged us to try it on a regular basis. He made cigarettes look cool, cigars manly and pipes distinguished. He talked freely (much too freely!) about sex. His comments were sometimes blatant, sometimes suggestive, and generally embarrassing.
I now know that my early concepts about relationships were influenced strongly by the stranger. Time after time, he opposed the values of my parents, yet he was seldom rebuked... And NEVER asked to leave.
More than fifty years have passed since the stranger moved in with our family. He has blended right in and is not nearly as fascinating as he was at first. Still, if you could walk into my parents' den today, you would still find him sitting over in his corner, waiting for someone to listen to him talk and watch him draw his pictures.
His name?.... .. .
We just call him 'TV.'
Submitted by Dewey, Pensacola, Fl.

Return to: Top of Page, List of Interesting Facts, My Little Sister's Jokes,
---
Proposed Rules for Major League Baseball
Visiting pitchers will have the right between innings to throw at the home teamís mascot.
All signs brought in by the fans must be of transparent stock, so that people behind them can view the field continually
People ascending or descending the aisles but walk on the right side. Signal turns left by sticking out your pinky of your left hand toward the row one is turning into.
No muddy feet on the seats, except for seats inhabited by those that you know are rooting for the visiting team.
No nude sunbathing is permitted in the outfield bleachers only during football season. Women only. Men, you are on your own at anytime.
Hot dogs sold must be all beef, and have not previously been treaded on. The bun must not be any longer than six inches larger than the actual hot dog inside, which would leave room for imitation ketchup, imitation mustard, and strangely fluorescent green relish and rubber-like onions.
No currently rostered player who is still able to participate in a game is allowed to park in a handicapped parking area, unless his mommy or wife signs a waiver or he is driving a Mack SUV.
Police officers must now pay their way in to see a game. No freeloading in Major League Baseball (excepting to break up a riot in the stands).
Steroids are banned from Major League Baseball, unless league officials and doctors cannot prove you are doing it. Then, itís all right.
The attendance figures announced at the ballpark can be doctored to over 10,000 more than the actual figure. This is to keep the fans, especially in early spring, when the temperature is forty degrees or less, to feel warmer and to add to the home town camaraderie.
Submitted by Bruce, Cold Harbor, Ill.
Return to: Top of Page, List of Sports Jokes, My Little Sister's Jokes,
---
You Know You Work for the Government If...
When someone asks about what you do for a living, you lie.
You get really excited about a 2% pay raise.
Your biggest loss from a system crash is you lose your best jokes.
Your supervisor doesn't have the ability to do your job.
You sit in a cubicle smaller than your bedroom closet.
It no longer amazes you that computer security is more important than having computers.
Your office computer was just upgraded to a 200 MHz Pentium this year.
Computer specialists know less about computers than your teenager.
Lunch is like another scheduled meeting, only shorter.
You and your coequals always consume the free food left over from VIP meetings.
It's dark when you drive to and from work.
You're forced to park your car a mile from the office because of all the commanders, customers, designated contractor, VIP's, employees of the month/quarter/year and visitor, parking spaces by the main entrance.
Submitted by Kenneth, Shropshire, England

Return to: Top of Page, List of Jokes about Work, My Little Sister's Jokes,
---
How Aliens Fish ... Download Video

Submitted by Dewey, Pensacola, Fl.
Return to: Top of Page, List of Audio/Videos, My Little Sister's Jokes,
---
Ceiling Mural in a Smoker's Lounge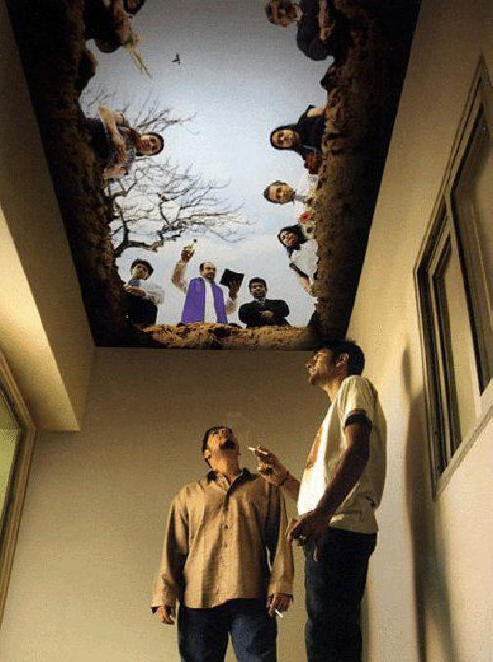 Bathroom floor of a hi-rise building.....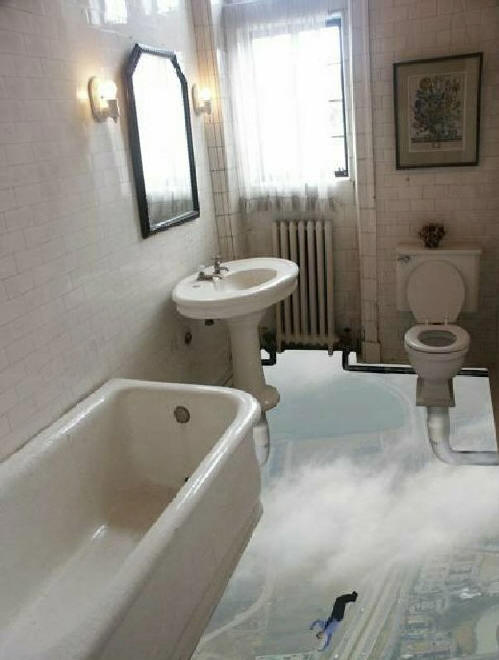 Submitted by Jay, Long Island, NY.
Return to: Top of Page, List of Photos, My Little Sister's Jokes,
---