The Crist family worked at a zoo. Each year they predicted the general luck...
.... and overall mood of the year by watching the gnu. If the gnu's ears were forward, that meant a successful, joyous year was almost certain to happen. But if his ears were laid back flat against his head, it meant that an unlucky or very unhappy year was sure to come.
One year it was young Mary's turn to "survey" the animal and come up with the prediction. It was her first time solo, and in her excitement, she forgot to take the key to the cage. She was late in coming to check on the gnu. Well, she saw the wrong ear position and predicted a bad year, when in fact it was quite good.
To explain the error, the local newspaper ran the following headline a year later: MARY CRIST MISSES AN HAPPY GNU'S EAR!
Submitted by Bill, Ardmore, Pa.

Return to: Top of Page, Groaner Joke List, My Little Sister's Jokes,
---
Ski Season Warm-up
Visit your local butcher and pay $30 to sit in the walk- in freezer for half an hour. Afterwards, burn two $50 dollar bills to warm up.
Go to the nearest hockey rink and walk across the ice 20 times in your ski boots carrying two pairs of skis, accessory bag and poles. Pretend you are looking for your car.
For ski boot simulation at home, put a pebble in each of your street shoes and tighten a C-clamps around your toes.
Buy a pair of gloves and immediately throw one away.
Go to McDonald's and insist on paying $6.50 for a hamburger. Be sure to wait in the longest line.
Clip a lift ticket to the zipper of your jacket and ride a motorcycle fast enough to make the ticket lacerate your face.
Drive slowly for five hours - anywhere - as long as it's in a snowstorm and you're following an 18 wheeler.
Fill a blender with ice, hit the pulse button and let the spray blast your face. You'd almost believe you're skiing in front of a snowmaker!
Dress up in as many clothes as you can and then proceed to take them off because you have to go to the bathroom.
Repeat all of the above every Saturday and Sunday. ·
Submitted by Dick, Williamsport, Md.

Return to: Top of Page, List of Sports Jokes, My Little Sister's Jokes,
---
Budweiser Snow Fight ... Download Video

Submitted by Bob, Rockville, Md.

Return to: Top of Page, List of Audio/Videos, My Little Sister's Jokes,
---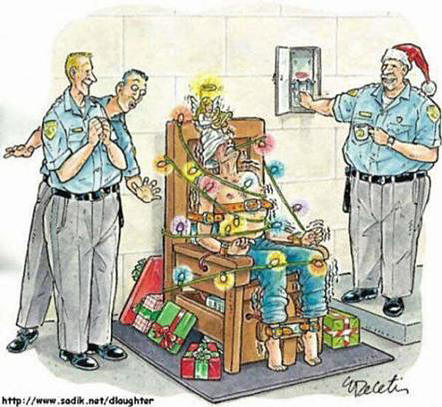 Submitted by Kenneth, Shropshire, England

Return to: Top of Page, List of Photos, My Little Sister's Jokes,
---