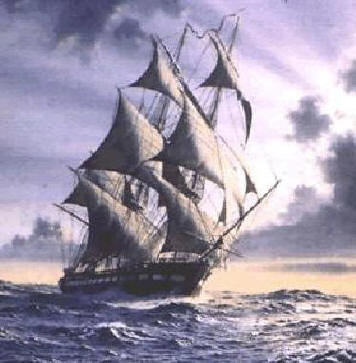 Little Known Tidbit of Naval History...
The U. S. S. Constitution (Old Ironsides), as a combat vessel, carried 48,600 gallons of fresh water for her crew of 475 officers and men.. This was sufficient to last six months of sustained operations at sea. She carried no evaporators (i.e. fresh water distillers).
However, let it be noted that according to her ship's log, "On July 27, 1798, the U.S.S. Constitution sailed from Boston with a full complement of 475 officers and men, 48,600 gallons of fresh water, 7,400 cannon shot, 11,600 pounds of black powder and 79,400 gallons of rum."
Her mission: "To destroy and harass English shipping."
Making Jamaica on 6 October, she took on 826 pounds of flour and 68,300 gallons of rum.
Then she headed for the Azores , arriving there 12 November. She provisioned with 550 pounds of beef and 64,300 gallons of Portuguese wine.
On 18 November, she set sail for England .. In the ensuing days she defeated five British men-of-war and captured and scuttled 12 English merchant ships, salvaging only the rum aboard each.
By 26 January, her powder and shot were exhausted. Nevertheless, although unarmed she made a night raid up the Firth of Clyde in Scotland . Her landing party captured a whisky distillery and transferred 40,000 gallons of single malt Scotch aboard by dawn. Then she headed home.
The U. S. S. Constitution arrived in Boston on 20 February 1799, with no cannon shot, no food, no powder, no rum, no wine, no whisky, and 38,600 gallons of water.
Go Navy!
Submitted by Dick, Williamsport, Md.

Return to: Top of Page, List of Interesting Facts, My Little Sister's Jokes,
---
I'd Like to thank Wal-Mart for having 25 checkout lanes and only three open at any given time.
Waiting in long lines keeps my domestic brain from going completely idle -- there's so much to learn!
I can catch up on my magazine reading without buying any.
I have time to leave my cart in line and run back to get the 13 things on my list I forgot.
I can be one of those annoying cell phone users and catch up on all my phone calls to my insurance agent, mother-in-law, and Auntie Anne.
I can catch a quick catnap now rather than on the drive home.
I can assess what other people have in their carts and get exciting new dinner ideas.
I can finally apply my top coat of nail polish with plenty of drying time.
I can run next door and pick up my dry cleaning.
I can update my coupon organizer and leave the trash in the we-never-open-enough-checkout-lanes store instead of my purse.
I can practice my standup comedy routines on unsuspecting fellow customers.
I can practice some standing yoga poses and then do those isometric muscle-contracting exercises no one else in line is supposed to know you're doing.
I can taste test my package of the newest low-carb, zero-transfat, Splenda-saturated cookies.
I can breathe heavily on my T-bones so they're defrosted in time for dinner and I won't have to leave them out on the driveway in the hot late afternoon sun as I normally do.
Submitted by Bill, Ardmore, Pa.

Return to: Top of Page, Clean Joke List, My Little Sister's Jokes,
---
Are you an Engineer?
If these remind you of yourself, it's a good bet you are an engineer.
At Christmas, it goes without saying that you will be the one to find the burnt-out bulb in the string.
In college you thought Spring Break was a metal fatigue failure.
The salespeople at Circuit City can't answer any of your questions.
You are at an air show and know how fast the skydivers are falling.
You bought your wife a new CD ROM for her birthday.
You can quote scenes from any Monty Python movie.
You can't write unless the paper has both horizontal and vertical lines.
You comment to your wife that her straight hair is nice and parallel.
You forgot to get a haircut ... for 6 months.
You have Dilbert comics displayed anywhere in your work area.
You have ever saved the power cord from a broken appliance.
You have more friends on the Internet than in real life.
You have used coat hangers and duct tape for something other than hanging coats and taping ducts.
You know what http:// actually stands for.
You own one or more white short-sleeve dress shirts.
You see a good design and still have to change it.
You still own a slide rule and you know how to work it.
You wear black socks with white tennis shoes (or vice versa).
You're in the back seat of your car, she's looking wistfully at the moon, and you're trying to locate a geosynchronous satellite.
You know what the geosynchronous satellite's function is.
Your laptop computer costs more than your car.
You've already calculated how much you make per second.
You've ever tried to repair a $5 radio.
Submitted by Kenneth, Shropshire, England

Return to: Top of Page, List of Jokes about Work, My Little Sister's Jokes,
---
Stopping to pick up my daughter at kindergarten...
..., I found out that the topic of "Show and Tell" that day had been parents' occupations.
The teacher pulled me aside. Whispering, she advised, "You might want to explain a little bit more to your daughter what you do for a living."
I work as a training consultant and often conduct my seminars in motel conference rooms.
When I asked why, the teacher explained, "Your daughter told the class she wasn't sure what you did, but said you got dressed real pretty and went to work at motels."
Submitted by April, Frederick, Md.

Return to: Top of Page, List of Cute Kids Sayings, My Little Sister's Jokes,
---
A wife was making a breakfast of fried eggs for her husband.
Suddenly her husband burst into the kitchen. "Careful. CAREFUL! Put in some more butter! Oh my GOD! You're cooking too many at once. TOO MANY! Turn them! TURN THEM NOW! We need more butter. Oh my GOD! WHERE are we going to get MORE BUTTER? They're going to STICK! Careful.
CAREFUL! I said be CAREFUL! You NEVER listen to me when you're cooking! Never! Turn them! Hurry up! Are you CRAZY? Have you LOST your mind? Don't forget to salt them. You know you always forget to salt them. Use the salt. USE THE SALT! THE SALT!"
The wife stared at him. "What the heck is wrong with you? You think I don't know how to fry a couple of eggs?"
The husband calmly replied, "I just wanted to show you what it feels like when I'm driving."
Submitted by Dan, Savanna, Ga.

Return to: Top of Page, List of Jokes About Marriage, My Little Sister's Jokes,
---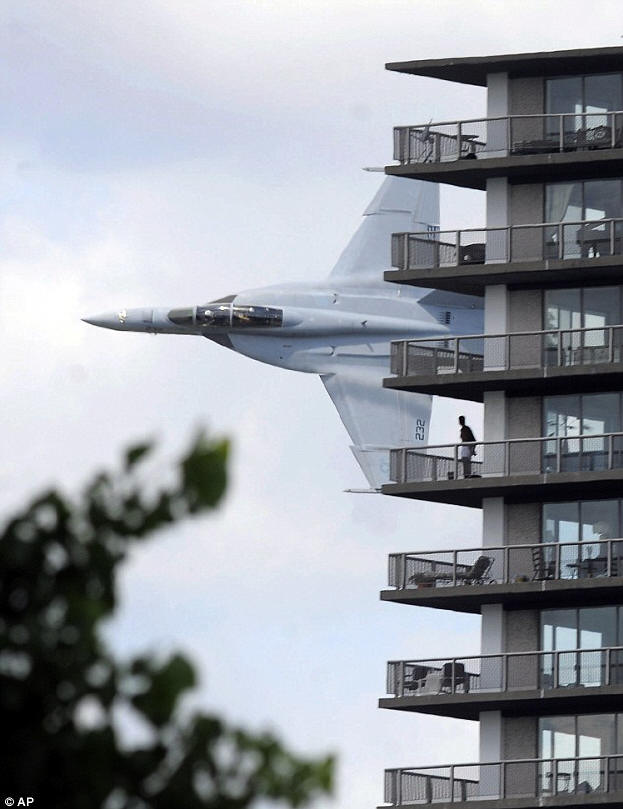 A Navy F/A-18F Super Hornet crew got permission for a low-level demonstration flight, as part of the opening ceremony for a speedboat race on the Detroit River , last weekend. This is what it looked like, for Motor City residents.
This is the moment a US Navy pilot gave a shocked resident a very close look at his F18. The fighter/bomber streaked past an apartment block on the banks of the Detroit River at the weekend. It was part of a tactical demonstration fly-past to open a speedboat race in the North American city. Officials waived rules to allow the Navy flyers to swoop under 100ft along the waterway.
One resident said, I couldn't believe how low they flew and how close they came to our building I'm sure the pilot waved at me.
The jets had flown in from the Naval Air Station Oceana in Virginia to put on a spectacular show for thousands of spectators.

Return to: Top of Page, List of Photos, My Little Sister's Jokes,
---