A small zoo in Arkansas obtained a very rare species of gorilla.
Within a few weeks the gorilla, a female, became very difficult to handle. Upon examination, the veterinarian determined the problem. The gorilla was in heat. To make matters worse, there was no male gorilla available. Thinking about their problem, the Zoo Keeper thought of Bobby Lee Walton, a redneck part-time worker responsible for cleaning the animal cages. Bobby Lee, like most rednecks, had little sense but possessed ample ability to satisfy a female of any species.
The Zoo Keeper thought they might have a solution. Bobby Lee was approached with a proposition. Would he be willing to mate with the gorilla for $500.00?
Bobby Lee showed some interest, but said he would have to think the matter over carefully. The following day, he announced that he would accept their offer, but only under four conditions.
"First", Bobby Lee said, "I ain't gonna kiss her on the lips."
The Keeper quickly agreed to this condition.
"Second", he said, "You can't never tell no one about this." The Keeper again readily agreed to this condition.
"Third", Bobby Lee said, "I want all the children raised Southern Baptist." Once again it was agreed.
And last, Bobby Lee said, "I'll need another week to come up with the $500.00."
Submitted by Lindsay, Melborne, Australia

Return to: Top of Page, List of Redneck Jokes, My Little Sister's Jokes,
---
You Know that Your Summer Vacation is Bad when:
The high point so far is when the air conditioner in your house got fixed.
First day of vacation and everyone comes down with dysentery.
You favorite home ball team transfers to Paducah.
The grubs ate your lawn, the rabbits ate your garden and your gross Uncle Herby comes to live with you as a summer house guest.
Your sixteen year-old daughter ran off with the Panamanian gardener, so did your son.
Your allergies kicked in big time, you find out that you are especially allergic to Johnsonville Brats and beer.
Your favorite ice cream stand was torched by a local terrorist. It was due to ice cream wars from the Dairy Drip across town.
You found out too late that during the high dive in front of your neighborhood, that your swim trunks have a rip in the front.
The dog is eating grass again. He demonstrated this in front of your dinner party in the middle of your living room.
You cannot get out of that trip you booked three years ago to exciting and unpredictable Aruba.
Submitted by Bruce, Cold Harbor, Ill.
Return to: Top of Page, Groaner Joke List, My Little Sister's Jokes,
---
You know you are in the Army when…
You think beer is one of the four basic food groups.
You pronounce "sergeant" like "sarn't" or "sar"
You have a difficult time coming up with sentences you have not previously heard someone else utter.
You think your whiny complaints are both new and insightful.
Your monthly paycheck is smaller than the average welfare payment.
Your life is lived only in the present with no thought of the future (kind of like children, dogs, and paramecium.)
You think marriage is a part-time job and adultery a tag-team sport.
You spend half of your day sitting on your bum waiting for:

-orders
-supplies and/or equipment
-other inconsiderate people

Your high-tech equipment looks like it was used against Mussolini.
You have nothing better to do than to gossip about and backstab your fellow soldiers.
You can wax and buff like a veteran janitor.
You were a:

juvenile delinquent
hairdresser (females only)
college screw up
small towner from Hicksville, USA
Marine reject

You can't spell or read aloud.
You use acronyms in a social setting.
Your average meal looks like it came out of the north end of a south-bound moose.
The thought of buying a new pair of boots makes you perspire in excitement.
You are able to say things like, "We must tactically maneuver these HMMWV's to the north side of the motor vehicle holding area at 0800 hours" with a straight face.
You compulsively walk in step with your companions.
You don't own any blue ink pens.
You think Beavis and Butthead are the funniest thing on television.
You give your last four before ordering your Big Mac.
You know every tattoo artist within a 20 mile radius by his or her first name.
The sight of a nifty drawing makes you itch to call the above.
You look at an approaching individual's collar or cap before you even glance at their face.
You are familiar with every product Kiwi makes.
You think "Hooah" might just be a real word.
Your boss says things like,"You will be there and have fun. That's an order."
You dream in OD Green.
You climb out of your couch and salute when they play the National Anthem on TV.
You spend half of your time feeling superior to civilians and the other half wishing you were one of them.
Submitted by Anna, Somewhere in Vermont!

Return to: Top of Page, List of Jokes about Work, My Little Sister's Jokes,
---
If truth in advertising were applied to state mottos
Alabama: Yes, We Have Electricity
Alaska: 11,623 Eskimos Can't Be Wrong!
Arizona: But It's a Dry Heat
Arkansas: Litterasy Ain't Everthing
California: As Seen on TV
Colorado: If You Don't Ski, Don't Bother
Connecticut: Like Massachusetts, Only Dirtier and With Less Character
Delaware: We Really Do Like the Chemicals in our Water
Florida: Ask Us About Our Grandkids
Georgia: We Put the "Fun" in Fundamentalist Extremism
Hawaii: Haka Tiki Mou Sha'ami Leeki Toru (Death to Mainland Scum, But Leave Your Money)
Idaho: Potatoes and Neo-Nazi's . . . What More Could You Ask For?
Illinois: Please Don't Pronounce the "S"
Indiana: 2 Billion Years Tidal-Wave Free
Iowa: We Do Amazing Things With Corn
Kansas: Where Science Don't Mean S#*@
Kentucky: Five Million People; Fifteen Last Names
Louisiana: We're Not All Drunk Cajun Wackos, But That's Our Tourism Campaign
Maine: We're Really Cold, But We Have Cheap Lobster
Maryland: A Thinking Man's Delaware
Massachusetts: Our Taxes Are Lower Than Sweden's (For Most Tax Brackets)
Michigan: First Line of Defense From the Canadians
Minnesota: 10,000 Lakes and 10,000,000,000,000,000,000,000,000 Mosquitoes
Mississippi: Come Feel Better About Your Own State
Missouri: Your Federal Flood Relief Tax Dollars at Work
Montana: Land of the Big Sky, the Unabomber, Right-Wing Crazies, and VeryLittle
Else
Nebraska: Ask About Our State Motto Contest
Nevada: Whores and Poker!
New Hampshire: Go Away and Leave Us Alone
New Jersey:
You Want a ##$%## Motto? I Got Yer ##$%## Motto Right Here!
New Mexico: Lizards Make Excellent Pets
New York: You Have the Right to Remain Silent, You Have the Right to an Attorney . . .
North Carolina: Tobacco is a Vegetable
North Dakota: We Really Are One of the 50 States!
Ohio: At Least We're Not Michigan
Oklahoma: Like the Play, Only No Singing
Oregon: Spotted Owl . . . It's What's For Dinner
Pennsylvania: Cook With Coal
Rhode Island: We're Not REALLY An Island
South Carolina: Remember the Civil War? We Didn't Actually Surrender!
South Dakota: Closer Than North Dakota
Tennessee: The Educashun State
Texas: Si' Hablo Ing'les(Yes, I speak English)
Utah: Our Jesus Is Better Than Your Jesus
Vermont: Yep
Virginia: Who Says Government Stiffs and Slackjaw Yokels Don't Mix?
Washington: Help! We're Overrun By Nerds and Slackers!
Washington, D.C.: Wanna Be Mayor?
West Virginia: One Big Happy Family-Really!
Wisconsin: Come Cut Our Cheese
Wyoming: Where Men Are Men And Sheep Are Nervous
Submitted by Patty, Leasburg, Va.

Return to: Top of Page, List of Humorous Sayings, My Little Sister's Jokes,
---
I hope he never figures out he is a cat...the more you scroll down, the cuter he is!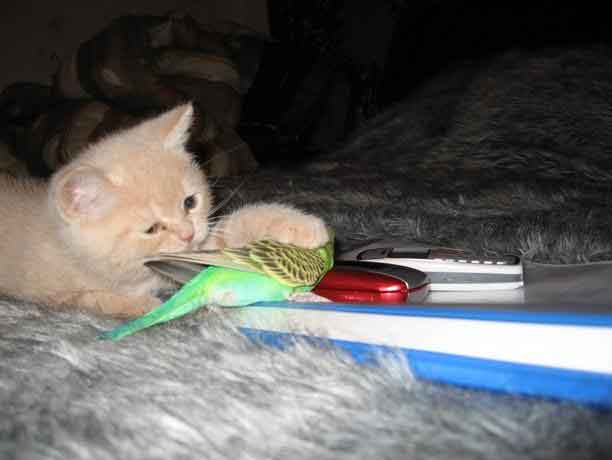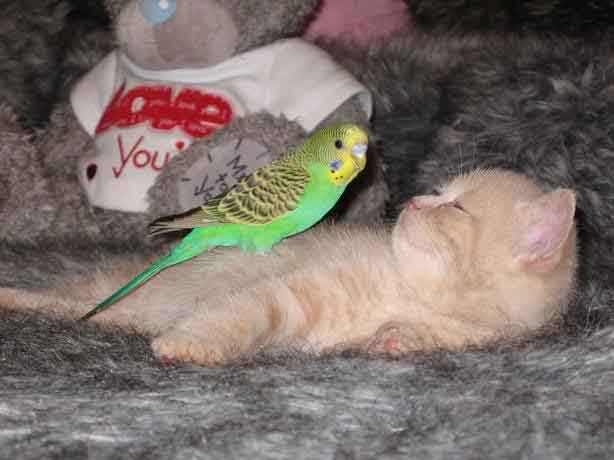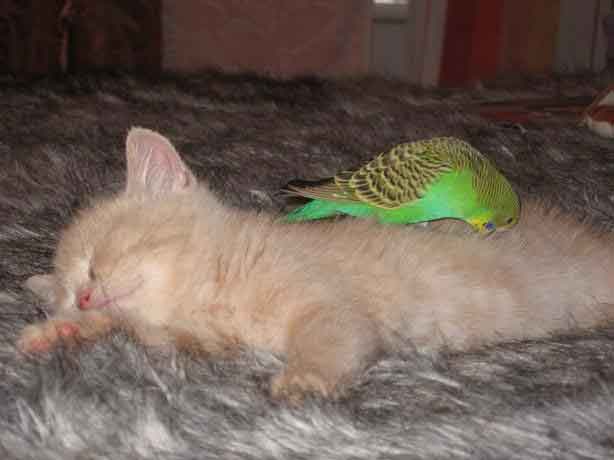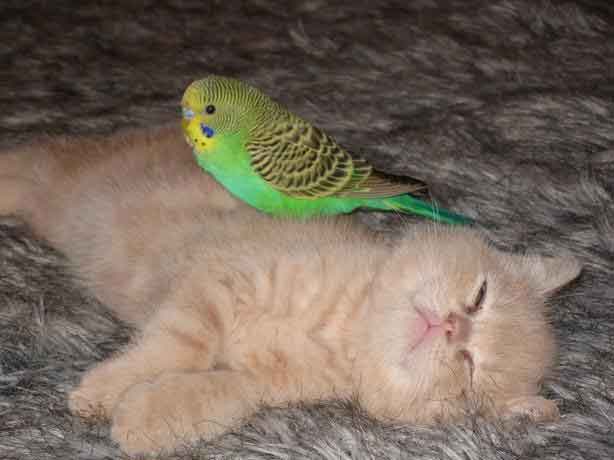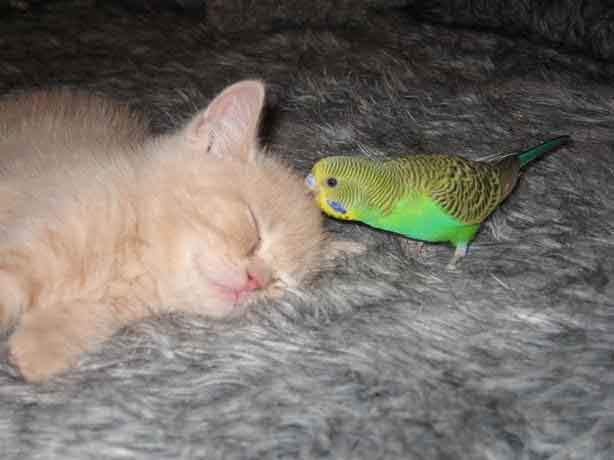 Return to: Top of Page, List of Photos, My Little Sister's Jokes,
---