There are the unavoidable laws of the natural universe...
Law of Mechanical Repair: After your hands become coated with grease your nose will begin to itch or you'll have to pee.
Law of the Workshop: Any tool, when dropped, will roll to the least accessible corner.
Law of probability: The probability of being watched is directly proportional to the stupidity of your act.
Law of the Telephone: When you dial a wrong number, you never get a busy signal.
Law of the Alibi: If you tell the boss you were late for work because you had a flat tire, the very next morning you will have a flat tyre.
Variation Law: If you change lines (or traffic lanes), the one you were in will start to move faster than the one you are in now. (works every time).
Bath Theorem: When the body is fully immersed in water, the telephone rings.
Law of Close Encounters: The probability of meeting someone you know increases when you are with someone you don't want to be seen with.
Law of the Result: When you try to prove to someone that a machine won't work, it will.
Law of Biomechanics: The severity of the itch is inversely proportional to the reach.
Theatre Rule: At any event, the people whose seats are furthest from the aisle arrive last.
Law of Coffee: As soon as you sit down to a cup of hot coffee, your boss will ask you to do something which will last until the coffee is cold.
Murphy's Law of Lockers: If there are only two people in a locker room, they will have adjacent lockers.
Law of Dirty Rugs/Carpets: The chances of an open-faced jelly sandwich landing face down on a floor covering are directly correlated to the newness, color and cost of the carpet/rug.
Law of Location: No matter where you go, there you are.
Law of Logical Argument: Anything is possible if you don't know what you are talking about.
Brown's Law: If the shoe fits, it's ugly.
Oliver's Law: A closed mouth gathers no feet.
Wilson's Law: As soon as you find a product that you really like, they will stop making it.
Submitted by Kenneth, Shropshire, England

Return to: Top of Page, Clean Joke List, My Little Sister's Jokes,
---
It's not all checking hunting and fishing licenses.
Sometimes the issues are bigger. Like when a Nevada game warden was handed the chore of figuring out how to separate two bull elk who locked horns while sparring and couldn't untangle themselves.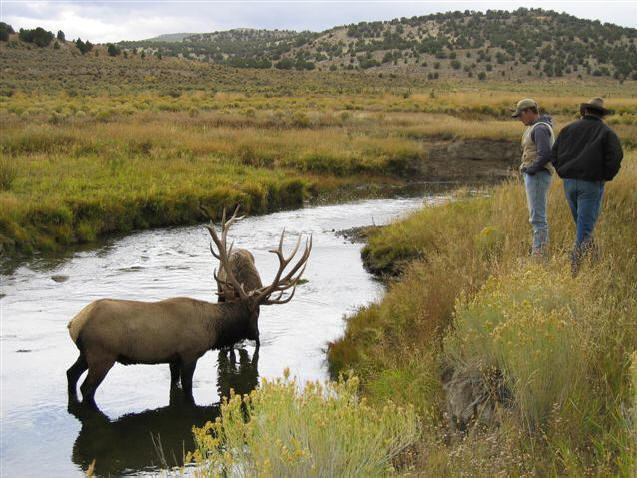 The saga began Nov. 21 when a rancher in Reese River Valley spotted the two elk. By the following day, the animals were gone and the rancher assumed they had separated.
A week later, according to Nevada Division of Wildlife biologist Tom Donham, the rancher was out looking for some of his cows and saw the elk again. This time, he called the wildlife department and Donham, game warden Brian Eller and Bureau of Land Management wildlife biologist Bryson Code headed out to see what they could do. When they reached Indian Valley, south of Austin, it was Nov. 29, one week after the elk were first seen.
'When we arrived where the rancher had last seen them, we found them pretty quickly. They were both lying on the ground and one of them was in a very uncomfortable-looking position with his head directly above the others head and his nose pointing straight up to the sky,' Donham said. Eller said he wondered if they had survived their ordeal.
'Once we found out they were alive, I was hoping they couldn't move and would stay where they were. That didn't happen. When they ran off, I was hoping they could not go very far. That didn't happen either,' he said.
The elk may have been sparring at the outset, but Donham and Eller say they used teamwork to run for nearly a mile to evade the newcomers. 'It looked like they had been doing it all their lives; serious cooperation if I've ever seen it,' Donham said.
After two unsuccessful attempts, Donham was able to get a tranquilizer dart into one of the elk. With one down, the other could not run, but was also partially tranquilized in order to separate the two.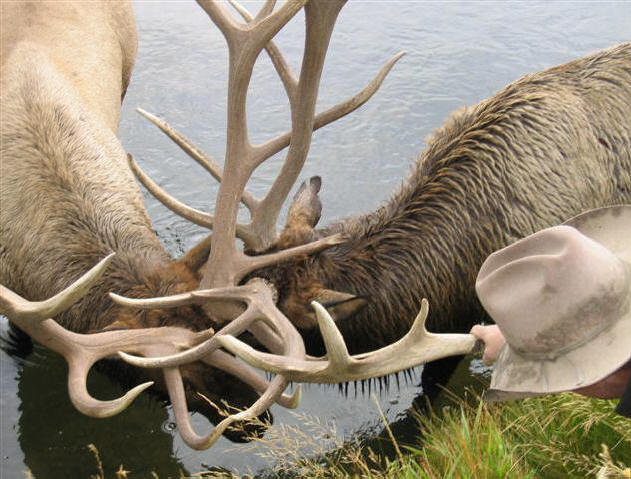 Eller and Code helped hold the elk down while Donham used a hand saw to remove part of an antler from one of them.
'As soon as they were apart, the bull that hadn't gotten a full dose jumped to his feet and Bryson, Brian and I quickly gave him all the room he wanted.
He went off about 30 yards and lay down for about 10 minutes before finally walking up the hill and over the ridge, none the worse for wear,' Donham said. The other elk was treated with antibiotics and eventually walked off as well, after the tranquilizer had worn off.
'If these two bulls had not been discovered, and we had never gotten the call, they more than likely would have both died. Watching the bulls walk away, and knowing that we likely saved them from a slow death was definitely one of those moments that makes this job rewarding.'
Submitted by Bill, Ardmore, Pa.

Return to: Top of Page, List of Heart Warming Stories, My Little Sister's Jokes,
---
Recent Quips from late night
"Last week John McCain said the fundamentals of our economy are strong. This week, he said it's the worst crisis since World War II. So he suspended his campaign, unless you count doing interviews, airing attack ads, sending out surrogates on TV to attack Obama." --Bill Maher

"President Bush spoke about the Wall Street bailout yesterday, and he said, this is the quote, 'if the money isn't loosened up, this sucker could go down.' So folks, if we know nothing else at this point, at least we know that President Bush is writing his own speeches." --Conan O'Brien

"The nation's largest savings and loan, Washington Mutual, has become the biggest bank failure in history. See, the problem with the savings and loans? Not enough savings, too many stupid loans, okay In fact, they changed their name from WaMu to 'screw you.'" --Jay Leno

"The presidential debates had an unusual format. After blowing a question on Bosnia, John McCain was told to extinguish his torch and leave the island." --David Letterman

"Treasury Secretary Henry Paulson said that the proposed bailout plan will cost taxpayers $700 billion. To give you an idea how much money that is, I can't give you an idea of how much money that is." --Seth Meyers

"A farmer in Ohio has carved a corn maze in his field in the likeness of Sarah Palin. The way it works? You enter and suddenly realize you're way over your head." --Amy Poehler

"McCain suspended his campaign, said the debate had to be canceled, he went to Washington, screwed up the deal, and then un-suspended his campaign and flew to the debate even though there wasn't a deal. Usually when a 72-year-old man acts this way, this is when the kids start calling nursing homes." --Bill Maher

"John McCain said he wouldn't attend tonight's presidential debate unless Congress reached a bailout deal. Then McCain reversed his position and decided to take part anyway. That's what happened. McCain says he may drop out again, depending on what the first question is. He's going to play it by ear." --Conan O'Brien

"But the good news, the crime rate is down. Isn't that amazing? Less banks are being robbed. Well, sure. A, there's less banks. B, the banks don't have any money left. And C, nobody's got gas money for the getaway car. So, right there, crime is down!" --Jay Leno

Return to: Top of Page, Recent Quips from Late Night List, My Little Sister's Jokes<,
---
Just want to thank all of you for your educational emails over the past year.
Thanks to you, I no longer open a public bathroom door without using a paper towel.
I can't sit down on the hotel bedspread because I can only imagine what has happened on it since it was last washed.
I can't enjoy lemon slices in my tea or on my seafood anymore because lemon peels have been found to contain all kinds of nasty germs including feces.
I have trouble shaking hands with someone who has been driving because the number one pass-time while driving alone is picking your nose (Although cell phone usage may be taking the number one spot)
Eating anything sends me on a guilt trip because I can only imagine how many gallons of transfats I have consumed over the years.
I can't touch any woman's purse for fear she has placed it on the floor of a public bathroom. Yuck!
I must send my special thanks to whoever sent me the one about poop in the glue on envelopes because I now have to use a wet sponge with every envelope that needs sealing.
Also, now I have to scrub the top of every can I open for the same reason.
I no longer have any savings because I gave it to a sick girl (Penny Brown) who is about to die in the hospital for the 1,387,258th time.
I no longer have any money at all, but that will change once I receive the $15,000 that Bill Gates/Microsoft and AOL are sending me for participating in their special e-mail program.
I no longer wor ry about my soul because I have 363,214 angels looking out for me, and St. Theresa's novena has granted my every wish.
I no longer eat KFC because their chickens are actually horrible mutant freaks with no eyes or feathers.
I no longer use cancer-causing deodorants even though I smell like a water buffalo on a hot day.
Thanks to you, I have learned that my prayers only get answered if I forward an email to seven of my friends and make a wish within five minutes.
Because of your concern I no longer drink Coca Cola because it can remove toilet stains.
I no longer can buy gasoline without taking someone along to watch the car so a serial killer won't crawl in my back seat when I'm pumping gas.
I no longer drink Pepsi or Dr Pepper since the people who make these products are atheists who refuse to put 'Under God' on their cans.
I no longer use Saran wrap in the microwave because it causes cancer.
And thanks for letting me know I can't boil a cup of water in the microwave anymore because it will blow up in my face...disfiguring me for life.
I no longer check the coin return on pay phones because I could be pricked with a needle infected with AIDS.
I no longer go to shopping malls because someone will drug me with a perfume sample and rob me.
I no longer receive packages from UPS or FedEx since they are actually Al Qaeda in disguise.
I no longer answer the phone because someone will ask me to dial a number for which I will get a phone bill with calls to Jamaica , Uganda , Singapore and Uzbekistan .
I no longer buy expensive cookies from Neiman Marcus since I now have their recipe.
Thanks to you, I can't use anyone's toilet but mine because a big brown African spider is lurking under the seat to cause me instant death when it bites my butt.
And thanks to your great advice, I can't ever pick up $5.00 dropped in the parking lot because it probably was placed there by a sex molester waiting underneath my car to grab my leg.
I can no longer drive my car because I can't buy gas from certain gas companies!
Have a wonderful day...
Submitted by Jim, Gettysburg, Pa.

Return to: Top of Page, List of Humorous Sayings, My Little Sister's Jokes,
---
Air Travel Today - Download Video

Submitted by Kenneth, Shropshire, England

Return to: Top of Page, List of Audio/Videos, My Little Sister's Jokes,
---
Halloween Is Going to Scary this Year !!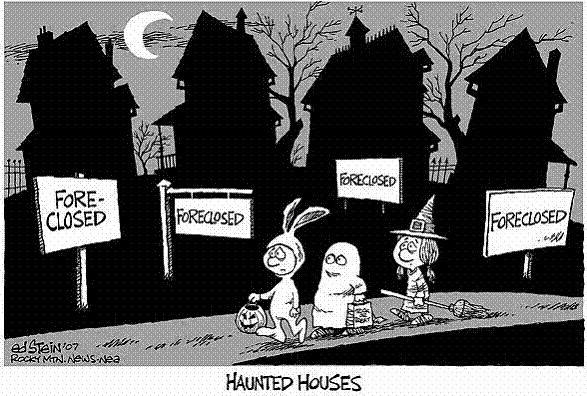 Submitted by Donna, Emmitsburg, Md.

Return to: Top of Page, List of Photos, My Little Sister's Jokes,
---