A minister was delivering a sermon on sin.
"Is there anyone here who is without SIN?" he shouted, glowering at the congregation.
Embarrassed parishioners stirred nervously in their seats, but no one stood.
Feeling he really had them this time, the preacher said, "Is there anyone here who thinks he or she is PERFECT?"
One small man, seated next to a rather imposing woman, rose nervously to his feet.
"So, Mr. Jones, you think YOU are PERFECT?"
"No, sir", the man replied, "I'm just standing for my wife's first husband!"
Submitted by Kenneth, Shropshire, England

Return to: Top of Page, List of Jokes About Marriage, My Little Sister's Jokes,
---
A woman walks into a butcher's shop...
... just before closing time and asks, "Do you have any turkey?"
The butcher opens his fridge, takes out his only turkey and puts it on the weighing scales. It weighs six pounds.
The woman looks at the turkey and at the scales and asks, "Do you have one that's a bit bigger than this one, please?" The butcher puts the turkey back into the fridge and then takes it out again, but this time when he puts it on the scales he keeps his thumb on the turkey. The scales now show eight pounds
"That's wonderful," says the woman. "I'll take both of them, please!"
Submitted by Dick, Williamsport, Md.

Return to: Top of Page, Clean Joke List, My Little Sister's Jokes,
---
A women offered to care for the eight-year-old daughter of a neighbour...
...who were going away for the weekend. On the Saturday morning, she made breakfast, laying a generous helping of bacon and eggs in front of the child. "Mummy always serves hot pancakes for breakfast," said the eight-year-old.
So Mary, very eager to oblige, hurried into the kitchen and quickly prepared a plate of hot pancakes, which she laid in front of the girl. "No, thank you," she said.
"But I thought you said your mother always has hot pancakes for breakfast!" said Mary in surprise.
"She does," said the child. "But I don't eat them."

Return to: Top of Page, List of Cute Kids Sayings, My Little Sister's Jokes,
---
Amazingly Simple Home Remedies
Avoid cutting yourself when slicing vegetables by getting someone else to hold them while you chop.
Avoid arguments with the Mrs. about lifting the toilet seat by using the sink.
For high blood pressure sufferers: simply cut yourself and bleed for a few minutes, thus reducing the pressure in your veins. Remember to use a timer.
A mouse trap, placed on top of your alarm clock, will prevent you from rolling over and going back to sleep after you hit the snooze button.
If you have a bad cough, take a large dose of laxatives; then you'll be afraid to cough.
You only need two tools in life - WD-40 and Duct Tape. If it doesn't move and should, use the WD-40. If it shouldn't move and does, use the duct tape.
If you can't fix it with a hammer, you've got an electrical problem.
Submitted by Julie, Middleburg, Va.

Return to: Top of Page, List of Humorous Sayings, My Little Sister's Jokes,
---
A young man named John received a parrot as a gift.
The parrot had a bad attitude and an even worse vocabulary. Every word out of the bird's mouth was rude, obnoxious and laced with profanity.
John tried and tried to change he bird's attitude by consistently saying only polite words, playing soft music and anything else he could think of to "clean up" the bird's vocabulary. Finally, John was fed up and he yelled at the parrot. The parrot yelled back. John shook the parrot and the parrot got angrier and even ruder. John, in desperation, threw up his hand, grabbed the bird and put him in the freezer. For a few minutes the parrot squawked and kicked and screamed.
Then suddenly there was total quiet. Not a peep was heard for over a minute. Fearing that he'd hurt the parrot, John quickly opened the door to the freezer. The parrot calmly stepped out onto John's outstretched arms and said, "I believe I may have offended you with my rude language and actions. I'm sincerely remorseful for my inappropriate transgressions and I fully intend to do everything I can to correct my rude and unforgivable behavior."
John was stunned at the change in the bird's attitude. As he was about to ask the parrot what had made such a dramatic change in his behavior, the bird continued, "May I ask what the turkey did?"
Submitted by Bob, Rockville, Md.

Return to: Top of Page, Clean Joke List, My Little Sister's Jokes,
---
After flipping his hydrofoil, Jesus quickly leaves the scene before his Father finds out!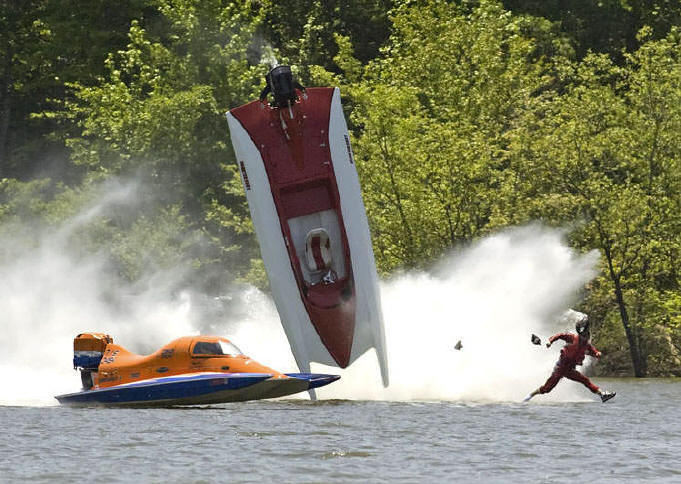 Submitted by Bill, Ardmore, Pa.

Return to: Top of Page, List of Photos, My Little Sister's Jokes,
---