A man walks into a bar, sits down, and orders a drink.
The bartender gives him his drink, accompanied by a bowl of peanuts. To his surprise, a voice comes from the peanut bowl. "You look great tonight!" it said. "You really look fantastic... And that after shave is just wonderful!"
The man is obviously a little confused, but tries to ignore it. Realizing he has no cigarettes, he wanders over to the cigarette machine. After inserting his money, another voice emits from the machine. "You jerk. Oh my gosh you stink. Do you know, you're almost as ugly as your mother."
By now, the man is extremely perplexed. He turns to the bartender for an explanation. "Ah yes sir," the bartender responds, "The peanuts are complimentary, but the cigarette machine is out of order."
Submitted by Kenneth, Shropshire, England

Return to: Top of Page, Groaner Joke List, My Little Sister's Jokes,
---
How To Tell if your favorite congressman is crooked...
When you shake hands with him, two of your fingers are suddenly missing.
He has an off shore corporation based in the Bahamas that supposed to sell bananas.
Instead of calling him "congressman" his employees call him "boss".
He has a wife at home, another in D.C., a maid, a housekeeper, a college intern, an out of college intern, and three more secretaries than he needs.
He has a house in your district, but he never lives there, and one in Las Vegas, another in Costa Rica, another in D.C., another in Spain.
Everyone pays him--the gardener, the garbageman, the cable guy, the local councilman, the mayor, the CEO from the airline, his mistress, his dog and the goldfish.
The only way he gets to talk before the television cameras is if he is indicted.
At roll call, he always seems to be on a foreign junket.
Everyone else pays his bills.
His pictures appear in his district at election time, but he can never make those debates that he scheduled.
His dog is named "Bugsy".
All of his real estate holdings pay no taxes.
His apartment buildings are run down and need of attention.
His daughter and son are running for student council, and Dad is supporting them with a ticker tape parade down the school hallway.
His guest list at his parties include labor leaders, politicians,
Miss America winners, Miss Universe Winners, some business men with lots of money and nobody from the press.
His suits come from Paris instead of "Suit Bargain Express".
His headquarters is in a high-rise.
He never looks straight at you when he shakes your hand.
After he does so, you notice that your rings are missing.
His fillings in his mouth are now made of gold.
His wife is driving his old Cadillac. His mistress is driving the new Lexus, and she is driving him.
He has pictures of well-known politicians on his wall-with names such as "Lucky" and "Big Jim" and "Shifty".
He spends more time in Las Vegas than he does in Washington.
You only see him in the district around election time.
Submitted by Bruce, Carol Stream, Illinois

Return to: Top of Page, List of Political Jokes, My Little Sister's Jokes,
---
I was in the VIP lounge last week en route to Seattle.
While in the lounge, I notice Bill Gates sitting on the chesterfield enjoying a cognac. I was meeting with a very important client who was also flying to Seattle with me but she was running a bit late.

Being a forward type of guy, I approached Mr. Gates and introduced myself. I explained to him that I was conducting some very important business and how much I would appreciate it if he could throw a quick "hello Chris" at me when I was with my client. He agreed.

Ten minutes later while I was conversing with my client, I felt a tap on my shoulder. It was Bill Gates. I turned around and looked up at him. He said,

"Hi Chris, what's happening?"

To which I replied, "Buzz off Gates, I'm in a meeting."
Submitted by Bill, Ardmore, Pa.

Return to: Top of Page, List of Un-Categorizable Jokes, My Little Sister's Jokes,
---
Three boys are in the schoolyard bragging of how great their fathers are.

The first one says: "Well, my father runs the fastest. He can fire an arrow, and start to run, I tell you, he gets there before the arrow".

The second one says: "Ha! You think that's fast! My father is a hunter. He can shoot his gun and be there before the bullet".

The third one listens to the other two and shakes his head. He then says: "You two know nothing about fast. My father works for the government. He stops working at 4:30 and he is home by 3:45!!"

Return to: Top of Page, Clean Joke List, My Little Sister's Jokes,
---
Two storks are sitting in their nest: a father stork and baby stork.
The baby stork is crying and crying and father stork is trying to calm him. "Don't worry, son. Your mother will come back. She's only bringing people babies and making them happy."

The next night, it's father's turn to do the job. Mother and son are sitting in the nest, the baby stork is crying, and mother is saying "Son, your father will be back as soon as possible, but now he's bringing joy to new mommies and daddies."

A few days later, the stork's parents are desperate: their son is absent from the nest all night! Shortly before dawn, he returns and the parents ask him where he's been all night. The baby stork says, "Nowhere. Just scaring the heck out of college students!"
Submitted by Dick, Williamsport, MD.

Return to: Top of Page, List of Jokes About Marriage, My Little Sister's Jokes,
---
Sign of the times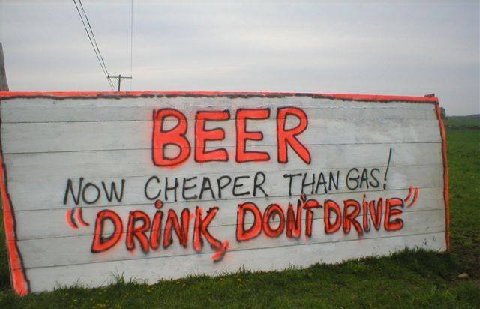 Return to: Top of Page, List of Photos, My Little Sister's Jokes,
---