When I was a kid, adults used to bore me to tears with their tedious diatribes...
... about how hard things were when they were growing up; what with walking twenty-five miles to school every morning ... uphill BOTH ways yadda, yadda, yadda...
And I remember promising myself that when I grew up, there was no way in hell I was going to lay a bunch of crap like that on kids about how hard I had it and how easy they've got it! But now that... I'm over the ripe old age of thirty, I can't help but look around and notice the youth of today.
You've got it so easy! I mean, compared to my childhood, you live in a damn Utopia! And I hate to say it but you kids today you don't know how good you've got it!
I mean, when I was a kid we didn't have The Internet . If we wanted to know something, we had to use the 12 year old set of encyclopedias we had at home or we had to go to the damn library and look it up ourselves, in the card catalog!! There was no email!! We had to actually write somebody a letter....with a pen! We didn't have any of the fancy self stick stamps either, we had to lick them with our tongues and place them on the envelope. Then you had to walk all the way across the street and put it in the mailbox and it would take like a week to get there!
There were no MP3's or Napsters! You wanted to steal music, you had to hitchhike to the damn record store and shoplift it yourself! Or you had to wait around all day to tape it off the radio and the DJ's usually talked over the beginning and @#*% it all up! We didn't have fancy crap like Call Waiting! If you were on the phone and somebody else called they got a busy signal, that's it!
And we didn't have fancy Caller ID Boxes either! When the phone rang, you had no idea who it was! It could be your school, your mom, your boss, your bookie, your drug dealer, a collections agent, you just didn't know!!! You had to pick it up and take your chances, mister!
We didn't have any fancy Sony Playstation video games with high-resolution 3-D graphics! We had the Atari 2600! With games like "Pong" , 'Space Invaders' and 'Asteroids'. Your guy was a little square! You actually had to use your imagination!! And there were no multiple levels or screens, it was just one screen forever!
And you could never win. The game just kept getting harder and harder and faster and faster until you died! Just like LIFE!
When you went to the movie theater there no such thing as stadium seating! All the seats were the same height! If a tall guy or some old broad with a hat sat in front of you and you couldn't see, you were just screwed!
Sure, we had cable television, but back then that was only like 15 channels and there was no on screen menu and no remote control! You had to use a little book called a TV Guide to find out what was on! You were screwed when it came to channel surfing! You had to get off your ass and walk over to the TV to change the channel and there was no Cartoon Network either! You could only get cartoons on Saturday Morning. Do you hear what I'm saying!?! We had to wait ALL WEEK for cartoons, you spoiled little rat-bastards!
And we didn't have microwaves, if we wanted to heat something up we had to use the stove or go build a frigging fire .. imagine that! If we wanted popcorn, we had to use that stupid Jiffy Pop thing and shake it over the stove forever like an idiot.
That's exactly what I'm talking about! You kids today have got it too easy. You're spoiled. You guys wouldn't have lasted five minutes back in 1980!
Regards, The over 30 Crowd
Submitted by Dewey, Pensacola, FL

Return to: Top of Page, List of Jokes About Aging, My Little Sister's Jokes ,
---
A butcher is working, and really busy. He notices a dog in his shop and shoos him away.
Later, he notices the dog is back again.
He walks over to the dog, and notices the dog has a note in his mouth. The butcher takes the note, and it reads, "Can I have 12 sausages and a leg of lamb, please."
The butcher looks, and lo and behold, in the dog's mouth, there is a ten dollar bill. So the butcher takes the money, puts the sausages and lamb in a bag, and places it in the dog's mouth.
The butcher is very impressed, and since it's closing time, he decides to close up shop and follow the dog. So, off he goes.
The dog is walking down the street and comes to a crossing. The dog puts down the bag, jumps up and presses the crossing button. Then he waits patiently, bag in mouth, for the lights to change. They do, and he walks across the road, with the butcher following.
The dog then comes to a bus stop, and starts looking at the timetable. The butcher is in awe at this stage. The dog checks out the times, and sits on one of the seats to wait for the bus.
Along comes a bus. The dog walks to the front of the bus, looks at the number, and goes back to his seat. Another bus comes. Again the dog goes and looks at the number, notices it's the right bus, and climbs on. The butcher, by now open-mouthed, follows him onto the bus.
The bus travels thru town and out to the suburbs. Eventually the dog gets up, moves to the front of the bus, and standing on his hind legs, pushes the button to stop the bus. The dog gets off, groceries still in his mouth, and the butcher still following.
They walk down the road, and the dog approaches a house. He walks up the path, and drops the groceries on the step. Then he walks back down the path, takes a big run, and throws himself -whap!- against the door. He goes back down the path, takes another run, and throws himself -whap!- against the door again! There's no answer at the door, so the dog goes back down the path, jumps up on a narrow wall, and walks along the perimeter of the garden. He gets to a window, and bangs his head against it several times. He walks back, jumps off the wall, and waits at the door. The butcher watches as a big guy opens the door, and starts laying into the dog, really yelling at him.
The butcher runs up and stops the guy,
"What the heck are you doing? This dog is a genius. He could be on TV, for God's sake!"
To which the guy responds, "Clever, my ass. This is the second time this week he's forgotten his key!"
Submitted by Bob, Rockville, Md.

Return to: Top of Page, Clean Joke List, My Little Sister's Jokes,
---
A lion woke up one morning feeling really rowdy and mean.
He went out and cornered a small monkey and roared, "Who is mightiest of all jungle animals?"
The trembling monkey says, "You are, mighty lion!
Later, the lion confronts an ox and fiercely bellows, "Who is the mightiest of all jungle animals?"
The terrified ox stammers, "Oh great lion, you are the mightiest animal in the jungle!"
On a roll now, the lion swaggers up to an elephant and roars, "Who is mightiest of all jungle animals?"
Fast as lightning, the elephant snatches up the lion with his trunk, slams him against a tree half a dozen times leaving the lion feeling like it'd been run over by a safari wagon. The elephant then stomps on the lion till it looks like a corn tortilla and ambles away.
The lion lets out a moan of pain, lifts his head weakly and hollers after the elephant, "Just because you don't know the answer, you don't have to get so upset about it!"
Submitted by Bill, Ardmore, PA.
Return to: Top of Page, Clean Joke List, My Little Sister's Jokes,
---
Two men were sitting next to each other at a bar. After awhile...
..., one guy looks at the other and says, 'I can't help but think, from listening to you, that you're from Ireland.'
The other guy responds proudly, 'Yes, that I am!'
The first guy says, 'So am I! And where about from Ireland might you be'?
The other guy answers, 'I'm from Dublin, I am.'
The first guy responds, 'So am I!'
'Sure and begorra. And what street did you live on in Dublin?
The other guy says, 'A lovely little area it was. I lived on McCleary Street in the old central part of town.'
The first guy says, 'Faith and it's a small world. So did I! So did I!
And to what school would you have been going'?
The other guy answers, 'Well now, I went to St. Mary's, of course.'
The first guy gets really excited and says, 'And so did I. Tell me, what year did you graduate'?
The other guy answers, 'Well, now, let's see. I graduated in 1964.'
The first guy exclaims, 'The Good Lord must be smiling down upon us! I can hardly believe our good luck at winding up in the same bar tonight. Can you believe it? I graduated from St. Mary's in 1964 my own self!'
About this time, Vicky walks into the bar, sits down and orders a beer.
Brian, the bartender, walks over to Vicky, shaking his head and mutters, 'It's going to be a long night tonight.'
Vicky asks, 'Why do you say that, Brian'?
'The Murphy twins are drunk again.'
Also submitted by Bob, Rockville, Md.

Return to: Top of Page, List of Ethnic Jokes, My Little Sister's Jokes,
---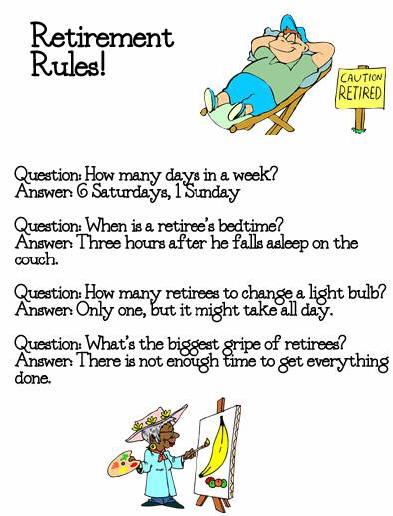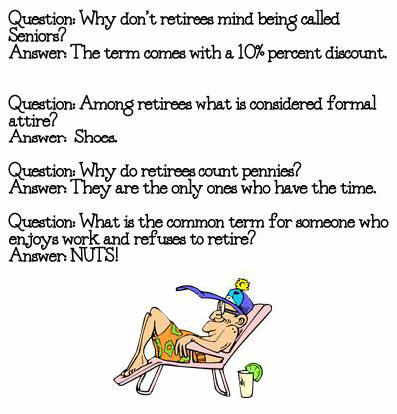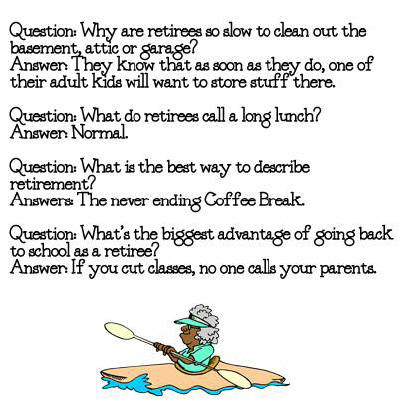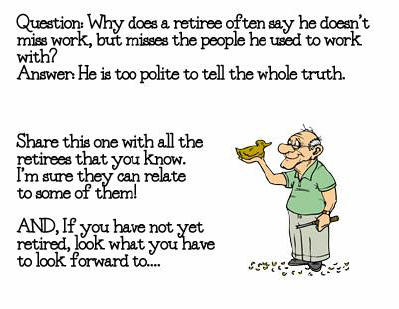 Submitted by Kenneth, Shropshire, England
Return to: Top of Page, List of Jokes About Aging, My Little Sister's Jokes ,
---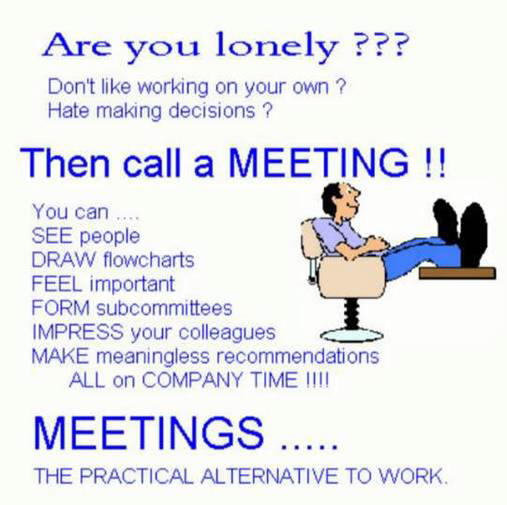 Submitted by Lindesay, Melbourne Australia ... a long, long time ago!

Return to: Top of Page, List of Photos, My Little Sister's Jokes,
---