Ten Commandments for a Responsible Pet Owner ... as dictated by the pet.
My life is likely to last 10-15 years. Any separation from you is likely to be painful.
Give me time to understand what you want of me.
Place your trust in me. It is crucial for my well-being.
Donít be angry with me for long and donít lock me up as punishment. You have your work, your friends, your entertainments. But I have only you.
Talk to me. Even if I donít understand your words, I do understand your voice when speaking to me.
Be aware that however you treat me, I will never forget it.
Before you hit me, before you strike me, remember that I have teeth that could easily crush the bones in your hand, and yet I choose not to bite you.
Before you scold me for being lazy or uncooperative, ask yourself if something might be bothering me. Perhaps Iím not getting the right food, I have been in the sun too long or my heart might be getting old or weak.
Please take care of me when I grow old. You too will grow old.
On the difficult journey, on the ultimate difficult journey, go with me please. Never say you canít bear to watch. Donít make me face this alone. Everything is easier for me if you are there. Because I love you so.
Take a moment today to thank God for your pets. Enjoy and take good care of them. Life would be a much duller, less joyful thing without Godís critters.
Submitted by my wife, Audrey, Emmitsburg, Md.

Return to: Top of Page, List of Jokes about Animals, My Little Sister's Jokes,
---
Easter this year is (2008):
Sunday March 23 As you may know; Easter is always the 1st Sunday after the 1st full moon after the Spring Equinox (which is March 20).
This "dating of Easter" is based on the lunar calendar that Hebrew people used to identify Passover, which is why it moves around on our Roman calendar.
Here are a couple of things you might be interested in:
Based on the above, Easter can actually only be one (1) day earlier - March 22, but that is pretty rare.
This year is the earliest Easter any of us will ever see the rest of our lives!
And only the most elderly of our population (95 years old or above!) have ever seen it this early.
None of us have ever, or will ever, see it a day earlier!
Here are the facts:
The next time Easter will be this early (March 23) will be the year 2228 - 220 years from this year!!
The last time it was this early was 1913 so, if you're 95 or older, you are the only ones that were around for that!.
The next time it will be a day earlier, March 22, will be in the year 2285 - 277 years from this year.
The last time it was on March 22 was 1818.
So, no one alive today has or will ever see it any earlier than this year!
Submitted by Dewey, Pensacola, FL

Return to: Top of Page, List of Interesting Facts, My Little Sister's Jokes,
---
Gentle thoughts for today
Birds of a feather flock together, then cr*p on your car.
When I'm feeling down, I like to whistle. It makes the neighbour's dog run to the end of his chain and gag himself.
A penny saved is a government oversight.
The real art of conversation is not only to say the right thing at the right time, but also to leave unsaid the wrong thing at the tempting moment.
The older you get, the tougher it is to lose weight, because by then your body and your fat have gotten to be really good friends.
The easiest way to find something lost around the house is to buy a replacement.
He who hesitates is probably right.
Did you ever notice: The Roman Numerals for forty (40) are ' XL.'
If you think there is good in everybody, you haven't met everybody.
If you can smile when things go wrong , you have someone in mind to blame.
The sole purpose of a child's middle name is so he can tell when he's really in trouble.
There's always a lot to be thankful for if you take time to look for it. For example I am sitting here thinking how nice it is that wrinkles don't hurt.
Aging: Eventually you will reach a point when you stop lying about your age and start bragging about it.
The older we get, the fewer things seem worth waiting in line for.
Some people try to turn back their odometers. Not me, I want people to know 'why' I look this way.
I've travelled a long way and some of the roads weren't paved.
When you are dissatisfied and would like to go back to youth, think of Algebra.
You know you are getting old when everything either dries up or leaks.
One of the many things no one tells you about aging is that it is such a nice change from being young.
Ah, being young is beautiful, but being old is comfortable.
First you forget names, then you forget faces. Then you forget to pull up your zipper.
It's worse when you forget to pull it down.
Long ago when men cursed and beat the ground with sticks, it was called witchcraft. Today, it's called golf.
Also submitted by my wife, Audrey, Emmitsburg, Md.
Return to: Top of Page, List of Humorous Sayings, My Little Sister's Jokes,
---
Irish Smiles
Definition of an Irish husband: He hasn't kissed his wife for twenty years, but he will kill any man who does.
Murphy told Quinn that his wife was driving him to drink. Quinn thinks he's very lucky because his own wife makes him walk.
The late Bishop Sheen stated that the reason the Irish fight so often among themselves is that they're always assured of having a worthy opponent.
An American lawyer asked, "Paddy, why is it that whenever you ask an Irishman a question, he answers with another question?" "Who told you that?" asked Paddy.
Question - Why are Irish jokes so simple? Answer - So the English can understand them.
Reilly went to trial for armed robbery. The jury foreman came out and announced, "Not guilty." "That's grand!" shouted Reilly. "Does that mean I can keep the money?"
Irish lass customer: "Could I be trying on that dress in the window?" Shopkeeper: "I'd prefer that you use the dressing room."
Mrs. Feeney shouted from the kitchen, "Is that you I hear spittin' in the vase on the mantle piece?" "No," said himself, "but I'm gettin' closer all the time."
Q. What do you call an Irishman who knows how to control a wife? A. A bachelor.
Finnegin: My wife has a terrible habit of staying up 'til two o'clock in the morning. I can't break her of it. Keenan: What on earth is she doin' at that time? Finnegin: Waitin' for me to come home .
"O' Ryan," asked the druggist, "did that mudpack I gave you improve your wife's appearance?" "It did surely," replied O' Ryan, "but it keeps fallin' off!"
Did you hear about the Irish newlyweds who sat up all night on their honeymoon waiting for their sexual relations to arrive?
My mother wanted me to be a priest. Can you imagine giving up your sex life and then once a week people come in to tell you the details and highlights of theirs
Submitted by Bob, Rockville, Md.
Return to: Top of Page, List of Ethnic Jokes, My Little Sister's Jokes,
---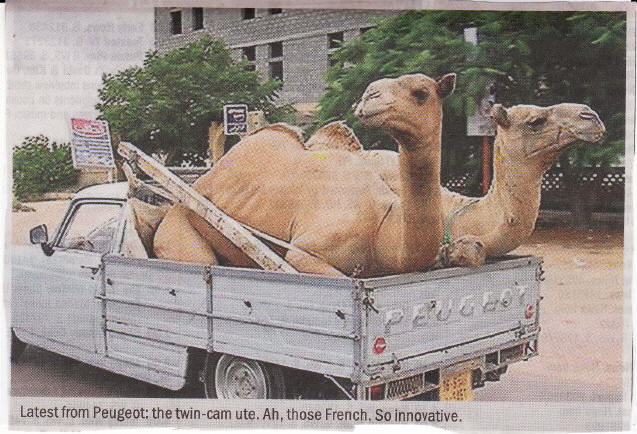 Submitted by Lindsay, Melbourne, Australia

Return to: Top of Page, List of Photos, My Little Sister's Jokes,
---