Glorious insults from an era when cleverness with words was still valued...
... before a great portion of the English language got boiled down to 4-letter words, not to mention waving middle fingers.
The exchange between Churchill & Lady Astor: She said, "If you were my husband I'd give you poison," and he said, "If you were my wife, I'd drink it."
A member of Parliament to Disraeli: "Sir, you will either die on the gallows or of some unspeakable disease." "That depends, Sir," said Disraeli, "on whether I embrace your policies or your mistress."
"He had delusions of adequacy." - Walter Kerr
"He has all the virtues I dislike and none of the vices I admire." - Winston Churchill
"A modest little person, with much to be modest about." - Winston Churchill
"I have never killed a man, but I have read many obituaries with great pleasure." - Clarence Darrow
"He has never been known to use a word that might send a reader to the dictionary." - William Faulkner (about Ernest Hemingway).
"Poor Faulkner. Does he really think big emotions come from big words?" - Ernest Hemingway (about William Faulkner)
"Thank you for sending me a copy of your book; I'll waste no time reading it." - Moses Hadas
"He can compress the most words into the smallest idea of any man I know." - Abraham Lincoln
"I didn't attend the funeral, but I sent a nice letter saying I approved of it." - Mark Twain
"He has no enemies, but is intensely disliked by his friends." - Oscar Wilde
"I am enclosing two tickets to the first night of my new play; bring a friend.... if you have one." - George Bernard Shaw to Winston Churchill
"Cannot possibly attend first night, will attend second... if there is one." - Winston Churchill, in response.
"I feel so miserable without you; it's almost like having you here." - Stephen Bishop
"He is a self-made man and worships his creator."- John Bright
"I've just learned about his illness. Let's hope it's nothing trivial." - Irvin S. Cobb
"He is not only dull himself, he is the cause of dullness in others." - Samuel Johnson
"He is simply a shiver looking for a spine to run up." - Paul Keating
"There's nothing wrong with you that reincarnation won't cure." Jack E. Leonard
"He has the attention span of a lightning bolt." - Robert Redford (one flash & it's gone. ha)
"They never open their mouths without subtracting from the sum of human knowledge." - Thomas Brackett Reed
"In order to avoid being called a flirt, she always yielded easily." - Charles, Count Talleyrand
"He loves nature in spite of what it did to him." - Forrest Tucker
"Why do you sit there looking like an envelope without any address on it?" - Mark Twain
"His mother should have thrown him away and kept the stork." - Mae West
"Some cause happiness wherever they go; others, whenever they go." - Oscar Wilde
"He uses statistics as a drunken man uses lamp-posts... for support rather than illumination." - Andrew Lang (1844-1912)
"He has Van Gogh's ear for music." - Billy Wilder
"I've had a perfectly wonderful evening But this wasn't it." - Groucho Marx
Submitted by Kenneth, Shropshire, England

Return to: Top of Page, List of Humorous Sayings, My Little Sister's Jokes,
---
Alaska Fishing
The day after his wife disappeared in a kayaking accident, an Anchorage man answered his door to find two grim-faced Alaska state troopers.
"We're sorry, Mr. Wilkens, but we have some information about your wife," said one trooper.
"Tell me! Did you find her?!" Wilkens shouted.
The troopers looked at each other. One said, "We have some bad news, some good news, and some really great news. Which do you want to hear first?"
Fearing the worst, an ashen Mr. Wilkens said, "Give me the bad news first."
The trooper said, "I'm sorry to tell you, sir, but this morning we found your wife's body in Kachemak Bay."
"Oh, no!" exclaimed Wilkens. Swallowing hard, he asked, "What's the good news?"
The trooper continued, "When we pulled her up, she had 12 twenty-five pound king crabs and 6 good-size Dungeness crabs clinging to her."
Stunned, Mr. Wilkens demanded, "If that's the good news, what's the great news?"
The trooper said, "We're going to pull her up again tomorrow.
Submitted by Paul, Oklahoma City, Oklahoma

Return to: Top of Page, Clean Joke List, My Little Sister's Jokes,
---
A man was sitting reading his papers when his wife hit him round the head with a frying pan.
'What was that for?' the man asked.
The wife replied 'That was for the piece of paper with the name Jenny on it that I found in your pants pocket'.
The man then said 'When I was at the races last week Jenny was the name of the horse I bet on'
The wife apologized and went on with the housework.
Three days later the man is watching TV when his wife bashes him on the head with an even bigger frying pan, knocking him unconscious.
Upon re-gaining consciousness the man asked why she had hit again. Wife replied. 'Your horse phoned'
Submitted by Al, Seattle, Wa.
Return to: Top of Page, List of Un-Categorizable Jokes, My Little Sister's Jokes,
---
In 1986, Peter Davies was on holiday in Kenya after graduating from Northwestern University .
On a hike through the bush, he came across a young bull elephant standing with one leg raised in the air. The elephant seemed distressed, so Peter approached it very carefully.
He got down on one knee and inspected the elephant's foot and found a large piece of wood deeply embedded in it. As carefully and as gently as he could, Peter worked the wood out with his hunting knife, after which the elephant gingerly put down its foot. The elephant turned to face the man, and with a rather curious look on its face, stared at him for several tense moments. Peter stood frozen, thinking of nothing else but being trampled. Eventually the elephant trumpeted loudly, turned, and walked away. Peter never forgot that elephant or the events of that day.
Twenty years later, Peter was walking through the Chicago Zoo with his teenaged son. As they approached the elephant enclosure, one of the creatures turned and walked over to near where Peter and his son Cameron were standing. The large bull elephant stared at Peter, lifted its front foot off the ground, then put it down. The elephant did that several times then trumpeted loudly, all the while staring at the man.
Remembering the encounter in 1986, Peter couldn't help wondering if this was the same elephant. Peter summoned up his courage, climbed over the railing and made his way into the enclosure. He walked right up to the elephant and stared back in wonder. The elephant trumpeted again, wrapped its trunk around one of Peters legs and slammed his stupid ass against the railing, killing him instantly.
Probably wasn't the same elephant.
Submitted by Dick, Williamsport, Md.

Return to: Top of Page, List of Funny Stories, My Little Sister's Jokes,
---
A lawyer was on his deathbed in his bedroom, and he called to his wife.
She rushed in and said, "What is it, honey?"
He told her to run and get the bible as soon as possible. Being a religious woman, she thought this was a good idea. She ran and got it, prepared to read him his favorite verse or something of the sort. He snatched it from her and began quickly scanning pages, his eyes darting right and left.
The wife was curious, so she asked, "What are you doing, honey?"
He shouted "I'm looking for loopholes!"

Return to: Top of Page, List of Lawyer Jokes, My Little Sister's Jokes,
---
Excellent Photographs - Download Slide Show

Submitted by Kenneth, Shropshire, England

Return to: Top of Page, List of Audio/Videos, My Little Sister's Jokes,
---
Engineering Questions of the Day ...
How much does a house weigh and how much can a rural two-lane bridge hold???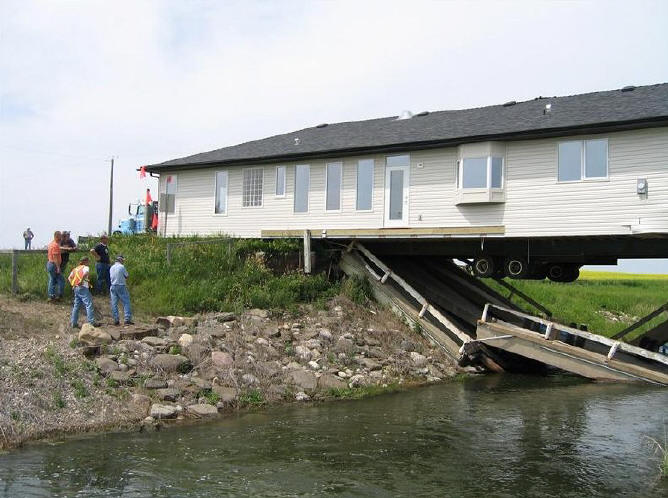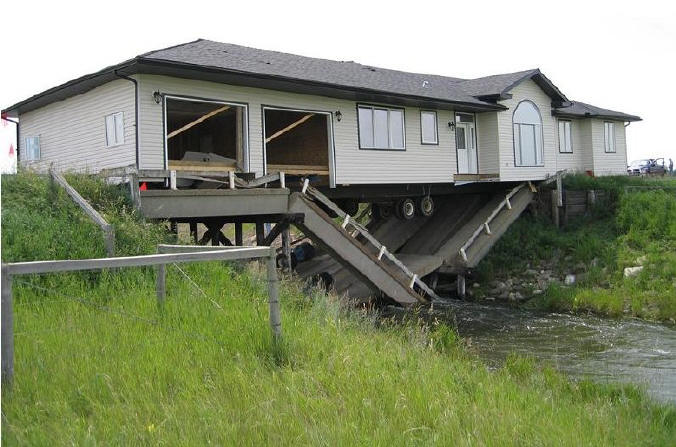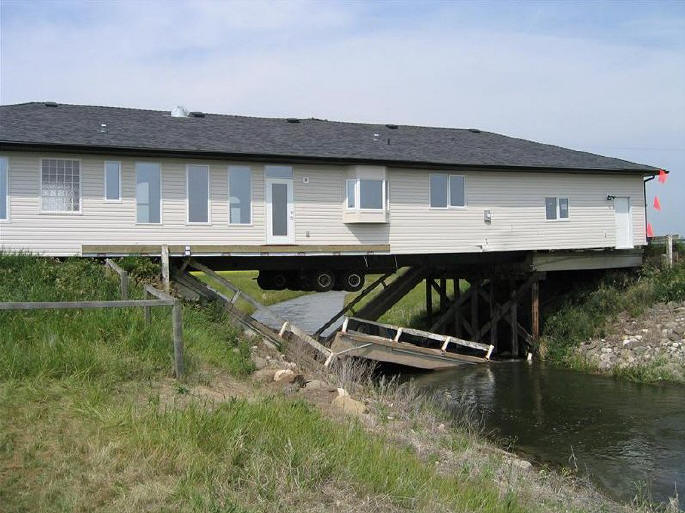 So! Would this be covered by house insurance, car insurance, or, does it come under roadside assistance?
Submitted by Bill, Ardmore, PA.

Return to: Top of Page, List of Photos, My Little Sister's Jokes,
---