Two guys meet up in a bar. The first one asks, "Did your hear the news - Mike is dead??!!!"

"Whoa, what the happened to him?"

"Well he was on his way over to my house the other day and when he arrived outside the house he didn't brake properly and boom - He hit the curb, the car flipped over and he crashed through the sunroof - Went flying through the air and smashed through my upstairs bedroom window."

"What a horrible way to die!"

"No no, he survived that, that didn't kill him at all. So, he's landed in my upstairs bedroom and he's all covered in broken glass on the floor. Then, he spots the big old antique wardrobe we have in the room and reaches up for the handle to try to pull himself up. He's just dragging himself up when bang, this massive wardrobe comes crashing down on top of him, crushing him and breaking most of his bones."

"What a way to go, that's terrible!"

"No no, that didn't kill him -- he survived that. He managed to get the wardrobe off him and crawls out onto the landing, he tries to pull himself up on the banister but under his weight, the banister breaks and he goes falling down on to the first floor. In mid air, all the broken banister poles spin and fall on him, pinning him to the floor, sticking right through him."

"Now that is the most unfortunate way to go!"

"No no, that didn't kill him, he even survived that. So he's on the downstairs landing, just beside the kitchen. He crawls in to the kitchen, tries to pull himself up on the stove, but reached for a big pot of boiling hot water, whoosh, the whole thing came down on him and burned him all up."

"Man, what a way to go!"

"No no, he survived that, he survived that! He's lying on the ground, covered in boiling water and he spots the phone and tries to pull himself up, to call for help, but instead he grabs the light switch and pulls the whole thing off the wall and the water and electricity didn't mix and so he got electrocuted, wallop, 10,000 volts shot through him."

"Now that is one awful way to go!"

"No no, he survived that..."

"Hold on now, just how the heck did Mike die?"

"I shot him."

"You shot him? What the heck did you shoot him for?"

"The man was destroying my house!"

Submitted by Kenneth, Shropshire, England

Return to: Top of Page, Groaner Joke List, My Little Sister's Jokes,
---
Dan was a single guy living at home with his father and working in the family business.
When he found out he was going to inherit a fortune when his sickly father died, he decided he needed a wife with which to enjoy his fortune.
One evening at an investment meeting he was introduced to the most beautiful woman he had ever seen. Her natural beauty absolutely took his breath away!
Smitten with her beauty, handing her his business card he said, "I may look like just an ordinary man, but in just a few years, my father will die, and I'll inherit 20 million dollars."
The gorgeous woman was Impressed and took his business card. Three days later, she became his stepmother.
Lesson: Women are so much better at estate planning than men
Submitted by Bob, Rockville, Md.
Return to: Top of Page, List of Jokes About Men, My Little Sister's Jokes,
---
The doctor, who was known for his extraordinary treatment of arthritis...
had a waiting room full of patients. A little old lady, almost bent over in half, shuffled in slowly, leaning on her cane. When her turn came, she went into the doctor's office and, amazingly, emerged within 5 minutes walking completely erect with her head held high.
A woman in the waiting room, who had seen all this, rushed up to the little old lady and said,
"My God it's a miracle! I saw it with my own eyes.
You walked in nearly bent in half and now you're walking out of here, upright! What did the doctor do?"
"He gave me a longer cane."
Submitted by former Emmitsburg Mayor Ed.

Return to: Top of Page, List of Jokes About Aging, My Little Sister's Jokes ,
---
An elderly Florida lady did her shopping and, upon returning to her car...
..., found four males in the act of leaving with her vehicle. She dropped her shopping bags and drew her handgun, proceeding to scream at the top of her lungs, "I have a gun, and I know how to use it! Get out of the car!"
The four men didn't wait for a second threat. They got out and ran like mad. The lady, somewhat shaken, then proceeded to load her shopping bags into the back of the car and got into the driver's seat. She was so shaken that she could not get her key into the ignition.
She tried and tried, and then she realized why. It was for the same reason that she had wondered why there was a football, a Frisbee and two 12-packs of beer in the front seat. A few minutes later, she found her own car parked four or five spaces further down. She loaded her bags into the car and drove to the police station to report her mistake.
The sergeant to whom she told the story couldn't stop laughing.
He pointed to the end of the counter, where four pale man were reporting a car jacking by a mad, elderly woman described as white, less than five feet tall, glasses, curly white hair, and carrying a large handgun.
No charges were filed.
Moral of the story? If you're going to have a senior moment ... make it memorable.
Submitted by Bill, Ardmore, Pa.

Return to: Top of Page, Clean Joke List, My Little Sister's Jokes,
---
Darwin Award Hopefuls - Download Video 1, Video 2, Video 3, Video 4, Video 5

Submitted by Dick, Williamsport, Md.

Return to: Top of Page, List of Audio/Videos, My Little Sister's Jokes,
---
You've heard of wedding cakes ... here's a divorce cake!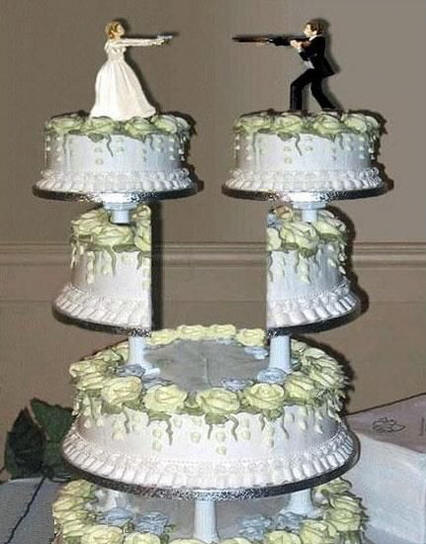 Submitted by Jay, Long Island, NY

Return to: Top of Page, List of Photos, My Little Sister's Jokes,
---