What it 'Really' really means
"I can't find it," REALLY MEANS, "It didn't fall into my outstretched hands, so I'm completely clueless."
"That's women's work," REALLY MEANS, "It's dirty, difficult and thankless."
"Will you marry me?" REALLY MEANS, "Both my roommates have moved out, I can't find the washer, and there is no more peanut butter."
"It's a guy thing," REALLY MEANS, "There is no rational thought pattern connected with it, and you have no chance at all of making it logical."
"Can I help with dinner?" REALLY MEANS, "Why isn't it already on the table?"
"It would take too long to explain, "REALLY MEANS, "I have no idea how it works."
"I'm getting more exercise lately," REALLY MEANS, "The batteries in the remote are dead."
"We're going to be late," REALLY MEANS, "Now I have a legitimate excuse to drive like a maniac."
"Take a break, honey, you're working too hard, "REALLY MEANS, "I can't hear the game over the vacuum cleaner."
"That's interesting, dear," REALLY MEANS, "Are you still talking?"
"Honey, we don't need material things to prove our love," REALLY MEANS, "I forgot our anniversary again."
"You expect too much of me," REALLY MEANS, "You want me to stay awake?"
Submitted by Kenneth, Shropshire, England

Return to: Top of Page, List of Humorous Sayings, My Little Sister's Jokes,
---
In a news conference Deanna Favre, wife of Green Bay Packer ...
... future Hall of Fame quarterback Brett Favre, announced she will be the starting QB for the Packers this coming Sunday.
She claimed she is qualified to be starting QB because she has spent the past 16 years married to Brett while he played QB for the Packers. Because of this she understands how to pick up a corner blitz and knows the terminology of the Packers offense. A poll of Packers fans shows that 50% of those polled supported the move.
Does this sound idiotic and unbelievable to you?
Yet Hillary Clinton makes the same claims as to why she is qualified to be President and 50% of democrats polled agreed.
Submitted by former Emmitsburg Mayor, Ed.
Return to: Top of Page, List of Political Jokes, My Little Sister's Jokes,
---
You Don't Have To Own A Cat To Appreciate This One! You don't even have to like 'em!
We were dressed and ready to go out for the New Years Eve Party. We turned on a night light, turned the answering machine on, covered our pet parakeet and put the cat in the backyard.
We phoned the local cab company and requested a taxi. The taxi arrived and we opened the front door to leave the house. The cat we put out in the yard, scoots back into the house. We didn't want the cat shut in the house because she always tries to eat the bird.
My wife goes out to the taxi, while I went inside to get the cat.. The cat runs upstairs, with me in hot pursuit. Waiting in the cab, my wife doesn't want the driver to know that the house will be empty for the night. So, she explains to the taxi driver that I will be out soon, "He's just going upstairs to say Goodbye to my mother."
A few minutes later, I get into the cab. "Sorry I took so long," I said, as we drove away. "That stupid bitch was hiding under the bed. I had to poke her with a coat hanger to get her to come out! She tried to take off, so I grabbed her by the neck. Then, I had to wrap her in a blanket to keep her from scratching me. But it worked! I hauled her fat ass downstairs and threw her out into the back yard!"
The cab driver hit a parked car.
Submitted by Cindy, Emmitsburg, PA.
Return to: Top of Page, List of Funny Stories, My Little Sister's Jokes,
---
A cowboy rode into town and stopped at a saloon for a drink.
Unfortunately, the locals had a habit of picking on strangers. So when he finished his drink, he found his horse had been stolen. He went back into the bar, handily flipped his gun into the air, caught it above his head and fired a shot into the ceiling. ''Which one of you sidewinders stole my hoss?'' he yelled.
No one answered.
''all right, I'm gonna have anotha' beer, and if my hoss ain't back outside by the time I finish, I'm gonna do what I done in Texas! And I don't like to have to do what I done in texas!''
Some of the locals shifted restlessly. The cowboy had another beer, walked outside, and his horse was back! He saddled up and started to ride out of town.
The bartender wandered out of the bar and asked, ''Say partner, before you go. . .what happened in Texas?''
The cowboy turned back and said, ''I had to walk home.''

Return to: Top of Page, Clean Joke List, My Little Sister's Jokes,
---
Who says beer doesn't impair judgment ...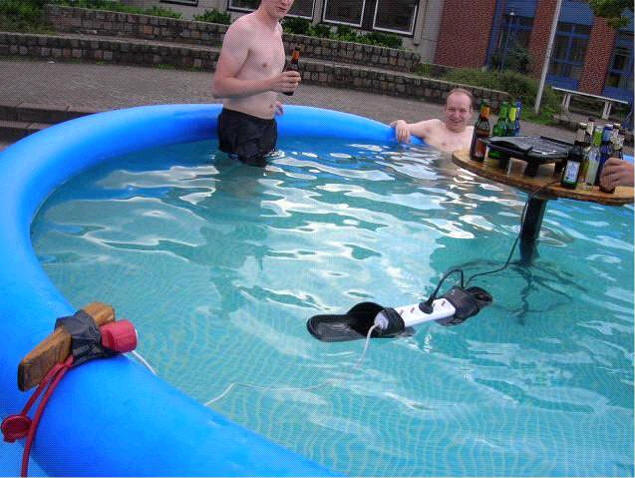 Submitted by Paul, Oklahoma City, OK

Return to: Top of Page, List of Photos, My Little Sister's Jokes,
---