An engineer, a physicist, a mathematician, and a mystic were asked to name...
... the greatest invention of all times.
The engineer chose fire, which gave humanity power over matter.
The physicist chose the wheel, which gave humanity the power over space.
The mathematician chose the alphabet, which gave humanity power over symbols.
The mystic chose the thermos bottle.
"Why a thermos bottle?" the others asked.
"Because the thermos keeps hot liquids hot in winter and cold liquids cold in summer."
"Yes -- so what?"
"Think about it." said the mystic reverently. That little bottle -- how does it know?"
Submitted by Dick, Williamsport, Md.
Return to: Top of Page, Clean Joke List, My Little Sister's Jokes,
---
Blond One liners
Why did the blonde climb over the glass wall? To see what was on the other side.
What do you call a zit on a blonde's butt? A brain tumor.
What do smart blondes and UFO's have in common? You always hear about them but never see them.
What do most blondes get on an IQ test? Drool.
These two blondes walk into a building. You'd think one of them would have seen it.
Why does a blonde keep empty beer bottles in her fridge? They are for those who don't drink!
What do you call an eternity? Four Blondes at a four way stop.
How did the blonde die while drinking milk? The cow sat down!
Why did the blonde take her typewriter to the doctor? She thought it was pregnant because it missed a period.
Why did the blonde call the welfare office? She wanted to know how to cook food stamps.
What do you call four blondes in a Volkswagen? Far-from-thinkin.
What did the blonde name her pet zebra? Spot.
Did you hear about the blonde that shot an arrow into the air? She missed.
What do you give the blonde who has everything? Penicillin.
Did you hear about the blonde that stayed up all night to see where the sun went? It finally dawned on her.
Why do blondes get confused in the bathroom? They have to pull their own pants down.
Why did the blonde climb up to the roof of the bar? She heard that the drinks were on the house.
Why did the blonde have blisters on her lips? From trying to blow out lightbulbs.
Why did the blonde put her finger over the nail when she was hammering? The noise gave her a headache.
Submitted by Kenneth, Shropshire, England

Return to: Top of Page, Blonde Joke List, My Little Sister's Jokes,
---
A Dog's Purpose (from a 6-year-old)
Being a veterinarian, I had been called to examine a ten-year-old Irish Wolfhound named Belker. The dog's owners, Ron, his wife, Lisa, and their little boy, Shane, were all very attached to Belker, and they were hoping for a miracle.
I examined Belker and found he was dying of cancer. I told the family we couldn't do anything for Belker, and offered to perform the euthanasia procedure for the old dog in their home. As we made arrangements, Ron and Lisa told me they thought it would be good for six-year-old Shane to observe the procedure. They felt as though Shane might learn something from the experience.
The next day, I felt the familiar catch in my throat as Belker's family surrounded him. Shane seemed so calm, petting the old dog for the last time, that I wondered if he understood what was going on.
Within a few minutes, Belker slipped peacefully away. The little boy seemed to accept Belker's transition without any difficulty or confusion. We sat together for a while after Belker's death, wondering aloud about the sad fact that animal lives are shorter than human lives. Shane, who had been listening quietly, piped up, "I know why."
Startled, we all turned to him. What came out of his mouth next stunned me. I'd never heard a more comforting explanation. He said, "People are born so that they can learn how to live a good life -- like loving everybody all the time and being nice, right?" The six-year-old continued, "well, dogs already know how to do that, so they don't have to stay as long."
Live simply.
Love generously.
Care deeply.
Speak kindly.
Remember, if a dog was the teacher you would learn things like:
When loved ones come home, always run to greet them.
Never pass up the opportunity to go for a joyride.
Allow the experience of fresh air and the wind in your face to be pure Ecstasy.
Take naps.
Stretch before rising.
Run, romp, and play daily.
Thrive on attention and let people touch you.
Avoid biting when a simple growl will do.
On warm days, stop to lie on your back on the grass.
On hot days, drink lots of water and lie under a shady tree.
When you're happy, dance around and wag your entire body.
Delight in the simple joy of a long walk.
Be loyal.
Never pretend to be something you're not.
If what you want lies buried, dig until you find it. Persevere.
When someone is having a bad day, be silent, sit close by and nuzzle them gently.
Love unconditionally and forgive frequently.
Submitted by Bill, Ardmore, Pa.
Return to: Top of Page, List of Heart Warming Stories, My Little Sister's Jokes,
---
An elderly gent was invited to his old friends' home for dinner one evening.
He was impressed by the way his buddy preceded every request to his wife with endearing terms - "Honey," "My Love," "Darling," "Sweetheart," "Pumpkin," etc.
The couple had been married almost 70 years and, clearly, they were still very much in love.
While the wife was in the kitchen, the man leaned over and said to his host, "I think it's wonderful that, after all these years, you still call your wife those loving pet names."
The old man hung his head. "To tell you the truth," he said, "I forgot her name about 10 years ago!
Submitted by Bob, Rockville, Md.

Return to: Top of Page, List of Jokes About Aging, My Little Sister's Jokes ,
---
Employee Placement Method
Does your organization struggle with the problem of properly fitting people to jobs? Here is a handy hint for ensuring success in job placement. Take the prospective employees you are trying to place and put them in a room with only a table and two chairs. Leave them alone for two hours, without any instruction. At the end of that time, go back and see what they are doing.
If they have taken the table apart in that time, put them in Engineering.
If they are counting the butts in the ashtray, assign them to Finance.
If they are screaming and waving their arms, send them off to Manufacturing.
If they are talking to the chairs, Personnel is a good spot for them.
If they are writing up the experience, send them to Tech Pubs.
If they don't even look up when you enter the room, assign them to Security.
If they try to tell you it's not as bad as it looks, send them to Marketing.
If they've left early, put them in Sales.
And if they're all bullying each other, they're Management material
Submitted by Dave, Bolder, Co.

Return to: Top of Page, List of Jokes about Work, My Little Sister's Jokes,
---
Jay Leno's favorite interviews - Download Video

Submitted by Jay, Long Island, NY

Return to: Top of Page, List of Audio/Videos, My Little Sister's Jokes,
---
If I drive her home, can I be Vice President?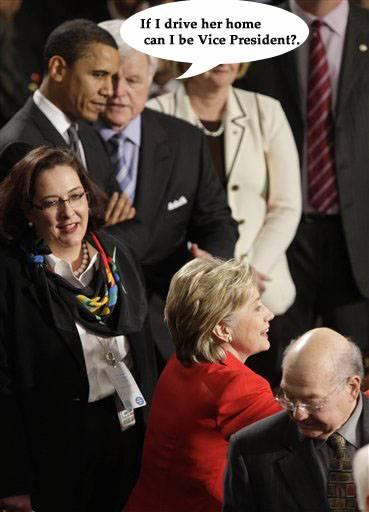 Submitted by Dewey, Pensacola, FL

Return to: Top of Page, List of Photos, My Little Sister's Jokes,
---