8th Grade Final Exam: Salina, KS - 1895
Could You Have Passed the 8th Grade in 1895? This is the eighth-grade final exam from 1895 from Salina, KS. USA. It was taken from the original document on file at the Smoky Valley Genealogical Society and Library in Salina, KS and reprinted by the Salina Journal.
Grammar (Time, one hour)
Give nine rules for the use of Capital Letters.
Name the Parts of Speech and define those that have no modifications.
Define Verse, Stanza and Paragraph.
What are the Principal Parts of a verb? Give Principal Parts of do, lie, lay and run.
Define Case, Illustrate each Case.
What is Punctuation? Give rules for principal marks of Punctuation.
Write a composition of about 150 words and show therein that you understand the practical use of the rules of grammar.
Arithmetic (Time, 1.25 hours)
Name and define the Fundamental Rules of Arithmetic.
A wagon box is 2 ft. deep, 10 feet long, and 3 ft. wide. How many bushels of wheat will it hold?
If a load of wheat weighs 3942 lbs., what is it worth at 50 cts. per bu., deducting 1050 lbs. for tare?
District No. 33 has a valuation of $35,000. What is the necessary levy to carry on a school seven months at $50 per month, and have $104 for incidentals?
Find cost of 6720 lbs. coal at $6.00 per ton.
Find the interest of $512.60 for 8 months and 18 days at 7 percent.
Find bank discount on $300 for 90 days (no grace) at 10 percent.
What is the cost of a square farm at $15 per are, the distance around which is 640 rods?
Write a Bank Check, a Promissory Note, and a Receipt.
U.S. History (Time, 45 minutes)
Give the epochs into which U.S. History is divided.
Give an account of the discovery of America by Columbus.
Relate the causes and results of the Revolutionary War.
Show the territorial growth of the United States.
Tell what you can of the history of Kansas.
Describe three of the most prominent battles of the Rebellion.
Who were the following: Morse, Whitney, Fulton, Bell, Lincoln, Penn, and Howe?
Name events connected with the following dates: 1607, 1620, 1800,1849,1865.
Orthography (Time, one hour)
What is meant by the following: Alphabet, phonetic, orthography, etymology, syllabication?
What are elementary sounds? How classified?
What are the following, and give examples of each: Trigraph, subvocals, diphthong, cognate letters, linguals?
Give four substitutes for caret 'u'.
Give two rules for spelling words with final 'e'. Name two exceptions under each rule.
Give two uses of silent letters in spelling. Illustrate each.
Define the following prefixes and use in connection with a word: bi,dis,mis, pre, semi, post, non, inter, mono, super.
Mark diacritically and divide into syllables the following, and name the sign that indicates the sound: Card, ball, mercy, sir, odd, cell, rise, blood, fare, last.
Use the following correctly in sentences: cite, site, sight, fane, fain, feign, vane, vain, vein, raze, raise, rays.
Write 10 words frequently mispronounced and indicate pronunciation by use of diacritical marks and by syllabication.
Geography (Time, one hour)
What is climate? Upon what does climate depend?
How do you account for the extremes of climate in Kansas?
Of what use are rivers? Of what use is the ocean?
Describe the mountains of North America.
Name and describe the following: Monrovia, Odessa, Denver, Manitoba, Hecla, Yukon, St. Helena, Juan Fermandez, Aspinwall and Orinoco.
Name and locate the principal trade centers of the U.S.
Name all the republics of Europe and give capital of each.
Why is the Atlantic Coast colder than the Pacific in the same latitude?
Describe the process by which the water of the ocean returns to the sources of rivers.
Describe the movements of the earth. Give inclination of the earth.
Return to: Top of Page, List of Interesting Facts, My Little Sister's Jokes,
---
A blonde and her husband are lying in bed listening to the next door neighbor's dog.
It has been in the backyard barking for hours and hours.
The blonde jumps up out of bed and says "I've had enough of this," and she goes downstairs.
The blonde finally comes back up to bed and her husband says "The dog is still barking. What have you been doing?"
The blonde says "I put the dog in our backyard. Let's see how THEY like it
Submitted by Bill, Ardmore, Pa.
Return to: Top of Page, Blonde Joke List, My Little Sister's Jokes,
---
Questions for Seniors
Where can men or women over the age of 60 find young, sexy members of the opposite sex who are interested in them? A: Try a bookstore-- under fiction
My wife is going through menopause. What can I do? A: Keep busy. If you're handy with tools, you can finish the basement. When you are done you will have a place to live.
How can you increase the heart rate of your 60+ year old husband? A: Tell him you're pregnant.
How can you avoid spotting a wrinkle every time you walk by a mirror? A: The next time you're in front of a mirror, take off your glasses.
Why should 60+ year old people use valet parking? A: Valets don't forget where they park your car.
Is it common for 60+ year olds to have problems with short term memory storage? A: Storing memory is not a problem, retrieving it is a problem.
As people age, do they sleep more soundly? A: Yes, but usually in the afternoon.
Where do 60+ year olds look for fashionable glasses? A: Their foreheads.
What is the most common remark made by 60+ year olds when they enter antique stores? A: "I remember these."
What is the most frequent thought when going from one room to another? A: "What did I come here for?"
Submitted by Kenneth, Shropshire, England

Return to: Top of Page, List of Jokes About Aging, My Little Sister's Jokes ,
---
Four Things You Probably Didn't Know Your Mobile Phone Could Do
There are a few things that can be done in times of grave emergencies. Your mobile phone can actually be a life saver or an emergency tool for survival. Check out the things that you can do with it:
First - The Emergency Number worldwide for Mobile is 112. If you find yourself Out of the coverage area of your mobile; network and there is an emergency, dial 112 and the mobile will search any existing network to establish the emergency number for you, and interestingly this number 112 can be dialed even if the keypad is locked. Try it out.
Second - Have you locked your keys in the car? Does your car have remote keyless entry? This may come in handy someday. Good reason to own a mobile phone: If you lock your keys in the car And the spare keys are at home, call someone at home on their mobile phone from your cell phone. Hold your mobile phone about a foot from your car door and have the Person at your home press the unlock button, holding it near the mobile phone on their end. Your car will unlock. Saves someone having to drive your keys to you. Distance is no object. You could be hundreds of miles away, and if you can reach someone who has the other 'remote' for your car, you can unlock the doors (or the trunk). Editor's Note: It works fine! We tried it out and it unlocked our car Over a mobile phone!'
Third - Hidden Battery Power - Imagine your mobile battery is very low. To activate, press the keys *3370# Your mobile will restart with this reserve and the instrument Will show a 50% increase in battery. This reserve will get charged when you charge your mobile next time.
Fourth - How to disable a STOLEN mobile phone. - To check your Mobile phone's serial number, key in the following digits on your phone: * # 0 6 # A 15 digit code will appear on the screen. This number is unique to your handset. Write it down and keep it somewhere safe. If your phone gets stolen, you can phone your service provider and give them this code. They will then be able to block your handset so even if the thief changes the SIM card, your phone will be totally useless. You probably won't get your phone back, but at least you know that whoever stole it can't use/sell It either. If everybody does this, there would be no point in people stealing mobile phones.
Submitted by Lindsay, Melbourne, Australia.

Return to: Top of Page, List of Interesting Facts, My Little Sister's Jokes,
---
How the stimulus package really works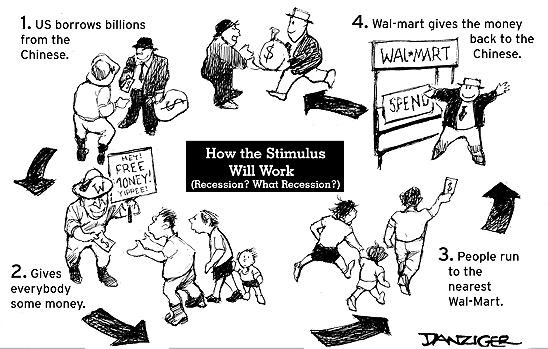 Submitted by Dick, Williamsport, Md.

Return to: Top of Page, List of Photos, My Little Sister's Jokes,
---