T'was the night before Christmas, when all through the Net,
There were hacker's a surfing. Nerds? Yeah, you bet.
The e-mails were stacked by the modem with care,
In hopes that St. Nicholas soon would be there.

The newbies were nestled all snug by their screens,
While visions of Java danced in their dreams.
My wife on the sofa and me with a snack,
We just settled down at my Mac.

When out in the Web there arose such a clatter,
I jumped to the site to see what was the matter.
To a new page my Mac flew like a flash,
Then made a slight gurgle. It started to crash!!

I gasped at the thought and started to grouse,
Then turned my head sideways and clicked on my mouse.
When what to my wondering eyes should appear,
My Mac jumped to a page that wasn't quite clear.
When the image resolved, so bright and so quick,
I knew in a moment it must be St. Nick!

More rapid than mainframes, more graphics they came,
Then Nick glanced toward my screen, my Mac called them by name;
'Now Compaq! Now Acer!', my speaker did reel;
'On Apple! On Gateway!' Santa started to squeal!
'Jump onto the circuits! And into the chip!
Now speed it up! Speed it up! Make this thing hip!'

The screen gave a flicker, he was into my 'Ram',
Then into my room rose a full hologram!
He was dressed in all red, from his head to his shoes,
Which were black (the white socks he really should lose).

He pulled out some discs he had stored in his backpack.
Santa looked like a dude who was rarin' to hack!
His eyes, how they twinkled! His glasses, how techno!
This ain't the same Santa that I used to know!

With a wink of his eye and a nod of his head,
Santa soon let me know I had nothing to dread.
He spoke not a word, gave my Mac a quick poke,
And accessed my C drive with only a stroke.

He defragged my hard drive, and added a 'Dimm',
Then threw in some cool games, just on a whim!
He worked without noise, his fingers they flew!
He distorted some pictures with Kai's Power Goo!

He updated Office, Excel and Quicken,
Then added a screensaver with a red clucking chicken!
My eyes widened a bit, my mouth stood agape,
As he added the latest version of Netscape.
The drive gave a whirl, as if it were pleased,
St. Nick coyly smiled, the computer appeased.

Then placing his finger on the bridge of his nose,
Santa turned into nothing but ones and zeros!
He flew back into my screen and through my uplink,
Back into the net with barely a blink.
But I heard his sweet voice as he flew from my sight,
'Happy surfing to all, and to all a good byte!'
Submitted by Dory, Pittsburgh, Pa.

---
T'was the Night Before Christmas ...
'Twas the night before Christmas and all through the house
Not a creature was stirring, except me and my spouse

The stockings were empty, no presents were wrapped
We were way behind schedule and our resources tapped

The children were nestled all snug in the beds,
While the horrors of assembling danced in our heads

Dad armed with a screwdriver, ready and poised
To build a red trike for one of our boys.

When off in the hall there arose a strange noise
We dove over boxes to hide all the toys

The thud, it turned out, was our dumb puppy Paul
Who was chasing the cat and ran into the wall

Back to his task, Dad cursed at his mess
I suspect he was lost, but he'd never confess

He wrestled with parts and fumbled with tools
Emailed the manufacturer and called them all fools

After hours of struggle, the bike finally took shape,
With a few cuts and bruises and the aid of duct tape

He stood back and gaped at the bike he just built
It weaved and it wobbled and rolled with a tilt.

His frustration grew; his voice shook as he spoke
"The directions are Greek, it's all a sick joke."

At this point he snapped, his thinking unclear
He'll do something stupid; this was my big fear.

He grabbed each toy's instructions, oh why won't he learn,
Tossed them into the fire, chanting "burn baby burn"

"Burn Disney, burn Huffy, to blazes with you
Burn Fisher Price, Playskool and Hasbro, too"

As smoke filled the room, this was his first clue
That in a moment of haste, he had neglected the flue

To the top of the mantle, to the top of the wall
A black cloud developed and ash settled on all

Soot landed on stockings and covered the tree
And gave a look of charcoal to all we could see

The firemen came, dressed in yellow, like sun
Seems the neighbors saw smoke and dialed 9-1-1

Out came the axe, out came the hoses
Out came a Dalmatian who trampled my roses.

"There's no trouble here," I swore up and down
Realizing this faux pas would soon be 'round town

"My husband's a good man," I tried to explain
"The instructions weren't clear. It drove him insane"

The fire chief nodded and gathered his crew
Hopped onto their truck and away they all flew

But I heard them converse as they drove out of sight
"Her husband's the third jerk who's done that tonight!"
Submitted by Patty, Leasburg, Va.
---
T'was the night before Christmas - Old Santa was pissed.
He cussed out the elves and threw down his list. Miserable little brats, ungrateful little jerks. I have good mind to scrap the whole works.
I've busted my ass for damn near a year and Instead of "Thanks Santa" - what do I hear? The old lady bitches cause I work late at night; The elves want more money - The reindeer all fight!
Rudolph got drunk and goosed all the maids. Donner is pregnant and Vixen has AIDS. And just when I thought that things would get better Those idiots from IRS sent
me a letter! They say I owe taxes - if that ain't damn funny! Who the hell ever sent Santa Clause any money!
And the kids these days - they all are the pits: They want the impossible ... Those mean little rats! I spent a whole year making wagons and sleds, Assembling dolls...Their arms, legs and heads. I made a ton of yo yo's - No request for them. They want computers and robots...they think I'm IBM!
Flying through the air...dodging the trees. Falling down chimneys and skinning my knees. I'm quitting this job...there's just no enjoyment. I'll sit on my fat ass and draw unemployment.
There's no Christmas this year...and the reason is simple: I found me a blonde.. And I'm SOUTH for the season!!
Submitted by Lisa, Damascus, Md.

---
The Lawyer's version of it was a night before Christmas ...
Whereas, on or about the night prior to Christmas, there did occur at a certain improved piece of real property (hereinafter "the House") a general lack of stirring by all creatures therein, including, but not limited to a mouse.
A variety of foot apparel, e.g., stocking, socks, etc., had been affixed by and around the chimney in said House in the hope and/or belief that St. Nick a/k/a/ St. Nicholas a/k/a/ Santa Claus (hereinafter "Claus") would arrive at sometime thereafter. The minor residents, i.e. the children, of the aforementioned House were located in their individual beds and were engaged in nocturnal hallucinations, i.e. dreams, wherein vision of confectionery treats, including, but not limited to, candies, nuts and/or sugar plums, did dance, cavort and otherwise appear in said dreams.
Whereupon the party of the first part (sometimes hereinafter referred to as ("I"), being the joint-owner in fee simple of the House with the party of the second part (hereinafter "Mamma"), and said Mamma had retired for a sustained period of sleep. (At such time, the parties were clad in various forms of headgear, e.g., kerchief and cap.
Suddenly, and without prior notice or warning, there did occur upon the unimproved real property adjacent and appurtenant to said House, i.e., the lawn, a certain disruption of unknown nature, cause and/or circumstance. The party of the first part did immediately rush to a window in the House to investigate the cause of such disturbance.
At that time, the party of the first part did observe, with some degree of wonder and/or disbelief, a miniature sleigh (hereinafter "the Vehicle") being pulled and/or drawn very rapidly through the air by approximately eight (8) reindeer. The driver of the Vehicle appeared to be and in fact was, the previously referenced Claus.
Said Claus was providing specific direction, instruction and guidance to the approximately eight (8) reindeer and specifically identified the animal co-conspirators by name: Dasher, Dancer, Prancer, Vixen, Comet, Cupid, Donner and Blitzen (hereinafter "the Deer"). (Upon information and belief, it is further asserted that an additional co-conspirator named "Rudolph" may have been involved.)
The party of the first part witnessed Claus, the Vehicle and the Deer intentionally and willfully trespass upon the roofs of several residences located adjacent to and in the vicinity of the House, and noted that the Vehicle was heavily laden with packages, toys and other items of unknown origin or nature. Suddenly, without prior invitation or permission, either express or implied, the Vehicle arrived at the House, and Claus entered said House via the chimney.
Said Claus was clad in a red fur suit, which was partially covered with residue from the chimney, and he carried a large sack containing a portion of the aforementioned packages, toys, and other unknown items. He was smoking what appeared to be tobacco in a small pipe in blatant violation of local ordinances and health regulations.
Claus did not speak, but immediately began to fill the stocking of the minor children, which hung adjacent to the chimney, with toys and other small gifts. (Said items did not, however, constitute "gifts" to said minor pursuant to the applicable provisions of the U.S. Tax Code.)
Upon completion of such task, Claus touched the side of his nose and flew, rose and/or ascended up the chimney of the House to the roof where the Vehicle and Deer waited and/or served as "lookouts." Claus immediately departed for an unknown destination.
However, prior to the departure of the Vehicle, Deer and Claus from said House, the party of the first part did hear Claus state and/or exclaim: "Merry Christmas to all and to all a good night!" Or words to that effect.
Submitted by Dick, Williamsport, Md.
---
'Twas the night before Christmas, and all through the shack, not a darn thing was a movin', from the front to the back.
The kids were in bed, ...we had nine at the time,
The wife in her curlers, was lookin' real fine.

A cold wind was blowin', up the holler it moaned,
All ten dogs on the porch howled and groaned.

The boys were all dreamin' of dogs and guns,
for hunt'en God's creatures, .....there's no better fun!

The girls in their feminine dreams were attuned,
to getting those gallons of Wal-Mart perfume.

The wife wanted jewelry, like rings with big rocks,
I just wanted my pickup down off the blocks.

Then out in the yard, such a noise did commence,
like something was caught in our new 'bobwar' fence.

I ran to the window, and saw pretty quick,
the man makin' that racket, was Good Ol' St. Nick.

You may think of Santa in your own mind's eye,
dressed in a red and white suit, but, I've got a surprise.

That old boy's an Arkie, from up near Mt. Gaylor,
He married his cousin, and they live in a trailer.

On Christmas, of course, a sleigh for his rig,
He hooks the thing up to Razorback pigs!

He climbed on the roof, with his bag full of goodies,
He backed down the fireplace, all dirty and sooty.

Fat legs in his britches, chubby hands in his mittens,
I must admit from the back, he looked like Bill Clinton.

He turned toward the tree, His eyes all aglow,
He was an Arkansas boy from his head to his toe.

His neck was a red one, His shirt said "Lite Beer",
he had no red hat on, but his cap read "John Deere".

He left all the presents, with an air of delight,
Then it was back to the chimney, and away in the night.

He fell in the yard, threw his bag in the sleigh,
Then he yelled at the dogs, "Get the heck out th' way!"

I ran out to ask him Why he brought such good cheer;
But instead he just asked me, "Did you get you a deer?"

Then I heard him exclaim, as those pigs took to flight,
"Merry Christmas to all..... an to all, a good night!"
Submitted by Bill, Narberth, Pa.
---
'Twas the night before Christmas and all through the kitchen ...
... I was cooking and baking and moanin' and bitchin'. I've been here for hours, I can't stop to rest. This room's a disaster, just look at this mess!
Tomorrow I've got thirty people to feed. They expect all the trimmings. Who cares what I need! My feet are both blistered, I've got cramps in my legs. The cat just knocked over a bowl full of eggs.
There's a knock at the door and the telephone's ringing. Frosting drips on the counter as the microwave's dinging. Two pies in the oven, dessert's almost done; My cookbook is soiled with butter and crumbs. I've had all I can stand, I can't take anymore;
Then in walks my husband, spilling drink on the floor. He weaves and he wobbles, his balance unsteady; then grins as he chuckles, "The egg nog is ready!" He looks all around and with total regret, says, "What's taking so long....aren't you through in here yet?!!!!"
As quick as a flash I reach for a knife; He loses an earlobe; I wanted his life! He flees from the room in terror and pain and screams, "MY GOD WOMAN, YOU'RE GOING INSANE!!"
OK! Now what was I doing, and what is that smell? Oh darn it's the pies! They're burned all to hell! I hate to admit when I make a mistake, but I put them on BROIL instead of on BAKE.
What else can go wrong? Is there still more ahead? If this is good living, I'd rather be dead. Lord, don't get me wrong, I love holidays; It just leaves me exhausted, all shaky and dazed. But I promise you one thing, If I live 'til next year, You won't find me pulling my hair out, in here. I'll hire a maid, a cook, and a waiter; and if that doesn't work, I'LL HAVE IT ALL CATERED!
Submitted by Alicia, Emmitsburg, Md.

---
'Twas the night before Christmas and all through the house ...
Not a piper was stirring--they all were quite soused;
Their hose were hung by the chimney with care,
In hopes that Saint Knicker-less soon would be there.

The drummers were nestled all snug in their beds,
Midst visions of drumsticks and new Premier heads.
And Ma in balmoral and I in my tam,
Had just settled down for an impromptu jam.

When out on the lawn there rose such a clatter,
I sprang from my chair, my music a-scatter.
Away to the window I tore in a hurry.
Yelling to Ma, "Keep piping! Don't worry!"

She struck in her drones and had a wee blow,
As I gazed at the moonlight on new-fallen snow.
Then what to my wondering eyes should appear,
But a sleigh full of pipers and drummers and beer.

With a little old driver who spoke with such force,
That I knew right away--he's the PM, of course!
More rapid than eagles his pipers they came--
He whistled, and shouted, and called them by name:

"Now, Angus! Now, Seamus! Now, Gordon and Harry--
On, Duncan! On Ian! On, Willie and Larry.
To the top of the porch! To the top of the wall!
Now pipe away! Pipe away! Pipe away all!"

Almost as one, and without any gripes,
They blew up and struck in eight sets of pipes.
And then in a twinkling, I heard on the roof,
The chanters, the drum rolls, with nary a goof.

As I drew in my head and was turning around,
Down the chimney Knicker-less came with a bound;
With shoes newly shined, and shirt neatly pressed;
He was, I could see, regimentally dressed.

His eyes--how they twinkled! His dimples how merry!
I could see that he'd already been into the sherry.
I smiled at him now and became somewhat bolder,
As a new set of Naills he flung on his shoulder.

The blowstick he held tight in his teeth,
The bass drone caught at and knocked off our wreath.
He had a broad face, was fairly well built,
And, damn! this guy looked good in a kilt!

A wink of his eye, a twist of his head,
Soon gave me to know I'd be best off in bed;
He spoke not a word, by the light of the moon,
But struck in his pipes and played me a chune.

He played a 2/4, a 6/8, and a reel,
A strathspey, a hornpipe, a jig--with great zeal.
After he'd played all these chunes just for me,
He stopped and put gifts out under the tree--

Pipes by McCallum, and pipes made by Kron,
All guaranteed to blow steady tone;
Reeds and chanters, a new water trap,
Ash plugs and tuners, and all of that---stuff.

Then laying a finger aside of his nose,
He gave the pipes a couple more blows;
He looked at the chimney he'd come down before,
Said, "The hell with this--I'll go out the door!"

He sprang to his sleigh, to his team gave a whistle,
And away they all flew like the down of Scotch thistle.
But I heard him exclaim, e'er he drove out of sight,
"Happy Christmas to all--and a Piping Hot night!"
by Martha Shideler from Flagstaff, AZ
Submitted by David, Edinburgh, Scotland

---
'Twas the Night Before Christmas Brooklyn Version
'Twas the night before Christmas, Da whole house was mellow,
Not a creature was stirrin', I had a gun unda my pillow.
When up on da roof I heard somethin' pound,
I sprung to da window, To scream, "YO! Keep it down!"

When what to my Wanderin' eyes should appear,
But dat hairy elf Vinny, and eight friggin' reindeer.
Wit' a bad hackin' cough, And da stencha burped beer,
I knew in a moment Yo, da Kringle wuz here!

Wit' a slap to dere snouts, And a yank on dere manes,
He cursed and he shouted, And he called dem by name.
"Yo Tony, Yo Frankie, Yo Sally, Yo Vito,
Ay Joey, Ay Paulie, Ay Pepe, Ay Guido!"

As I drew out my gun And hid by da bed,
Down came his boot On da top a my head.
His eyes were all bloodshot, His b.o. wuz scary,
His breath wuz like sewage, He had a mole dat wuz hairy.

He spit in my eye, And he twisted my head,
He soon let me know I should consider myself dead.
Den pointin' a fat finga Right unda my nose,
He let out some gas, And up da chimney he rose.

He sprang to his sleigh,.....screaming,
And away dey all flew, Before he troo dem a beatin'.
But I heard him exclaim, Or better yet grump,
"Merry Christmas to all, and Bite me, ya hump
Submitted by Sister Wink, Yonker, NY.
---
T'was a Computer Christmas
'Twas the night before Christmas, and all through the shop,
The computers were whirring; they never do stop.
The power was on and the temperature right,
In hopes that the input would feed back that night.

The system was ready, the program was coded,
And memory drums had been carefully loaded;
While adding a Christmasy glow to the scene,
The lights on the console, flashed red, white and green.

When out in the hall there arose such a clatter,
The programmer ran to see what was the matter.
Away to the hallway he flew like a flash,
Forgetting his key in his curious dash.

He stood in the hallway and looked all about,
When the door slammed behind him, and he was locked out.
Then, in the computer room what should appear,
But a miniature sleigh and eight tiny reindeer.

And a little old man, who with scarcely a pause,
Chuckled: "My name is Santa...the last name is Claus."
The computer was startled, confused by the name,
Then it buzzed as it heard the old fellow exclaim:

"This is Dasher and Dancer and Prancer and Vixen,
And Comet and Cupid and Donner and Blitzen."
With all these odd names, it was puzzled anew;
It hummed and it clanked, and a main circuit blew.

It searched in its memory core, trying to "think";
Then the multi-line printer went out on the blink.
Unable to do its electronic job,
It said in a voice that was almost a sob:

"Your eyes - how they twinkle - your dimples so merry...
Your cheeks so like roses, your nose like a cherry,
Your smile - all these things, I've been programmed to know,
And at data-recall, I am more than so-so;"

"But your name and your address (computers can't lie),
Are things that I just cannot identify.
You've a jolly old face and a little round belly,
That shakes when you laugh like a bowlful of jelly."

"My scanners can see you, but still I insist,
Since you're not in my program, you cannot exist!"
Old Santa just chuckled a merry "ho, ho,"
And sat down to type out a quick word or so.

The keyboard clack-clattered, its sound sharp and clean,
As Santa fed this "data" to the machine:
"Kids everywhere know me; I come every year;
The presents I bring add to everyone's cheer;

But you won't get anything - that's plain to see;
Too bad your programmers forgot about me."
Then he faced the machine and said with a shrug,
"Merry Christmas to all," as he pulled out its plug
Submitted by Debbie, Middletown, Md.

---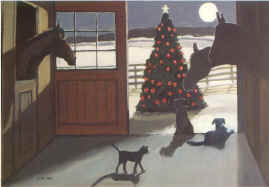 And from all the critters at Windy Meadow Farm ... Our favorite
T'was the night before Christmas, and all through the barn
By Jackie Arns
T'was the night before Christmas, and all through the barn,
All the creatures were sleeping, all safe, snug and warm.
The feed pails were hung by the stall doors with care,
In the hopes that St. Nicholas soon would be there.

The ponies were nestled all warm in there beds,
While visions of carrot cakes danced through their heads.
The Arabs, the Thoroughbreds and even the Apps,
The jumpers and eventers were all taking naps.

When out in the paddock there arose such a clatter
I awoke in my stall To see what was the matter.
I moved to the window quick as I could
To see where the noise came from, if I could.

The sight I beheld as I gazed out that night
Was a beautiful horse All whiter than white.
He wore a red blanket so nice to behold,
His hooves how they sparkled all glittery-gold.

With swift certain motions to our barn he came,
and silvery moonlight danced from his mane.
More rapid than racers his hoof beats they came,
And he neighed and he snorted and called us by name.

He was our Christmas, a ghost-horse of white,
Who has come to all horses, since that one special night.
A gallant example Who served man so well,
Especially those with whom A baby did dwell.

For those special horses who shared stable and stall,
To give comfort and warmth to the Savior of us all.
Now thinking of them, he entered the door,
To distribute among us his gifts and more.

Down the aisle he came, his hoof beats so light,
And he stopped by each stall in our stable that night.
Gifts he did give to all in our barn,
More heart or more courage, or to be free from harm.

He spoke not a word but went straight to his work,
And he filled all the feed pails then turned with a jerk.
And nickering softly on gold hooves so bright,
And giving a nod he went into the night.

and I heard him neigh as he went out of sight,
Merry Christmas to all, and to all a Good Ni-i-i-i-ight!
Submitted by Lisa, Libertytown, Md.

---