A very wealthy lawyer vacationed for several weeks each year...
... at his summer home in the backwoods of Maine. Each summer, he would invite friends to come to visit him.
One summer he invited a lawyer from the Czech Republic to visit. The friend, eager to see how a wealthy American vacationed, gratefully agreed. They had a wonderful vacation, and spent a great deal of time exploring the woods and enjoying the natural setting.
One morning, as the lawyer and his Czech friend were walking through the woods, they were approached by two huge bears -- a male and a female. The lawyer noticed them in time to run for cover. His friend, however, was not so lucky. The male bear reached him and swallowed him whole.
Seeing this, the lawyer ran to his Mercedes and sped for the nearest town to get the local sheriff. The sheriff grabbed a high-powered rifle and they raced back to the berry patch. Luckily, the bears were still there.
"He's in THAT one!" cried the lawyer, pointing at the bear that had consumed his friend. "Quick -- shoot it. Maybe we can still save my friend!"
The sheriff looked at the bears, leveled his gun, took careful aim, and shot the female. His aim was true, and the female bear collapsed to the ground. The startled male fled into the woods.
"Why did you do that?" demanded the lawyer, "I said he was in the other bear!"
"Exactly," replied the sheriff. "Would you believe a lawyer who told you that the Czech was in the male?
Submitted by Kenneth, Shropshire, England

Return to: Top of Page, Groaner Joke List, My Little Sister's Jokes,
---
The National Transportation Safety Board recently divulged...
... they had covertly funded a project with the U.S. auto makers for the past five years, whereby the auto makers were installing black box voice recorders in pick-up trucks.
This was done in an effort to determine, when accidents occurred, the circumstances in the last 15 seconds before the crash. They were surprised to find in 49 of the 50 states the last words of drivers in 61.2 percent of crashes were, "Uh oh."
Only the state of Mississippi was different, where 89.3 percent of the final words were: "Hold my beer and watch this!"
Submitted by Dick, Williamsport, Md.

Return to: Top of Page, List of Redneck Jokes, My Little Sister's Jokes,
---
There was this artist who worked from a studio in his home.
He specialized in nudes and had been working on what he thought would be a masterpiece for several months now. As usual, his model reported and, after exchanging the usual greetings and small talk, she began to undress for the day's work.
He told her not to bother as he felt pretty bad with a cold he had been fighting. He told her that he would pay her for the day, but that she could just go home; he just wanted some hot tea and then off to bed.
The model said "Oh, please, let me fix it for you. It's the least I can do." He agreed and told her to fix herself a cup too. They were sitting in the living room just exchanging small talk and enjoying their tea when he heard the front door open and close, then some familiar footsteps.
"Oh my God!" he whispered loudly, "It's my wife, Quick! Take all your clothes off."
Submitted by Kenneth, Shropshire, England

Return to: Top of Page, List of Jokes About Marriage, My Little Sister's Jokes,
---
Three English guys are out drinking one night and decide that they want to have a fight.
They stagger from pub to pub looking for a likely victim to pick on when they come across a single Irishman in this one bar.
"Watch this." Says the first Englishman, heading over toward the guy, "I hear that St Patrick was a shirt lifter."
"Really." Says the Irishman, calmly continuing to drink.
With that the second English guy decides to join in, "Yeah, and I hear he was a pervert too."
"Is that so?" the still calm Irishman responds.
"I know how to rile this tosser." Says the third Englishman, staggering toward the Irishman, "Hey, did you know St Patrick was really an Englishman?"
The Irish guy casually looks up and says, "Yeah, so your mates were telling me."
Submitted by Bill, Ardmore, PA.

Return to: Top of Page, List of Ethnic Jokes, My Little Sister's Jokes,
---
Excerpts From Classified Sections Of City Newspapers
Auto Repair Service. Free pick-up and delivery. Try us once, you'll never go anywhere again.
Our experienced Mom will care for your child. Fenced yard, meals, and smacks included.
Dog for sale: Eats anything and is fond of children.
Man wanted to work in dynamite factory. Must be willing to travel.
Stock up and save. Limit: one.
Semi-Annual after Christmas Sale
3 year old teacher needed for pre-school. Experience preferred.
Mixing bowl set designed to please a cook with round bottom for efficient beating.
Girl wanted to assist magician in cutting off head illusion. Blue Cross and salary.
Dinner Special -- Turkey $2.35; Chicken or Beef $2.25; Children $2.00
For sale: antique desk suitable for lady with thick legs and large drawers.
Now is your chance to have your ears pierced and get an extra pair to take home, too.
We do not tear your clothing with machinery. We do it carefully by hand.
For sale. Three canaries of undermined sex.
Great Dames for sale.
Have several very old dresses from grandmother in beautiful condition.
Submitted by Dick, Williamsport, Md.

Return to: Top of Page, List of Humorous Sayings, My Little Sister's Jokes,
---
Fantastic Trip ... Download Video (defiantly worth viewing!)

Submitted by Lindsay, Melbourne, Australia

Return to: Top of Page, List of Audio/Videos, My Little Sister's Jokes,
---
White tigers get new mommy!!
When hurricane Hannah separated two white tigers from their mother, Anjana came to the Rescue. Anjana, a chimp at TIGERS in South Carolina, became surrogate mom and playmate to the cubs, even helping with bottle feeding, according to The Sun). But here's the truly amazing part: This is something Anjana does all the time, having helped raised leopard and lion cubs on several occasions.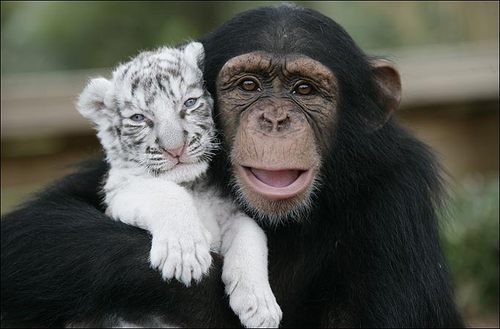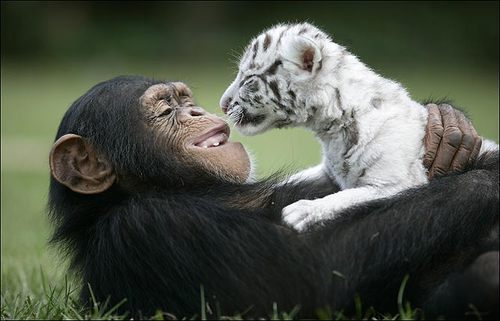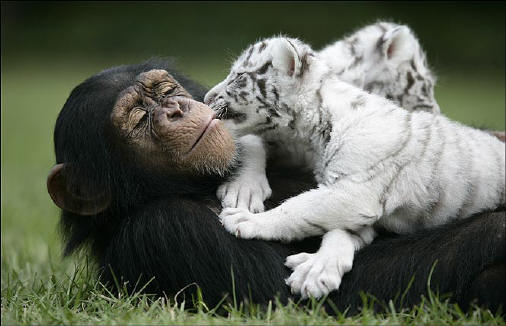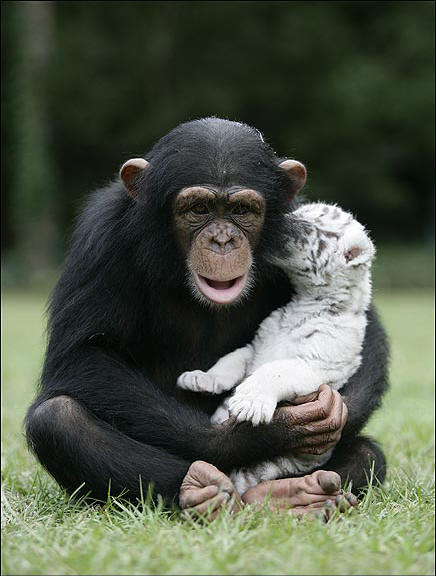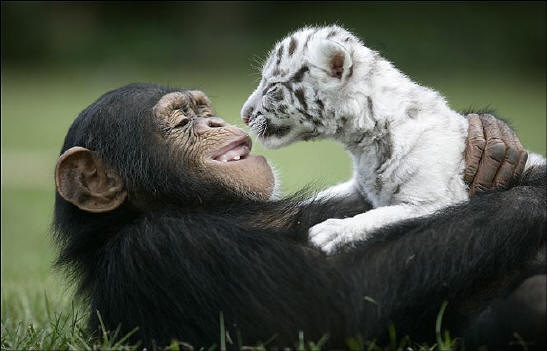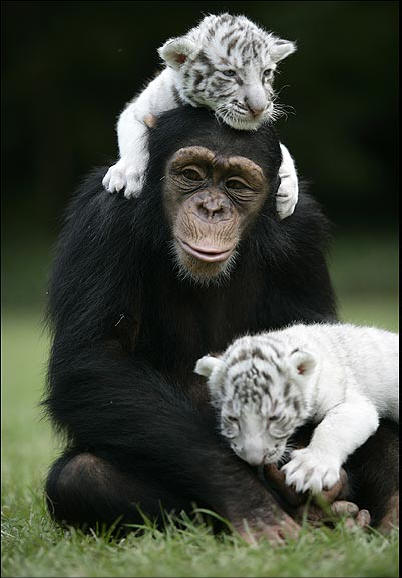 Submitted by Audrey, Emmitsburg, Md.

Return to: Top of Page, List of Photos, My Little Sister's Jokes,
---