In the beginning, God created heaven and earth...
Then God said, "Let there be light."
Shortly thereafter God was in receipt of a notice to show cause why he shouldn't be cited for failure to file an environmental impact statement. He was granted a temporary planning permit for the project, but was stymied by a Cease and Desist Order for the earthly part. At the hearing, God was asked why he began his earthly project in the first place.
He replied that he just liked to be creative.
Officials immediately demanded to know how the light would be made.
Would it require strip mining? What about thermal pollution?
God explained that the light would come from a huge ball of fire, and provisional approval was granted with the proviso that no smoke would result.
The authorities demanded the issuance of a building permit, and (to conserve energy) required that the light be left off half the time.
God agreed, saying he would call the light "Day" and the darkness "Night."
Officials replied that they were only interested in protecting the environment, not in semantics.
God said, "Let the earth bring forth green herb and such as many seed."
The EPA agreed, so long as only native seed was used.
Then God said, "Let waters bring forth creeping creatures having life; and the fowl that may fly over the earth."
Officials pointed out this would require approval from the Department of Game coordinated with the Heavenly Wildlife Federation and the Audubongelic Society.
Everything went along smoothly until God declared that he intended to complete the project in six days.
Officials informed God it would take at least 200 days to review his many waiver applications and environmental impact statements. After that there would have to be a public hearing, and then there would be a 10-12 month probationary period before....
At this point, God created Hell.
Submitted by Kenneth, Shropshire, England

Return to: Top of Page, Clean Joke List, My Little Sister's Jokes,
---
You know you work for a company from hell when their policy for...
Dress Code - It is advised that you come to work dressed according to your salary. If we see you wearing Prada shoes and carrying a Gucci bag, we assume you are doing well financially and therefore do not need a raise. If you dress poorly, you need to learn to manage your money better, so that you may buy nicer clothes, and therefore you do not need a raise. If you dress just right, you are right where you need to be and therefore you do not need a raise.
Sick Days - We will no longer accept a doctor's statement as proof of sickness. If you are able to go to the doctor, you are able to come to work.
Personal Days - Each employee will receive 104 personal days a year. They are called Saturday & Sunday.
Bereavement Leave - This is no excuse for missing work. There is nothing you can do for dead friends, relatives or co-workers. Every effort should be made to have non-employees attend to the arrangements. In rare cases where employee involvement is necessary, the funeral should be scheduled in the late afternoon. We will be glad to allow you to work through your lunch hour and subsequently leave one hour early.
Toilet Use - Entirely too much time is being spent in the toilet. There is now a strict three-minute time limit in the stalls. At the end of three minutes, an alarm will sound, the toilet paper roll will retract, the stall door will open, and a picture will be taken. After your second offense, your picture will be posted on the company bulletin board under the "Chronic Offenders category". Anyone caught smiling in the picture will be sanctioned under the company's mental health policy.
Lunch Break - Skinny people get 30 minutes for lunch, as they need to eat more, so that they can look healthy. Normal size people get 15 minutes for lunch to get a balanced meal to maintain their average figure. Chubby people get 5 minutes for lunch, because that's all the time needed to drink a Slim-Fast.
Thank you for your loyalty to our company. We are here to provide a positive employment experience. Therefore, all questions, comments, concerns, complaints, frustrations, irritations, aggravations, insinuations, allegations, accusations, contemplations, consternation and input should be directed elsewhere.
Return to: Top of Page, List of Jokes about Work, My Little Sister's Jokes,
---
Tired of his low approval ratings, the President called up the head of the CIA...
... and said, "I want your very best agent over here first thing in the morning."
Moments later, a call went out to the Middle East, and the most gifted American agent was headed back to Washington.
The next morning, the agent was escorted into the Oval Office. The president said, "I hear you're the best in the business. I can't trust what my staff tells me.
"So I want you to visit every state in the union, every major city. I want you to stay out on the road until you have an idea of what the vast majority of Americans would like to see happen in the Oval Office. Understand?"
The CIA agent responded affirmatively. He left the White House and wasn't heard from for nearly four months. Finally, he showed up early on a Saturday morning, and the President saw him immediately.
The president said, "Did you find out what an overwhelming majority of Americans want done here in this office?"
"Yes, sir."
"Well, then, express the will of the people," the president ordered.
So the agent stood up, made a fist, and punched him in the nose.
Submitted by Dick, Williamsport, Md.

Return to: Top of Page, List of Political Jokes, My Little Sister's Jokes,
---
A computer scientist, a surgeon, and a civil engineer were gathered at the pub.
The surgeon boasts, Surgery is the oldest technology in the world. It's in the Bible. God removed Adam's rib while he slept. This is clear evidence that surgery pre-dates all other technological endeavors'.
Without so much as a beat, the civil engineer says that before that, God formed the Earth, the stars, and everything from nothing but chaos. He created rivers, mountains and oceans. This was clear evidence that civil engineering pre-dates all other technological endeavors'.
No to be outdone, the computer scientist points out, "Yes, but where do you think the Chaos came from?"
Submitted by John, Emmitsburg, MD.

Return to: Top of Page, Computer Joke List, My Little Sister's Jokes,
---
The egg, the lemon and the orange ... Now this guy is good! Download Video

Submitted by Bob, Rockville, MD

---
2008 Presidential Candidates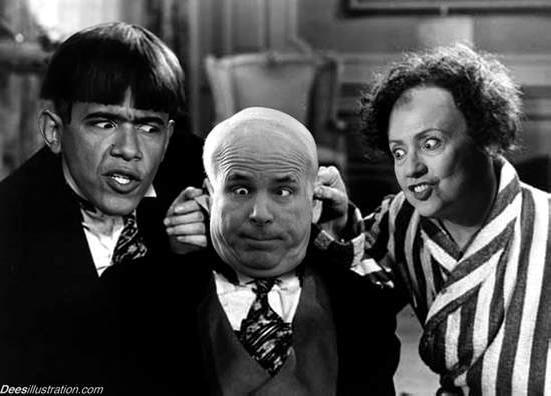 Submitted by Bill, Ardmore, Pa.
Return to: Top of Page, List of Photos, My Little Sister's Jokes,
---