A married couple trying to live up to a snobbish lifestyle went to a party...
The conversation turned to Mozart. "Absolutely brilliant, magnificent, a genius!"

The woman, wanting to join in the conversation, remarked casually, "Ah, Mozart. You're so right. I love him. Only this morning I saw him getting on the No. 5 bus going to Coney Island."

There was a sudden hush, and everyone looked at her. Her husband was mortified. He pulled her away and whispered, "We're leaving right now. Get your coat and let's get out of here."

As they drove home, he kept muttering to himself. Finally his wife turned to him. "You're angry about something."

"Oh really? You noticed?" he sneered. "I've never been so embarrassed in my life! You saw Mozart take the No. 5 bus to Coney Island? You idiot! Don't you know the No. 5 bus doesn't go out to Coney Island?"
Submitted by Dick, Williamsport, Md.

Return to: Top of Page, Clean Joke List, My Little Sister's Jokes,
---
A boy was teaching a girl arithmetic, he said it was his mission...

He kissed her once; he kissed her twice and said, "Now that's addition."

In silent satisfaction, she sweetly gave the kisses back and said, "Now that's subtraction."

Then he kissed her, she kissed him, without an explanation.

And both together smiled and said, "That's multiplication."

Then her Dad appeared upon the scene and made a quick decision.

He kicked that boy three blocks away and said, "That's long division!"

Submitted by Bill, Ardmore, Pa.

Return to: Top of Page, Clean Joke List, My Little Sister's Jokes,
---
We've all caught someone at sometime picking their nose.
Some try to do it in secret. Others do it openly without embarrassment. Maybe even you have been caught in the act. Nose-picking is one disgusting habit and is certainly not socially acceptable. So, are these people normal? One would guess that this is not the type of thing researched at our institutions of higher learning. Guess again. The Americans did.
Of course, scientists must give everyday things complicated scientific names. Nose picking is a term for us common folk. Nose-picking should really be referred to as rhinotillexomania (rhino=nose, tillexis=habit of picking at something, mania=obsession with something). So, the next time that you see a person picking their nose, tell them that they are a rhinotillexomaniac.
The researchers prepared their "Rhinotillexomania Questionnaire" and randomly mailed it to 1000 residents in Dane County, Wisconsin. Each survey included a cover letter that stated, "The University of Wisconsin is conducting a survey of a common but understudied habit scientifically known as 'rhinotillexomania'. Its common name is nose-picking." Even better, the letter actually defined what nose-picking is: "Insertion of a finger (or other object) into the nose with the intention of removing dried nasal secretions." I'll bet that you already knew that. Can you imagine getting this survey in the mail? Even with the University's seal on the stationary, one would have to wonder whether this was a joke or not.
Now for the results (assuming that they are reliable): Of the 1000 surveys mailed out, only 254 were completed and returned to the researchers:
8.7% claim that they have never picked their nose. (In other words, they are liars or they can't remember doing it as a kid.)
91% stated that they had picked their nose in the past and were still actively practicing this habit. Yet, only 49.2% of the respondents actually thought that nose-picking was common in adults.
9.2% rate their pickin' as "more than average."
25.6% actually pick their noses daily, 22.3% do it 2 to 5 times each day, and three people admitted to doing it at least hourly.
55.5% spent 1-5 minutes, 23.5% spent 5-15 minutes, and 0.8% (2 people) spent 15-30 minutes each day cleaning their nostrils. One lone soul claims to devote over 2 hours each day to this ritual (I'm not a doctor and I can tell you that this guy definitely has rhinotillexomania).
18% reported nosebleeds, while 0.8% claimed perforation of the nasal septum from their nose-picking.
65.1% use their index finger, 20.2% use their pinky, and 16.4% use their thumb (must have BIG nostrils to fit a thumb in) as their instrument of choice.
Most people (90.3%) disposed of the goop in a tissue or a handkerchief, while 28.6% used the floor, and 7.6% stuck it to the furniture.
8% of the respondents actually ate the end product. In case you are thinking of trying this delicacy, the study claims that the pickings are quite tasty (salty).
So, what have we learned from this groundbreaking study? Basically, boogers apparently taste good, although I can guarantee to you that I will never do the taste testing to find out.
And we are wondering why there is no cure for Cancer yet!
Submitted by Kenneth, Shropshire, England

Return to: Top of Page, List of Interesting Facts, My Little Sister's Jokes,
---
More Thoughts On Aging
The aging process could be slowed down if it had to work its way through Congress.
You're getting old when you're sitting in a rocker and you can't get it started.
You're getting old when you wake up with that morning-after feeling, and you didn't do anything the night before.
It's hard to be nostalgic when you can't remember anything.
You know you're getting old when you stop buying green bananas.
When you lean over to pick something up off the floor, you ask yourself if there is anything else you need to do while you are down there.
You find yourself in the middle of the stairway, and you can't remember if you were downstairs going up or upstairs going down.
Also submitted by Kenneth, Shropshire, England

Return to: Top of Page, List of Jokes About Aging, My Little Sister's Jokes ,
---
Two fellows have been at the bar now for quite a while, downing several mugs with abandon.
They both look at the far end of the bar, in the direction of an unattractive woman who came in a while back.
The first fellow looks back at the second fellow and says, "Ya know, that woman is looking better and better, isn't she?"
The second fellow takes another look at the woman, then looks back at his friend and says, "well, I guess what they say is true, then, eh?"
The first fellow asks, "Well, what DO they say?" The second fellow answers, "Beauty is in the eye of the beer-holder!"

Return to: Top of Page, List of Drinking Jokes, My Little Sister's Jokes,
---
Female GPS - Download Video
Guaranteed to have every man nodding their head in agreement. I'm not sure about the women, though. (except mine & yours). We know their reaction.
Submitted by Lindsay, Melbourne, Australia

Return to: Top of Page, List of Audio/Videos, My Little Sister's Jokes,
---
Why men shouldn't be allowed to by baby clothes...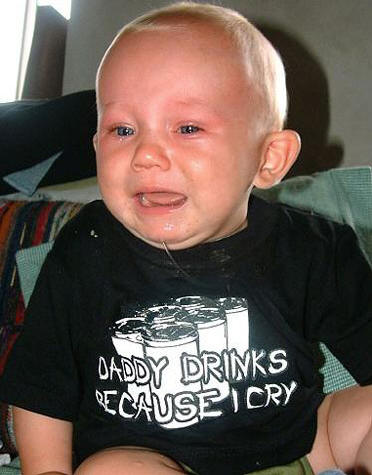 Submitted by Bill, Ardmore, Pa.

Return to: Top of Page, List of Photos, My Little Sister's Jokes,
---