Toddler Miracle Diet
People are always on the lookout for a new diet. The trouble with most diets is that you don't get enough to eat (the starvation diet), you don't get enough variation ( the liquid diet) or you go broke (the all-meat diet). Consequently, people tend to cheat on their diets, or quit after 3 days. Well, now there's the new Toddler Miracle Diet! Over the years you may have noticed that most two years olds are trim. Now the formula to their success is available to all in this new diet. You may want to consult you doctor before embarking on this diet, otherwise, you may be seeing him afterwards. Good luck!!!
DAY ONE----
Breakfast: One scrambled egg, one piece of toast with grape jelly. Eat 2 bites of egg, using your fingers; dump the rest on the floor. Take 1 bite of toast, then smear the jelly over your face and clothes.
Lunch: Four crayons (any color), a handfull of potato chips, and a glass of milk ( 3 sips only, then spill the rest)
Dinner: A dry stick, two pennies and a nickel, 4 sips of flat Pepsi.
Bedtime snack: Throw a piece of toast on the kitchen floor...........
DAY TWO-----
Breakfast: Pick up stale toast from kitchen floor and eat it. Drink half bottle of vanilla extract or one vial of vegetable dye.
Lunch: Half a tube of "Pulsating Pink" lipstick and a handfull of Purina Dog Chow (any flavor). One ice cube, if desired.
Afternoon Snack: Lick an all-day sucker untill sticky, take outside, drop in dirt. Retrieve and continue slurping until it is clean again. Then bring inside and drop on the rug.
Dinner: A rock or an uncooked bean, which should be thrust up your left nostril. Pour grape Kool-Aid over mashed potatoes; eat with a spoon.
DAY THREE-----
Breakfast: Two pancakes with plenty of syrup, eat one with fingers, rub in hair. Glass of milk; drink half, stuff other pancake in glass. After breakfast, pick up yesterdays sucker from rug, lick off fuzz, put it on the cushion of your best chair.
Lunch: Three matches, peanut butter and jelly sandwich. Spit several bites onto the floor. Pour glass of milk on table and slurp up.
Dinner: Dish of ice cream, handfull of potato chips, some red punch. Try to laugh some punch through nose, if possible.
FINAL DAY----
Breakfast: A quarter tube of toothpaste (any flavor), bit of soap, an olive. Pour a glass of milk over bowl of cornflakes, add half a cup of sugar.. Once cereal is soggy, drink milk and feed cereal to dog.
Lunch: Eat bread crumbs off kitchen floor and dining room carpet. Find that sucker and finish eating it.
Dinner: A glass of spaghetti and chocolate milk. Leave meatball on plate. Stick of mascara for dessert.
Submitted by Kenneth, Shropshire, England

Return to: Top of Page, List of Jokes About Marriage, My Little Sister's Jokes,
---
A mother was working in the kitchen listening to her 5-year-old son playing...
... with his new electric train in the living room. She heard the train stop and her son saying, "All of you sons of bitches who
want off, get the hell off now...cause this is the last stop! And all of you sons of bitches who are getting on, get your asses in the train...cause we're going down the tracks."
The horrified mother went in and told her son, "We don't use that
kind of language in this house. Now I want you to go to your room and you are to stay there for TWO HOURS. When you come out, you may play with your train...but I want you to use nice language."
Two hours later, the son came out of the bedroom and resumed playing with his train. Soon the train stopped and the mother heard her son say..."All passengers, please remember your things, thank you and hope your trip was a pleasant one. We hope you will ride with us again soon." She heard her little
darling continue..."For those of you just boarding, remember, there is no smoking in the train. We hope you will have a pleasant and relaxing journey with us today."
As the mother began to smile, the child added, "For those of you who are pissed off about the TWO HOUR delay, please see the bitch in the kitchen...."
Submitted by Cindy, Emmitsburg, Md.
Return to: Top of Page, List of Un-Categorizable Jokes, My Little Sister's Jokes,
---
School Best Sellers
Walking To School The First Day Back - by Misty Bus
The Day The Car Pool Forgot Me - by I. Rhoda Bike
Can't See The Chalkboard - by Sidney Backrow
Practical Jokes I Played On The First Day Of School - by Major Crackupp
What I Dislike About Returning To School - by Mona Lott
Making It Through The First Week Of School - by Gladys Saturday
Is Life Over When Summer Ends? - by Midas Welbee
What I Love About Returning To School - by I.M. Kidding
Will Jimmy Finally Graduate? - by I. Betty Wont
What Happens When You Get Caught Skipping School - by U. Will Gettitt
Return to: Top of Page, Clean Joke List, My Little Sister's Jokes,
---
A man wanted to get married. He was having trouble choosing among three likely candidates.
He gives each woman a present of $5,000 and watches to see what they do with the money.
The first does a total make over. She goes to a fancy beauty salon gets her hair done, new make up and buys several new outfits and dresses up very nicely for the man. She tells him that she has done this to be more attractive for him because she loves him so much.
The man was impressed.
The second goes shopping to buy the man gifts. She gets him a new set of golf clubs, some new gizmos for his computer, and some expensive clothes. As she presents these gifts, she tells him that she has spent all the money on him because she loves him so much.
Again, the man is impressed.
The third invests the money in the stock market. She earns several times the $5,000. She gives him back his $5000 and reinvests the remainder in a joint account. She tells him that she wants to save for their future because she loves him so much.
Obviously, the man was impressed.
The man thought for a long time about what each woman had done with the money he'd given her.
Then, he married the one with the biggest boobs.
Men are like that, you know.
Submitted by Bob, Rockville, Md.

Return to: Top of Page, List of Jokes About Men, My Little Sister's Jokes,
---
Best DWI test ever - Download Video
Submitted by former Emmitsburg Mayor Ed.

---
Mood buttons you can't wear to work - Take 1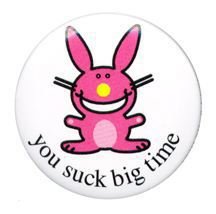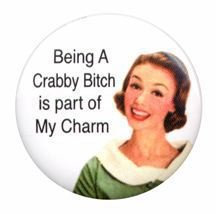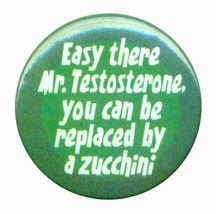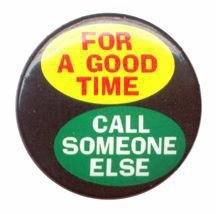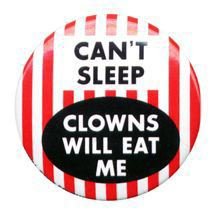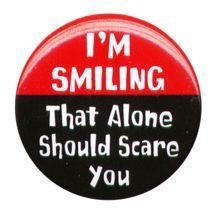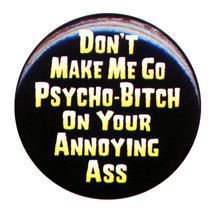 Submitted by Dewey, Pensacola, FL
Return to: Top of Page, List of Photos, My Little Sister's Jokes,
---