A judge in a small city was hearing a drunk-driving case and the defendant...
... who had both a record and a reputation for driving under the influence, demanded a jury trial.
It was nearly 4:00 p.m. and getting a jury would take time, so the judge called a recess and went out in the hall looking to impanel anyone available for jury duty. He found a dozen lawyers in the main lobby and told them that they were a jury. The lawyers thought this would be a novel experience and so followed the judge back to the courtroom.
The trial was over in about 10 minutes and it was very clear that the defendant was guilty. The jury went into the jury room, the judge started getting ready to go home, and everyone waited. After nearly three hours, the judge was totally out of patience and sent the bailiff into the jury room to see what was holding up the verdict.
When the bailiff returned, the judge said, "Well have they got a verdict yet?"
The bailiff shook his head and said, "Verdict? They're still doing nominating speeches for the foreman's position!"
Submitted by Dick, Williamsport. Md.

Return to: Top of Page, List of Lawyer Jokes, My Little Sister's Jokes,
---
I had been doing Tech Support for Hewlett-Packard's DeskJet division for about a month...
... when I had a customer call with a problem I just couldn't solve. She could not print yellow.

All the other colors would print fine, which truly baffled me because the only true colors are cyan, magenta, and yellow.

For instance, green is a combination of cyan and yellow, but green printed fine. Every color of the rainbow printed fine except for yellow.

I had the customer change ink cartridges. I had the customer delete and reinstall the drivers. Nothing worked. I asked my coworkers for help; they offered no new ideas.

After over two hours of troubleshooting, I was about to tell the customer to send the printer in to us for repair when she asked quietly, "Should I try printing on a piece of white paper instead of this yellow paper?"
Submitted by Kenneth, Shropshire, England

Return to: Top of Page, Clean Joke List, My Little Sister's Jokes,
---
A blonde was mowing her lawn when she accidentally cut off the tail of her cat...
which was hiding in the grass. She rushed her, along with the tail to the local Walmart.

Why Walmart???

Walmart is the largest retailer in the world!
A true groaner! Submitted by former Emmitsburg Mayor Ed

Return to: Top of Page, Groaner Joke List, My Little Sister's Jokes,
---
A man wakes up in the hospital, bandaged from head to foot.
The doctor comes in and says, "Ah, I see you've regained consciousness.
Now, you probably won't remember, but you were in a pile-up on the freeway. You're going to be okay, you'll walk again and everything, but..... Something happened. I'm trying to break this gently, but the fact is, your member was chopped off in the wreck, and we were unable to find it."
The man groans, but the doctor goes on, "You've got $9000 in insurance compensation coming to you, and we have the technology now to build you a new one that will work as well as your old one did - better in fact! But the thing is, it doesn't come cheap. It's $1000 an inch."
The man perks up at this.
"So," the doctor says, "it's for you to decide how many inches you want. But it's something you'd better discuss with your wife. I mean, if you had a five inch one before, and you decide to go for a nine incher, she might be a bit put out. But if you had a nine inch one before, and you decide only to invest in a five incher this time, she might be disappointed. So it's important that she plays a role in helping you make the decision."
The man agrees to talk with his wife. The doctor comes back the next day.
"So," says the doctor, "have you spoken with your wife?"
"I have," says the man.
"And has she helped you in making the decision?"
"She has," says the man.
"And what is it?" asks the doctor.
"We're getting a new kitchen."
Also submitted by Kenneth, Shropshire, England

Return to: Top of Page, List of Jokes About Marriage, My Little Sister's Jokes,
---
Sven was out shopping when he met his friend Ole outside the jewelers.
Ole noticed that Sven had a small gift-wrapped box in his hand. "So vat have you just purchased Sven?" Ole asks.
"Vell, now that you've asked," replies Sven, "it's time to buy my Lena's Christmas present and ven I asked her this morning vat she vanted for Christmas she said, 'Oh, I don't know, dear, yust give me something with a lot of diamonds in it.'"
"So vat did you get her?" Ole asks.
Sven replied, smiling proudly, "I bought her a deck of cards."
Also submitted by former Emmitsburg Mayor Ed
Return to: Top of Page, List of Jokes About Women, My Little Sister's Jokes,
---
How wonderful the love of animals can be...
Debby Cantlon, who plans to release Finnegan, the young squirrel, back into the wild, bottle-fed the infant squirrel after it was brought to her house.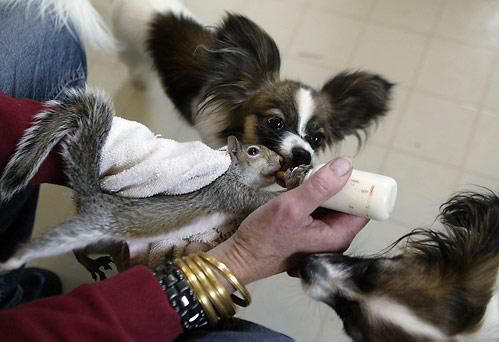 When Cantlon took in the tiny creature and began caring for him, she found herself with an unlikely nurse's aide: her pregnant Papillion, Mademoiselle Giselle.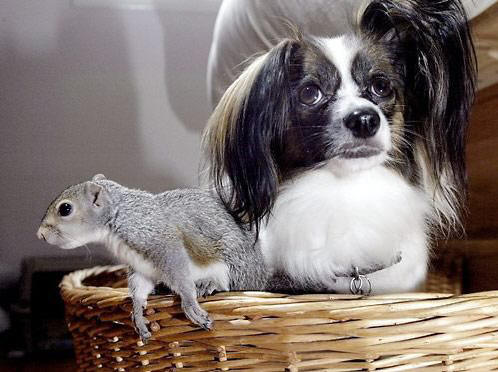 Finnegan was resting in a nest in a cage just days before Giselle was due to deliver her puppies;
Cantlon and her husband watched as the dog dragged the squirrel's cage twice to her own bedside before she gave birth.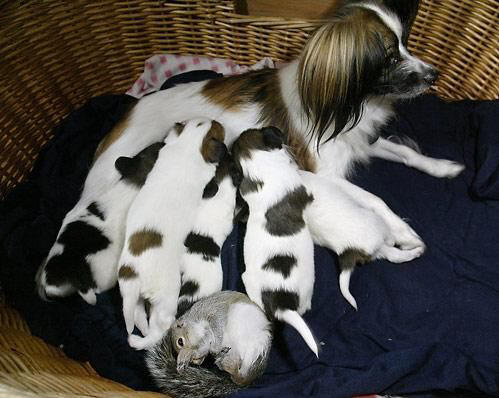 Cantlon was concerned, yet ultimately decided to allow the squirrel out and the inter-species bonding began.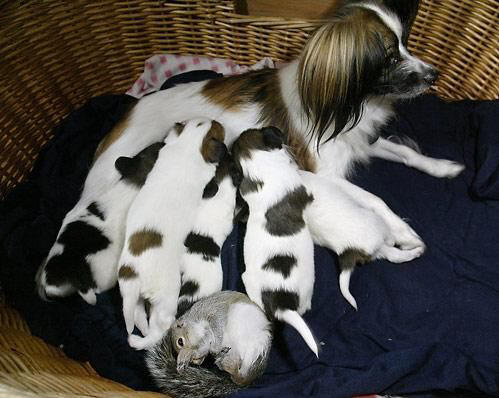 Finnegan rides a puppy mosh pit of sorts, burrowing in for warmth after feeding, and eventually working his way beneath his new litter mates.
Two days after giving birth, mama dog Giselle allowed Finnegan to nurse; family photos and a videotape show her encouraging him to suckle alongside her litter of five pups.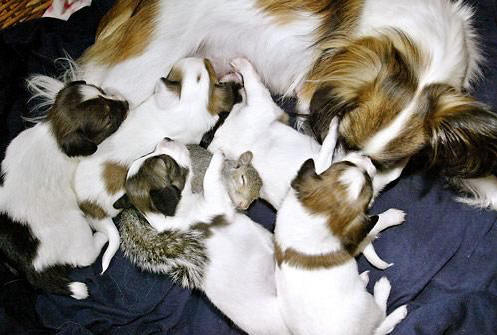 Now, Finnegan mostly uses a bottle, but still snuggles with his 'siblings' in a mosh pit of puppies, rolling atop their bodies and sinking in deeply for a nap.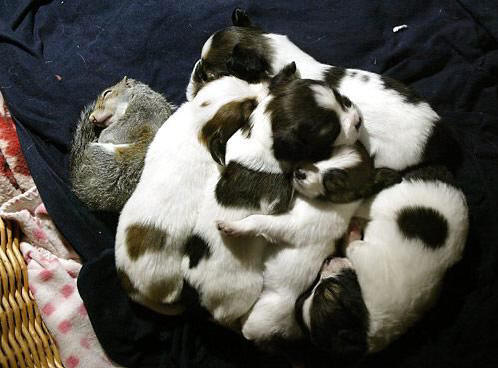 Finnegan and his new litter mates, five Papillion puppies, get along together as if they were meant to.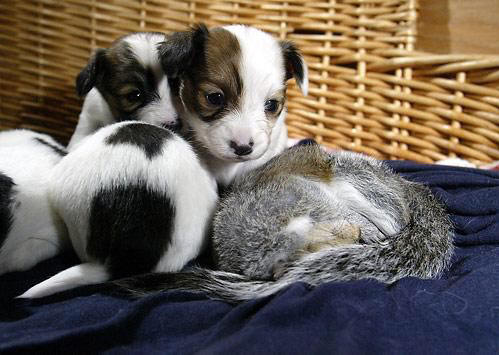 Finnegan naps after feeding.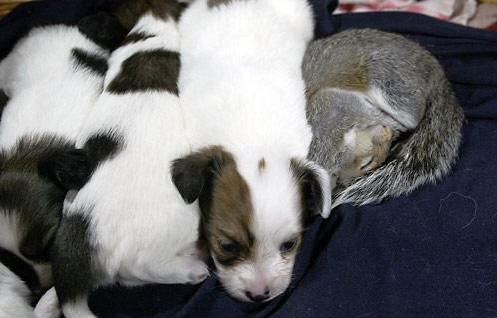 Finnegan makes himself at home with his new litter mates, nuzzling nose-to-nose for a nap after feeding.
Send this along to brighten someone's day! Wouldn't it be nice if we could all get along like Finnegan and the gang?
Keep loving everyone...........even the squirrelly ones!!!!!!!!!
Submitted by Bob, Rockville, Md.

Return to: Top of Page, List of Photos, My Little Sister's Jokes,
---