These are real notes written by parents in an Ohio school district. Spellings have been left intact.
My son is under a doctor's care and should not take PE today. Please execute him.
Please exkuce lisa for being absent she was sick and i had her shot.
Dear school: please ecsc's john being absent on jan. 28, 29, 30, 31, 32 and also 33.
Please excuse gloria from jim today. She is administrating.
Please excuse roland from p.e. for a few days. Yesterday he fell out of a tree and misplaced his hip.
John has been absent because he had two teeth taken out of his face.
Carlos was absent yesterday because he was playing football. He was hurt in the growing part.
Megan could not come to school today because she has been bothered by very close veins.
Chris will not be in school cus he has an acre in his side.
Please excuse ray friday from school. He has very loose vowels.
Pleaseexcuse Lesli from being absent yesterday. She had diahre dyrea direathe the shits.
Please excuse tommy for being absent yesterday. He had diarrhea, and his boots leak.
Irving was absent yesterday because he missed his bust.
Please excuse jimmy for being. It was his father's fault.
I kept Billie home because she had to go Christmas shopping because i don't know what size she wear.
Please excuse jennifer for missing school yesterday. We forgot to get the sunday paper off the porch, and when we found it monday. We thought it was sunday.
Sally won't be in school a week from friday. We have to attend her funeral.
My daughter was absent yesterday because she was tired. She spent a weekend with the marines.
Please excuse Jason for being absent yesterday. He had a cold and could not breed well.
Please excuse mary for being absent yesterday. She was in bed with gramps.
Gloria was absent yesterday as she was having a gangover.
Please excuse brenda. She has been sick and under the doctor.
Maryann was absent december 11-16, because she had a fever, sorethroat, headache and upset stomach. Her sister was also sick, fever an sore throat, her brother had a low grade fever and ached all over. I wasn't the best either, sore throat and fever. There must be something going around, her father even got hot last night.
Now we know why parents are screaming for better education for our kids.
Submitted by former Emmitsburg Mayor Ed

Return to: Top of Page, List of Humorous Sayings, My Little Sister's Jokes,
---
Rules of Houston, H-Town, 3rd Coast, Bayou or whatever you wanna call it.
You must learn to pronounce the city name. It is "Hue-stun," not "Ewe-stun", or "house-tun" Oh yea, the street is pronounced "San Phil-ee -pay, "not" San Phil-eep"(San Felipe). Enunciate, you idiots!
Forget the traffic rules you learned elsewhere. Houston has its own version of traffic rules...Hold on and pray. There is no such thing as a dangerous high-speed chase in Houston. We all drive like that.
All directions start with, "Go down to Loop 610"... which has no beginning and no end.
The Chamber of Commerce calls getting through traffic... a "Scenic Drive."
The morning rush hour is from 6:00AM to 10:00AM. The evening rush hour is from 3: 00PM to 7:00PM. Friday's rush hour starts Thursday morning.
If you actually stop at a yellow light, you will be rear-ended, cussed out and possibly shot. When you are the first one off the starting line, count to five when the light turns green before going, to avoid getting into any cross-traffic's way.
Kuykendahl Road can ONLY be pronounced by a native Houstonian.
Construction on I-10, I-45, US 59 and Loop 610 is a way of life and a permanent form of entertainment.
All unexplained smells are explained by the phrases, "Oh, we must be in Pasadena!" or "God, I hate Baytown!" or "Mmm, smell that Texas City!"
If someone actually has their turn signal on, it is probably a factory defect.
All old ladies with blue hair in a pink Cadillac have total right-of-way.
The minimum acceptable speed on Loop 610 is 85 mph. Anything less is considered downright sissy. In turn, the minimum speed on Westheimer is at least 45mph...
The wrought iron on windows in east Houston is NOT ornamental.
Never stare at the driver of the car with the bumper sticker that says, "Keep honking, I'm reloading." In fact, don't honk at anyone. IT'S LEGAL TO CARRY GUNS HERE!!!
If you are in the left lane, and only going 70 mph in a 60 mph zone, people are not waving when they go by.
The Sam Houston Toll road is our daily version of NASCAR.
If it's 100 degrees, Thanksgiving must be next weekend.
When in doubt, remember that all unmarked exits lead to Louisiana.
If you live in Katy and I live on the south side of Houston we'll never hang out.
The best thing about being drunk between 2-5 am is Whataburger will serve both breakfast and normal menus.
You are always able to be pulled over by any police vehicle, even if you were just given a ticket.
You don't have to wait for an exit to get off a freeway, just follow the ruts in the grass to the feeder like everyone else. This is how Houston residents notify Texas Department of Transportation where exits should have been built.
Else-where, they are called frontage roads... Here in Houston, they are called FEEDER roads, so don't look stupid when we say "Exit the feeder road and use the loop-d-loop"
Submitted by Dory, Pittsburgh, Pa.

Return to: Top of Page, List of You Know You're From, My Little Sister's Jokes,
---
The Best Living Will I've Seen
I, _____ _____________, being of sound mind and body, do not wish to be kept alive indefinitely by artificial means. Under no circumstances should my fate be put in the hands of pinhead politicians who couldn't pass ninth-grade biology if their lives depended on it, or lawyers / doctors interested in simply running up the bills. If a reasonable amount of time passes and I fail to ask for at least one of the following:
glass of wine
margarita
chocolate
martini
cold Beer
chocolate
chicken fried steak
cream gravy
chocolate
mexican food
french fries
chocolate
pizza
ice cream
chocolate
cup of tea
chocolate
It should be presumed that I won't ever get better. When such a determination is reached, I hereby instruct my appointed person and attending physicians to pull the plug, reel in the tubes and call it a day.
Submitted by Bill, Ardmore, Pa.

Return to: Top of Page, List of Jokes About Aging, My Little Sister's Jokes ,
---
Cricket is an ancient game of willow hitting ball ...
Of sportsmanship and sledging, and running at the call.
You play it 'cause you love it, you play it 'cause you can -
But really understand it? I've yet to find the man.

It's jumping over hurdles while on a rocking horse,
It's looking at the steward while the jockey runs the course;
It's exciting when you hit the thing and make a winning haul,
But you never really worry that you know the game at all.

You can play it when you're ninety, you can play it when you're four,
You can drink a beer and eat a pie and never know the score,
It's a social thing, a boastful thing, a time away from chores,
You can call the great deriders just a bunch of stupid bores.

You know it's so much better than those other piddly games
Like baseball, golf, or tennis, and other stupid names.
Cricket is a game for gents, a game of great renown,
And I'm glad I've never played it for it might just get me down.
Submitted by Lindsay, Melbourne, Australia
Editors note: Lindsay submitted this to me after I e-mailed him requesting an explanation of what Cricket was and how it was played ... I still don't know what it is, but I can confirm Lindsay does have a sense of humor!

Return to: Top of Page, List of Sports Jokes, My Little Sister's Jokes,
---
A man wrote a letter to a small hotel in a Midwest town he planned to visit on his vacation.
He wrote: I would very much like to bring my dog with me. He is well-groomed and very well behaved. Would you be willing to permit me to keep him in my room with me at night?"
An immediate reply came from the hotel owner, who wrote:
"I've been operating this hotel for many years. In all that time, I've never had a dog steal towels, bedclothes, silverware or pictures off the walls. I've never had to evict a dog in the middle of the night for being drunk and disorderly. And I've never had a dog run out on a hotel bill. Yes, indeed, your dog is welcome at my hotel. And, if your dog will vouch for you, you're welcome to stay here, too."
Submitted by Dick, Williamsport, Md.

Return to: Top of Page, Clean Joke List, My Little Sister's Jokes,
---
Eating for a smile - Download Slide Show

Submitted by Dewey, Pensacola, FL

Return to: Top of Page, List of Audio/Videos, My Little Sister's Jokes,
---
Ya gotta love the face on the dog!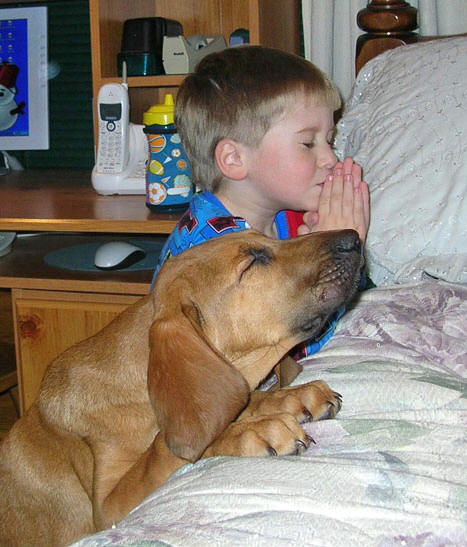 Also submitted by Bill, Ardmore, Pa.
Return to: Top of Page, List of Photos, My Little Sister's Jokes,
---