You are in the middle of some kind of project around the house.
Mowing the lawn, putting a new fence in, painting the living room, or whatever. You are hot and sweaty. Covered in dirt or paint. You have your old work clothes on. You know the outfit, shorts with the hole in crotch, old t-shirt with a stain from who knows what, and an old pair of tennis shoes.
Right in the middle of this great home improvement project you realize you need to run to Wal-Mart to get something to help complete the job. Depending on your age you might do the following.
In your 20's: Stop what you are doing. Shave, take a shower, blow dry your hair, brush your teeth, floss, and put on clean clothes. Check yourself in the mirror and flex. Add a dab of your favorite cologne because you never know, you just might meet some hot chick while standing in the checkout lane. You went to school with the pretty girl running the register.
In your 30's: Stop what you are doing, put on clean shorts and shirt. Change shoes. You married the hot chick so no need for much else. Wash your hands and comb your hair. Check yourself in the mirror. Still got it. Add a shot of your favorite cologne to cover the smell. The cute girl running the register is the kid sister to someone you went to school with.
In your 40's: Stop what you are doing. Put a sweatshirt that is long enough to cover the hole in the crotch of your shorts. Put on different shoes and a hat Wash your hands. Your bottle of Brute Cologne is almost empty so you don't want to waste any of it on a trip to Wal-Mart. Check yourself in the mirror and do more sucking in than flexing. The spicy young thing running the register is your daughter's age and you feel weird thinking she is spicy.
In your 50's: Stop what you are doing. Put a hat on, wipe the dirt off your hands onto your shirt. Change shoes because you don't want to get dirt in your new sports car. Check yourself in the mirror and you swear not to wear that shirt anymore because it makes you look fat. The cutie running the register smiles when she sees you coming and you think you still have it. Then you remember the hat you have on is from your buddy's bait shop and it says, "I Got Worms".
In your 60's: Stop what you are doing. No need for a hat anymore. Hose off the dog crap off your shoes. The mirror was shattered when you were in your 50's. You hope you have underwear on so nothing hangs out the hole in your pants. The girl running the register may be cute but you don't have your glasses on so you are not sure.
In your 70's: Stop what you are doing. Wait to go to Wal-Mart until they have your prescriptions ready too. Don't' even notice the dog crap on your shoes. The young thing at the register smiles at you because you remind her of her grandfather.
In your 80's: Stop what you are doing. Start again. Then stop again. Now you remember that you needed to go to Wal-Mart. Go to Wal-Mart and wonder around trying to think what it is you are looking for. Fart out loud and you think someone called out your name. The old lady that greeted you at the front door went to school with you.
In your 90's: Stop what you are doing.
Submitted by Donna, Emmitsburg, Md.

Return to: Top of Page, List of Jokes About Aging, My Little Sister's Jokes ,
---
One day, shortly after the birth of their new baby...
..., the mother had to go out to do some errands, so the proud father stayed home to watch his wonderful new son.
Soon after the mother left, the baby started to cry. The father did everything he could think of, but the baby just wouldn't stop crying. Finally, the dad got so worried he decided to take the infant to the doctor.
After the doctor listened to all the father had done to get the baby to stop crying, the doctor began to examine the baby's ears, chest and then down to the diaper area. When he opened the diaper, he found was indeed full.
"Here's the problem," the doctor explained. "He just needs to be changed."
The perplexed father remarked, "But the diaper package specifically says it's good for up to 10 pounds!"
Submitted by Kenneth, Shropshire, England

Return to: Top of Page, List of Jokes About Men, My Little Sister's Jokes,
---
Reflecting on work
A pat on the back is only a few centimeters from a kick in the pants.
Don't be irreplaceable, if you can't be replaced, you can't be promoted.
You can go anywhere you want if you look serious and carry a clipboard.
When the bosses talk about improving productivity, they are never talking about themselves.
Everything can be filed under "miscellaneous."
To err is human, to forgive is not company policy.
There is never enough time to do it right the first time, but there is always enough time to do it over.
If you are good, you will be assigned all the work. If you are really good, you will get out of it.
When you don't know what to do, walk fast and look worried.
The longer the title, the less important the job.
Once a job is fouled up, anything done to improve it makes it worse.
Return to: Top of Page, List of Jokes about Work, My Little Sister's Jokes,
---
A young woman was about to finish her first year of college...
Like so many others her age, she considered herself to be a very liberal Democrat, and among other liberal ideals, was very much in favor of higher taxes to support more government programs, in other words, redistribution of wealth.
She was deeply ashamed that her father was a rather staunch Republican, a feeling she openly expressed. Based on the lectures that she had participated in, and the occasional chat with a professor, she felt that her father had for years harbored an evil, selfish desire to keep what he thought should be his.
One day she was challenging her father on his opposition to higher taxes on the rich and the need for more government programs. The self-professed objectivity proclaimed by her professors had to be the truth and she indicated so to her father. He responded by asking how she was doing in school.
Taken aback, she answered rather haughtily that she had a 4.0 GPA, and let him know that it was tough to maintain, insisting that she was taking a very difficult course load and was constantly studying, which left her no time to go out and party like other people she knew. She didn't even have time for a boyfriend, and didn't really have many college friends because she spent all her time studying.
Her father listened then asked, "How is your friend Audrey doing?"
She replied, "Audrey is barely getting by. All she takes are easy classes, she never studies, and she barely has a 2.0 GPA. She is so popular on campus; college for her is a blast. She's always invited to all the parties, and lots of times she doesn't even sh ow up for classes because she's too hung over."
Her father asked her, "Why don't you go to the Dean's office and ask him to deduct a 1.0 off your GPA and give it to your friend Audrey, who only has a 2.0. That way you will both have a 3.0 GPA and certainly that would be a fair and equal distribution of GPA."
The daughter, visibly shocked by her father's suggestion, angrily fired back, "That's a crazy idea. How would that be fair? I've worked really hard for my grades! I've invested a lot of time, and a lot of hard work. Audrey has done next to nothing toward her degree. She played while I worked my tail off!"
The father slowly smiled, winked and said gently, "Welcome to the Republican Party."
Submitted by my Little sister Anna

Return to: Top of Page, List of Political Jokes, My Little Sister's Jokes,
---
A new hair salon opened up for business right across the street ...

... from the old established hair cutters' place.

They put up a big bold sign which read: "We give seven dollar hair cuts!"

Not to be outdone, the old master barber put up his own sign: "We fix seven dollar hair cuts"

Return to: Top of Page, Clean Joke List, My Little Sister's Jokes,
---
Things you don't see every day ... Take 2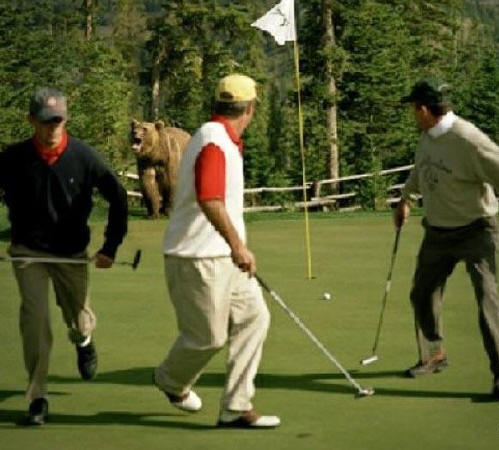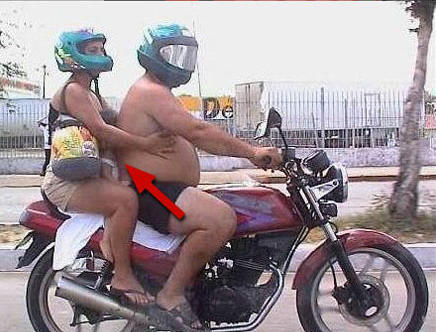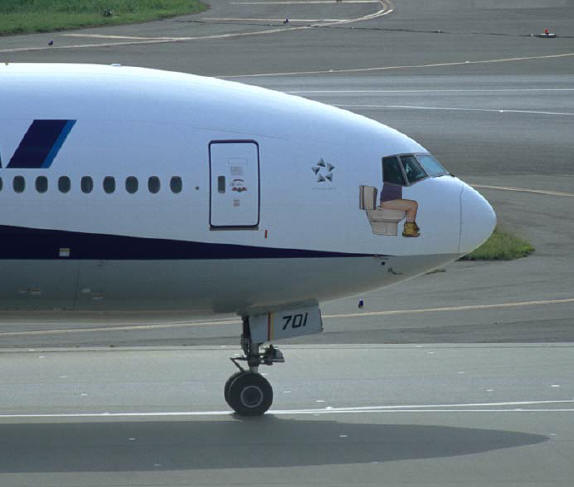 Submitted by Bill, Ardmore, Pa
Return to: Top of Page, List of Photos, My Little Sister's Jokes,
---