More Darwin Award nominations...
Nominee No. 1: [San Jose Mercury News]: An unidentified man, using a shotgun like a club to break a former girlfriend's windshield, accidentally shot himself to death when the gun discharged, blowing a hole in his gut.
Nominee No. 2: [UPI, Toronto]: Police said a lawyer demonstrating the safety of windows in a downtown Toronto skyscraper crashed through a pane with his shoulder and plunged 24 floors to his death. A police spokesman said Garry Hoy, 39, fell into the courtyard of the Toronto Dominion Bank Tower early Friday evening as he was explaining the strength of the building's windows to visiting law students. Hoy previously has conducted demonstrations of window strength according to police reports. Peter Lawson, managing partner of the firm Holden Day Wilson, told the Toronto Sun newspaper that Hoy was "one of the best and brightest" members of the 200-man association.
Nominee No. 3: [The News of the Weird]: Michael Anderson Godwin made News of the Weird posthumously. He had spent several years awaiting South Carolina's electric chair on a murder conviction before having his sentence reduced to life in prison. While sitting on a metal toilet in his cell attempting to fix his small TV set, he bit into a wire and was electrocuted.
Nominee No. 4: [The Indianapolis Star]: A cigarette lighter may have triggered a fatal explosion in Dunkirk, IN. A Jay County man, using a cigarette lighter to check the barrel of a muzzle loader, was killed Monday night when the weapon discharged in his face, sheriff's investigators said. Gregory David Pryor, 19, died in his parents' rural Dunkirk home at about 11:30 PM. Investigators said Pryor was cleaning a 54-caliber muzzle-loader that had not been firing properly. He was using the lighter to look into the barrel when the gunpowder ignited.
Nominee No. 5: [Reuters, Mississauga, Ontario]: A man cleaning a bird feeder on the balcony of his condominium apartment in this Toronto suburb slipped and fell 23 stories to his death. Stefan Macko, 55, was standing on a wheelchair when the accident occurred, said Inspector D'Arcy Honer of the Peel Regional Police. "It appears that the chair moved, and he went over the balcony," Honer said.
Nominee No. 6: [Arkansas Democrat Gazette]: Two local men were injured when their pickup truck left the road and struck a tree near Cotton Patch on State Highway 38 early Monday. Woodruff County deputy Dovey Snyder reported the accident shortly after midnight Monday. Thurston Poole, 33, of Des Arc, and Billy Ray Wallis, 38, of Little Rock, were returning to Des Arc after a frog catching trip. On an overcast Sunday night, Poole's pickup truck headlights malfunctioned. The two men concluded that the headlight fuse on the older-model truck had burned out. As a replacement fuse was not available, Wallis noticed that the .22 caliber bullets from his pistol fit perfectly into the fuse box next to the steering-wheel column. Upon inserting the bullet the headlights again began to operate properly, and the two men proceeded on eastbound toward the White River Bridge. After traveling approximately 20 miles, and just before crossing the river, the bullet apparently overheated, discharged, and struck Poole in the testicles.
The vehicle swerved sharply right, exiting the pavement, and striking a tree Poole suffered only minor cuts and abrasions from the accident but will require extensive surgery to repair the damage to his testicles, which will never operate as intended. Wallis sustained a broken clavicle and was treated and released. "Thank God we weren't on that bridge when Thurston shot his balls off, or we might both be dead," stated Wallis "I've been a trooper for 10 years in this part of the world, but this is a first for me. I can't believe that those two would admit how this accident happened," said Snyder. Upon being notified of the wreck, Lavinia (Poole's wife) asked how many frogs the boys had caught and did anyone get them from the truck??? (Though Poole and Wallis did not die as a result of their misadventure as normally required by Darwin Award Official Rules, it can be argued that Poole did, in fact, effectively remove himself from the gene pool.)
Submitted by Bill, Ardmore, Pa.
Return to: Top of Page, List of Funny Stories, My Little Sister's Jokes,
---
When I returned home from college for a break, I noticed a paper posted on the refrigerator...
It listed some goals my dad had set for himself: Help wife more; lose weight; be more productive at work.

I promptly added: "Send Michelle money every month."

A few days later my brother wrote: "Make payments on car for Jason."

Then my boyfriend joined in with: "Buy Tom a Jeep."

Finally my father added a new goal to his amended list: "Wean kids."
Submitted by Kenneth, Shropshire, England

Return to: Top of Page, List of Jokes About Marriage, My Little Sister's Jokes,
---
Recent Quips from Late Night - Take 48
"Earlier this morning in London, police defused a potentially massive car bomb parked in front of famed Piccadilly Circus. President Bush got a little confused. He called the new prime minister and made sure all the animals and clowns were safe." --Jay Leno

"How many folks saw Paris Hilton last night on the 'Larry King Live' program? ... The interview went pretty well. Larry only flatlined once. ... I think Larry's getting old. He kept calling her Charo. ... Paris said she hated prison. There's some insight. She said she had to eat mystery meat. I think I've actually seen video of her doing that" --David Letterman

"President Bush's immigration bill failed to pass. To be fair, this is not the first time in his life George Bush has heard the term 'failed to pass.'" --Jay Leno

"The other day at the Mexican/U.S. border, three illegal aliens were discovered under the hood of a Ford pick-up truck, crouched around the engine. When President Bush heard about it, he said, 'No, that was wrong. We don't call them engines anymore. They're now Native Americans.'" --Jay Leno

"Experts say the price of milk could rise to as much as $4 a gallon. $4 a gallon for milk? I didn't know Dick Cheney was involved with the dairy industry" --Jay Leno

"In an interview with the Christian Broadcasting Network, presidential candidate Rudy Giuliani said his dreams of becoming a priest ended when he realized he couldn't give up having sex. Ironically, that's also what ended his first and second marriages." --Jay Leno
Also submitted by Kenneth, Shropshire, England

Return to: Top of Page, Recent Quips from Late Night List, My Little Sister's Jokes,
---
The Top 10 Things Engineering School Didn't Teach
There are about 10 types of capacitors.
Theory tells you how a circuit works, not why it doesn't work.
Not everything works according to the specs in the databook.
Anything practical you learn will be obsolete before you use it, except the complex math, which you will never use.
Always try to fix the hardware with the software.
Engineering is like having an 8 a.m. class and a late afternoon lab every day for the rest of your life
Overtime pay? What overtime pay?
Engineers rule the world until the next revision.
If you like junk food, caffeine, and all-nighters, then you should go into architecture.
Dilbert is a documentary.
Return to: Top of Page, List of Jokes about Work, My Little Sister's Jokes,
---
Ramblings of a retired mind
I was thinking about how a status symbol of today is those cell phones that everyone has clipped onto their belt or purse. I can't afford one. So, I'm wearing my garage door opener.
I also made a cover for my hearing aid and now I have what they call 'blue teeth', I think
You know, I spent a fortune on deodorant before I realized that people didn't like me anyway.
I was thinking that women should put pictures of missing husbands on beer cans!
I was thinking about old age and decided that old age is 'when you still have something on the ball, but you are just too tired to bounce it.'
I thought about making a fitness movie, for folks my age, and call it "Pumping Rust."
I have that dreaded furniture disease. That's when your chest is falling into your drawers!
I know, when people see a cat's litter box, they always say, "Oh, have you got a cat?" Just once I want to say, ?"No, it's for company!"
Employment application blanks always ask 'who is to be notified in case of an emergency.' ? I think you should write, "A Good Doctor!"
Why do they put pictures of criminals up in the Post Office? What are we supposed to do... write to these men?
Why don't they just put their pictures on the postage stamps so the mailmen could look for them while they deliver the mail? Or better yet, arrest them while they are taking their pictures!
I was thinking about how people seem to read the Bible a whole lot more as they get older. Then, it dawned on me, they were cramming for their finals. As for me, I'm just hoping God grades on the curve.
Submitted by former Emmitsburg Mary Ed Houck

Return to: Top of Page, List of Humorous Sayings, My Little Sister's Jokes,
---
For all of you who have never personally seen the sound barrier, feast your eyes on the pictures.
This phenomenon only happens at the instant an Aircraft breaks the sound barrier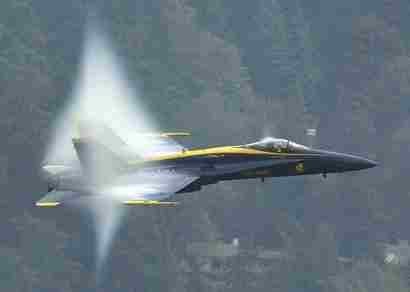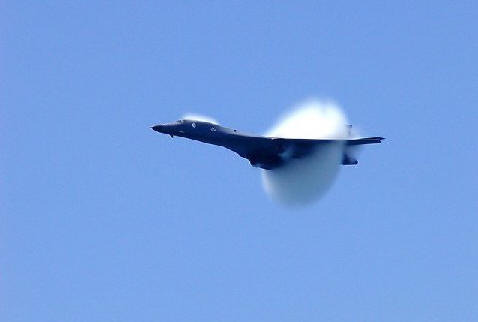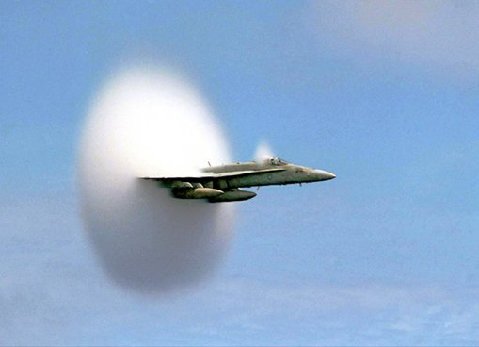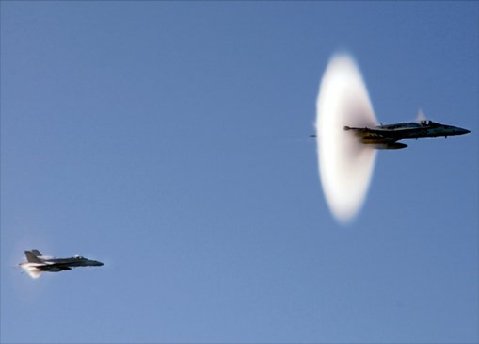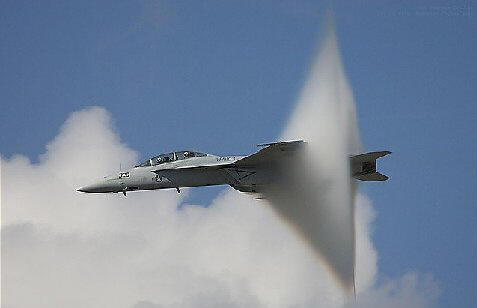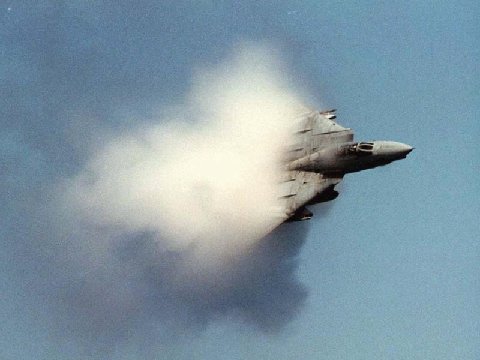 Also submitted by Lindsay, Melbourne, Australia.

Return to: Top of Page, List of Photos, My Little Sister's Jokes,
---