A woman named Jill stood up at her church's Testimony Meeting...
..., or as some churches call it, "Cry Sunday", one Sunday morning, took the microphone from one of the church ushers, and bared her soul to the enrapt congregation: "I want to tell you about the awful accident that my husband, Jim, has suffered this past month. He was riding his bike, lost control, ran off the highway and hit a tree. He was rushed to the hospital, and could have died, but thank the Lord, all he suffered was a broken scrotum."
The congregation gasped in horror. The men in the congregation were obviously uneasy and writhed in their seats.
"Jim has been in terrible pain all month since the accident. He has trouble breathing. He has trouble swallowing his food. He can hardly lift anything, he's in so much pain, and he has missed work because of it. He can't lift our children up to hold them and give them the personal love that they need. Worst of all, we can no longer cuddle and have intimate relations. He is in constant pain, a pain so terrible that our love life has all but slipped away into oblivion. I would like to ask you all in the congregation to pray for Jim, and pray for us, that his broken scrotum will soon heal and be as good as new."
A dull murmur erupted within the congregation as the full impact of this terrible accident sunk in, and the men in the congregation were visibly shaken up with the thought that, "there but for the grace of God go I."
Then, as the murmuring settled down, a lone figure stood up in midst of the congregation, worked his way up to the pulpit, obviously in pain, adjusted the microphone to his liking, then leaned over and said to the congregation:
"My name is Jim, and I have only one word for my wife, Jill. That word is: STERNUM."
Submitted by Bill, Gettysburg, Pa.

Return to: Top of Page, Groaner Joke List, My Little Sister's Jokes,
---
Drawbacks to Working in a Cubicle
Being told to "Think Outside the Box" when I'm in the darn box all day!
Not being able to check E-mail attachments without first seeing who is behind me.
Fabric cubicle walls do not offer much protection from any kind of gun fire.
That nagging feeling that if I just press the right button, I will get a piece of cheese.
Lack of roof rafters for the noose.
My walls are too close together for my hammock to work right.
23 power cords, 1 outlet.
Prison cells are not only bigger, they have beds.
When tours come through, I get lots of peanuts thrown at me.
Can't slam the door when you quit and walk out.
If you talk to yourself it causes all the surrounding cubicle inhabitants to pop their heads over the wall and say "What? I didn't hear you."
If your boss calls you and aske you to come into his office for a minute the walk there is like a funeral march... people hand you tissues as you pass and refuse to make eye contact.
You always have the feeling that someone is watching you, but by the time you turn to look they're gone.
Submitted by Kenneth, Shropshire, England

Return to: Top of Page, List of Jokes about Work, My Little Sister's Jokes,
---
You know you're from Pittsburgh if you understand these phrases ... Take 1
"Oh Mi-laundry" Oh my gosh!. Oh mi-laundry, were those fireworks great (n'at) (Submitted by Craig, Trafford)
"Tony's Gawt It!" "Tony's Got It!" (an annoying local mattress/sleep store sell phrase). Yinz guys getcher best sleep on a Serta!? Tony's Gawt It!" (Submitted by Rachel and Ginger, Morgantown WV)
'Junna Are you going to. Eh! Yinz 'junna gota Pants N' at? Pick Up some pop on the way home. (Submitted by Jason McCullough, Derry (sticksville), PA)
'Sup wif u What's up with you. (singular or plural). Not much, 'sup wif u. (Submitted by Ron Melle, Da Rocks)
A whole nother Another. We have to wait a whole nother year for the Pens to win the cup. (Submitted by Karen Balzer, Stratford, New Jersey (formerly of Derry, PA))
Ahnno-dat I know that. Used as a verbal exclamation point.. Dunno who won da Stillers game... Pens won, ahno-dat!" (Submitted by Jeremy Watson, Hampton, VA)
Ain'da Isn't the. That ain'da way I see it. (Submitted by Jason Hominsky, Greensburg)
Airyago There you go. Hey! Peeg, habaut a couple arns? Airyago. (Submitted by Pat Morrison, North Side)
All Over Covered with. Gimme a towel, I'm all over rain. (Submitted by Paul Corey, Sydney, Australia)
Alla All the. Yinzer alla time jaggin' on me. (Submitted by Nelson Mapel, Geneva, IL)
Anedoin' Ain't doing. Deez streets is fulla potholes and PENDAHT anedoin' nuttin' abaht it! (Submitted by John Golden, Charleston, WV)
Anna And the. Me anna boys went fir a bike ride. (Submitted by Ann Vrabel, Blacksburg, VA)
Apost tu Supposed to. Me and da boys are apost tu go bar hoppin' tonight dahn on da sahside. (Submitted by Dan McDermott, Cranberry Township)
Back'air Back there. I'm never goin' back'air again. Or... "The rag needs worsht, so yinz worsh it, and when yinz er done, throw it back'air, by the arn bawdles." (Submitted by Dennis Hasch, Squirrel Hill)
Bince Being as. Bince yinz are goin dahntahn, pick me up some Arn. (Submitted by Nelson Mapel, Geneva, IL)
Bleh shue Bless you. Bleh shue (Submitted by Kevin Dom, Johnstown PA)
Bo fuss Both of us. The bofuss went to the stiller game (Submitted by Bill Proper, Swissvale, PA)
Bowchyins Both of you. Hey, bowchyins go'n dahn da SLACKS-N-NAT? (Submitted by Dan the man, Latrobe PA)
Buy Sam a drink and get his dog one too! Wow what a great goal. Used by Penguins' announcer Mike Lang (Submitted by Rebecca Balcer, Kent State University)
Can a corn Something easy. Comes from longtime Pirate broadcaster Bob Prince describing high fly balls. (Submitted by Dave Goga, Rochester, NY)
Chawt Watch Out. When yinzer drivin up Erie, chawt for cops. Dayer riten tickets enat. (Submitted by John Buswell, Da Burg!)
Cheese and Crackers WOW!. Cheese and Crackers, dat jag off almost hit my car over der! (Submitted by Dan DeWoody, Orlando Florida)
Choobinuptoo What have you been up to. (Submitted by Kris Broman, Monaca, PA)
Close in Proximidy To Near. As paraphrased from a recent interview with Bill Cahr, the Stillers and the Brownies are rivals because Picksburgh is so 'close in proximidy to' Cleveland. (Submitted by Danielle Nicol, Cleveland, OH (Go Stillers!))
Cole-daht-dare Cold out there. Joe Denardo says that if you're going outsidetoday, take a jacket because it's cole-daht-dare! (Submitted by Keith , Pittsburgh)
Come mere Come here. (Submitted by Tiffany Bushko, Canonsburg, PA)
Cordada Quarter to. Pronounced COR-da-da. "Meet yinz at cordada four under Kaufmann's clock!" (Submitted by Lou Ammon, Wexford)
Cottan Canda Heer Cotton Candy Here. Used by cotton candy vendors at Three Rivers Stadium (Submitted by Michelle, Belle Vernon, Pa)
Submitted by Dory, Pittsburgh, Pa.

Return to: Top of Page, List of You Know You're From, My Little Sister's Jokes,
---
Next time you think your hotel bill is too high you might want to consider this..
A husband and wife are traveling by car from Key West to Boston. After almost twenty-four hours on the road, they're too tired to continue, and they decide to stop for a rest. They stop at a nice hotel and take a room, but they only plan to sleep for four hours and then get back on the road. When they check out four hours later, the desk clerk hands them a bill for $350.
The man explodes and demands to know why the charge is so high. He tells the clerk although it's a nice hotel, the rooms certainly aren't worth $350. When the clerk tells him $350 is the standard rate, the man insists on speaking to the Manager. The Manager appears, listens to the man, and then explains that the hotel has an Olympic-sized pool and a huge conference center that were available for the husband and wife to use.
"But we didn't use them," the man complains.
"Well, they are here, and you could have," explains the Manager. He goes on to explain they could have taken in one of the shows for which the hotel is famous "The best entertainers from New York, Hollywood and Las Vegas perform here," the Manager says.
"But we didn't go to any of those shows, "complains the man again.
"Well, we have them, and you could have," the Manager replies.
No matter what facility the Manager mentions, the man replies, "But we didn't use it!"
The Manager is unmoved, and eventually the man gives up and agrees to pay. He writes a check and gives it to the Manager.
The Manager is surprised when he looks at the check. "But sir," he says, this check is only made out for $50."
"That's correct," says the man. "I charged you $300 for sleeping with my wife."
"But I didn't!" exclaims the Manager.
"Well, too bad," the man replies. "She was here and you could have.
Submitted by Bill, Ardmore, Pa.

Return to: Top of Page, List of Funny Stories, My Little Sister's Jokes,
---
Toot Tones ... Ok, Ok, it's potty humor but it was better then my other option! Download Video

Submitted by Al, Seattle, Wa.

Return to: Top of Page, List of Audio/Videos, My Little Sister's Jokes,
---
Pictures Worth a Thousand Words ... Take 2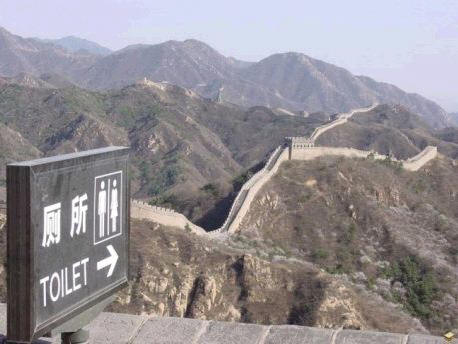 Submitted by Bill, Ardmore, Pa.

Return to: Top of Page, List of Photos, My Little Sister's Jokes,
---