It was the beginning of December. The trip had gone reasonably well...
... and he was ready to go back. The airport on the other hand had turned a tacky red and green, and loudspeakers blared annoying elevator renditions of cherished Christmas carols.

Being someone who took Christmas very seriously, and being slightly tired, he was not in a particularly good mood.

Going to check in his luggage (which, for some reason, had become one suitcase with entirely new clothes), he saw hanging mistletoe. Not real mistletoe, but very cheap plastic with red paint on some of the rounder parts and green paint on some of the flatter and "pointier" parts, that could be taken for mistletoe only in a very Picasso sort of way.

With a considerable degree of irritation and nowhere else to vent it, he said to the lady attendant, "Even if I were not married, I would not want to kiss you under such a ghastly mockery of mistletoe."

"Sir, look more closely at where the mistletoe is."

(pause)

"Ok, I see that it's above the luggage scale, which is the place you'd have to step forward for a kiss."

"That's not why it's there."

(pause)

"Ok, I give up. Why is it there?"

"It's there so you can kiss your luggage goodbye."
Submitted by Kenneth, Shropshire, England

Return to: Top of Page, Christmas Joke List, My Little Sister's Jokes,
---
Christmas facts to bore friends and family ...
Saint Nicholas of Myra, the original Santa Claus, was the patron saint of children, thieves and pawnbrokers.
Based on previous surveys, 17 percent of you will embarrass yourselves in some way at your office Christmas party.
A Mongolian wild ass can run 8 mph faster than a reindeer.
It's Donder, not Donner.
Christmas pudding should be stirred from east to west.
56 percent of Americans sing holiday carols to their pets.
53 percent of Americans plan to "re-gift" this year.
1 in 3 men will wait until Christmas Eve to finish their shopping.
1 in 6 men would like to get rid of all the "gift-giving nonsense."
A traditional Christmas dinner in early England was the head of a pig prepared with mustard.
On Christmas Eve in 2001, the Bethlehem Hotel had 208 of its 210 rooms free.
It's "God rest ye merry, gentlemen," not "God rest ye, merry gentlemen."
There are 1.76 billion candy canes produced every year.
Kris Kringel, a man in his 40s, lives in North Pole, Alaska, and delivers pizzas for a living. He drives a 1984 Ford Tempo.
Based on a 1999 estimated population count of North America and Europe, on Christmas Eve of that year Santa Claus had to visit 42,466,666 homes in a 12-hour period -- that's 983 homes per second.
Submitted by Jay, Long Island, NY.
Return to: Top of Page, Christmas Joke List, My Little Sister's Jokes,
---
The History of the Christmas Carol

What in the world do leaping lords, French hens, swimming swans, and especially that partridge who won't come out of the pear tree have to do with Christmas?

From 1558 until 1829, Roman Catholics in England were not allowed to practice their faith openly.? Someone during that era wrote this carol as a catechism song for young Catholics.? It has two levels of meaning; the surface meaning, plus a hidden meaning known only to members of their church.? Each element in the carol has a code word for a religious reality, which the children could remember.
The partridge in a pear tree was Jesus Christ.
Two turtle doves were the Old and New Testaments.
Three French hens stood for faith, hope and love.
The four calling birds were the four gospels of Matthew, Mark, Luke, and John.
The Five golden rings recalled the Torah or Law, the first five books of the Old Testament.
The six geese a-laying stood for the six days of creation.
Seven swans a-swimming represented the sevenfold gifts of the Holy Spirit: Prophesy, Serving, Teaching, Exhortation, Contribution, Leadership, and Mercy.
The eight maids a-milking were the eight beatitudes.
Nine ladies dancing were the nine fruits of the Holy Spirit: Love, Joy, Peace, Patience, Kindness, Goodness, Faithfulness, Gentleness and Self-control.
The ten lords a-leaping were the Ten Commandments.
Eleven pipers piping stood for the eleven faithful disciples.
Twelve drummers drumming symbolized the twelve points of belief in the Apostles' Creed.
So there is your history lesson for today and now you know how that strange song became a Christmas Carol!
Submitted by Tom, Gettysburg, Pa.

Return to: Top of Page, Christmas Joke List, My Little Sister's Jokes,
---
Father Christmas: An Engineer's Perspective
There are approximately 2 billion children in the world. Since Santa does not visit Muslim, Hindu, Jewish or Buddhist children, this reduces the workload to 15 per cent of the total, or 378 million. At an average (census) rate of 3.5 children per household, that comes to 108 million homes.

Thanks to the different time zones and the rotation of the earth, Santa has about 31 hours to work with. This works out to 967.7 visits per second and a total trip of 75.5 million miles. So Santa's sleigh has to move at 650 miles per second.

Assuming that each child gets only a medium-sized Lego set (2lb), the sleigh is carrying more than 500,000 tons. A reindeer can pull no more than 300lb. Even if the "flying" reindeer could pull ten times that, Santa would need 360,000 of them. This increases the payload another 54,000 tons.

600,000 tons traveling at 650 miles per second creates enormous air resistance. The lead pair of reindeer would absorb 14.3 quintillion joules of energy per second each; they would burst into flames almost instantaneously, creating deafening sonic booms in their wake. The entire reindeer team would be vaporized within 4.26 thousandths of a second, or about the time Santa reaches the fifth house on his trip. Not that it matters, however, since Santa would be subjected to a centrifugal force of 17,500 Gs. A 250lb Santa (which seems ludicrously light) would be pinned to the back of the sleigh by 4,315,015lb of force, instantly crushing his bones and organs.

Therefore, if Santa did exist, he's dead now
Submitted by Dave, Bolder, Co.

Return to: Top of Page, Christmas Joke List, My Little Sister's Jokes,
---
The Department of Defense is going to assist Santa with the Twelve Days of Christmas ..
Status of acquisitions follows:
Day 1 - Partridge in a pear tree: The Army and Air Force are in the Process of deciding whose area of responsibility Day 1 falls under. Since the partridge is a bird, the Air Force believes it should have the lead. The
Army, however, feels trees are part of the land component command's area of responsibility. After three months of discussion and repeated OpsDeps Tank sessions, a $1M study has been commissioned to decide who should lead this joint program.
Day 2 - Two turtledoves: Since doves are birds, the Air Force claims responsibility. However, turtles are amphibious, so the Navy-Marine Corps team feels it should take the lead. Initial studies have shown that Turtles and doves may have interoperability problems. Terms of reference are being coordinated for a four-year, $10M DARPA study.
Day 3 - Three French Hens: At State Department instigation, the Senate Committee on Foreign Affairs has blocked off-shore purchase of hens, from the French or anyone else. A $6M program is being developed to find an acceptable domestic alternative.
Day 4 - Four Calling Birds: Source selection has been completed, with the contract awarded to AT&T. However, the award is being challenged by a Small Disadvantaged Business.
Day 5 - Five Golden Rings: No available rings meet MILSPEC for gold plating. A three-year, $5M accelerated development program has been initiated.
Day 6 - Six Geese a-Laying: The six geese have been acquired. However, The shells of their eggs seem to be very fragile. It might have been a mistake to build the production facility on a nuclear waste dump at a former Air Force base that was closed under BRAC.
Day 7 - Seven Swans a-Swimming: Fourteen swans have been killed trying to get through the Navy SEAL training program. The program has been put on hold while the training procedures are reviewed to determine why the washout rate is so high.
Day 8 - Eight Maids a-Milking: The entire class of Maids A Milking Training Program at Aberdeen is involved in a sexual harassment suit against the Army. The program has been put on hold pending resolution of the lawsuit. Day 9 - Nine Ladies Dancing: Recruitment of the ladies dancing has been halted by a lawsuit from the "Don't Ask, Don't Tell Association." Members claim they have a right to dance and wear women's clothing as long as they're off duty. Day 10 - Ten Lords a-Leaping: The ten lords have been abducted by terrorists. Congress has approved $2M in funding to conduct a rescue operation. Army Special Forces and a USMC MEU(SOC) are conducting a "NEO-off" competition for the right to rescue.
Day 11 - Eleven Pipers Piping: The pipe contractor delivered the pipes on time. However, he thought DoD wanted smoking pipes. DoD lost the claim Due to defective specifications. A $22M dollar retrofit program is in Process to bring the pipes into spec.
Day 12 - Twelve Drummers Drumming: Due to cutbacks only six billets are available for drumming drummers. DoD is in the process of coordinating an RFP to obtain the six additional drummers by outsourcing; however, funds will not be available until FY 05.
As a result of the above-mentioned programmatic delays, and due to a High OPTEMPO that requires diversion of modernization funds to support Current readiness, Christmas is hereby postponed until further notice.
Submitted by Don, Hagerstown, Md.

Return to: Top of Page, Christmas Joke List, My Little Sister's Jokes,
---
Larry the Cable Guy's version of 'twas the night before Christmas - Download Video
Submitted by Mary Jo, Emmitsburg, Md.

Return to: Top of Page, List of Audio/Videos, My Little Sister's Jokes,
---
Fire Rainbow
The rarest of all naturally occurring atmospheric phenomena. Clouds have to be cirrus, at least 20k feet in the air, With just the right amount of ice crystals and the sun has to hit the clouds at precisely 58 degrees.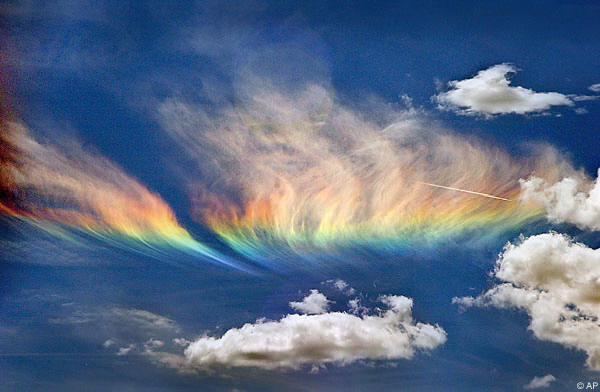 Submitted by former Emmitsburg Mayor Ed

Return to: Top of Page, List of Photos, My Little Sister's Jokes,
---