A humorous look at marriage, life and getting old ...
The woman applying for a job in a Florida lemon grove seemed way too qualified for the job. "Look Miss," said the foreman, "have you any actual experience in picking lemons?"
"Well, as a matter if fact, yes!" she replied. "I've been divorced three times."

An old man goes to the Wizard to ask him if he can remove a curse he has been living with for the last 40 years. The Wizard says, "Maybe, but you will have to tell me the exact words that were used to put the curse on you."
The old man says without hesitation, "I now pronounce you man and wife."

I was in the express lane at the store quietly fuming. Completely ignoring the sign, the woman ahead of me had slipped into the check-out line pushing a cart piled high with groceries. Imagine my delight when the cashier beckoned the woman to come forward looked into the cart and asked sweetly, "So which six items would you like to buy?" Wouldn't it be great if that happened more often?

Because they had no reservations at a busy restaurant, my elderly neighbor and his wife were told there would be a 45-minute wait for a table.
"Young man, we're both 90 years old," the husband said . "We may not have 45 minutes." They were seated immediately.

All eyes were on the radiant bride as her father escorted her down the aisle. They reached the altar and the waiting groom; the bride kissed her father and placed something in his hand. The guests in the front pews responded with ripples of laughter. Even the priest smiled broadly. As her father gave her away in marriage, the bride gave him back his credit card.

John was on his deathbed and gasped pitifully. "Give me one last request, dear," he said.
"Of course, John," his wife said softly.
"Six months after I die," he said, "I want you to marry Bob."
"But I thought you hated Bob," she said.
With his last breath John said, "I do!"

A man goes to see the Rabbi "Rabbi, something terrible is happening and I have to talk to you about it." The Rabbi asked, "What's wrong?"
The man replied, "My wife is poisoning me."
The Rabbi, very surprised by this, asks, "How can that be?"
The man then pleads, "I'm telling you, I'm certain she's poisoning me, what should I do?"
The Rabbi then offers, "Tell you what. Let me talk to her, I'll see what I can find out and I'll let you know."
A week later the Rabbi calls the man and says, "Well, I spoke to your wife. I spoke to her on the phone for three hours. You want my advice?"
The man said yes and the Rabbi replied, "Take the poison"
Submitted by Donna, Emmitsburg, Md.

Return to: Top of Page, List of Jokes About Marriage, My Little Sister's Jokes,
---
Actual Answers From Students On Music Exams
The principal singer of nineteenth century opera was called preMadonna.
Gregorian chant has no music, just singers singing the same lines.
Sherbet composed the Unfinished Symphony.
All female parts were sung by castrati. We don't know exactly what they sounded like because there are no known descendants.
Young scholars have expressed their rapture for the Bronze Lullaby, the Taco Bell Cannon, Beethoven's Erotica, Tchaikovsky Cracknutter Suite, and Gershwin's Rap City in Blue.
Music sung by two people at the same time is called a duel; if they sing without music it is called Acapulco.
A virtuoso is a musician with real high morals.
Contralto is a low sort of music that only ladies sing.
Probably the most marvelous fugue was the one between the Hatfields and the McCoys.
A harp is a nude piano.
Refrain means don't do it. A refrain in music is the part you'd better not try to sing.
I know what a sextet is but I'd rather not say.
My favorite composer was Opus. Agnus Dei was a woman composer famous for her church music.
Johann Sebastian Bach wrote a great many musical compositions and had a large number of children. In between he practiced on an old spinster which he kept up in his attic.
Rock Monanoff was a famous postromantic composer of piano concerti.
Return to: Top of Page, List of Humorous Sayings, My Little Sister's Jokes,
---
Two deaf men were in a coffee shop discussing their wives.

One signs to the other, 'Boy was my wife mad at me last night. She went on and on and wouldn't stop!'

The other Buddy says, 'When my wife goes off on me I just don't listen.'

'How do you do that?' says the other.

'It's easy! I turn off the light!'

Submitted by Kenneth, Shropshire, England

Return to: Top of Page, Clean Joke List, My Little Sister's Jokes,
---
As I grow in age, I value women who are over 30 most of all. Here are just a few reasons why:
A woman over 30 will never wake you in the middle of the night to ask, "What are you thinking?" She doesn't care what you think.
If a woman over 30 doesn't want to watch the game, she doesn't sit around whining about it. She does something she wants to do.
And, it's usually something more interesting.
A woman over 30 knows herself well enough to be assured in whom she is, what she is, what she wants and from whom. Few women past the age of 30 give a hoot what you might think about her or what she's doing.
Women over 30 are dignified. They seldom have a screaming match with you at the opera or in the middle of an expensive restaurant.
Of course, if you deserve it, they won't hesitate to shoot you, if they think they can get away with it.
Older women are generous with praise, often undeserved They know what it's like to be unappreciated.
A woman over 30 has the self-assurance to introduce you to her women friends. A younger woman with a man will often ignore even her best friend because she doesn't trust the guy with other women.
Women over 30 couldn't care less if you're attracted to her friends because she knows her friends won't betray her.
Women get psychic as they age. You never have to confess your sins to a woman over 30. They always know.
A woman over 30 looks good wearing bright red lipstick. This is not true of younger women.
Once you get past a wrinkle or two, a woman over 30 is far sexier than her younger counterpart.
Older women are forthright and honest. They'll tell you right off if you are a jerk & if you are acting like one! You don't ever have to wonder where you stand with her.
Yes, we praise women over 30 for a multitude of reasons. Unfortunately, it's not reciprocal. For every stunning, smart, well-coiffed hot woman of 30+, there is a bald, paunchy relic in yellow pants making a fool of himself with some 22-year-old waitress.
Submitted by Andy, Gettysburg, Pa.

Return to: Top of Page, List of Jokes About Men, My Little Sister's Jokes,
---
Recent Quips from Late Night - Take 37
"Scooter Libby was found guilt of perjury, obstruction, and making false statements -- or, as the White House calls it, a press conference." --Bill Maher

"Yesterday, I. Lewis Libby, a.k.a. 'The Scooter', the vice president's chief of staff found guilty on four of five counts ranging from obstruction of justice to lying to a grand jury. Yes, we got the guy -- the one-man cancer on this White House has been removed." --Jon Stewart

"There's a bipartisan commission now who's looking into what's going on at Walter Reed. They're about to make recommendations about the conditions there. The conditions? It's a Taco Bell franchise. There's mold and rats. Recommendations? How about a bucket and mop?" --Bill Maher

"Another horrible day for the stock market. It went down another 100 points. In fact, the only company to make money was the Tennessee power company that sells electricity to Al Gore." --Jay Leno

"The other day an American Airlines employee tried to let former Vice President Al Gore bypass airport security, but guards stopped Gore and made him go through the metal detector. The head of security said, 'We had to search Al Gore. He could have been armed with a speech.'" --Conan O'Brien

"While he was there, Bush did an interview with the Brazilian press and he said the most difficult decision a president could ever make is sending troops into harm's way. But enough about Walter Reed." --Bill Maher
Submitted by Kenneth, Shropshire, England

Return to: Top of Page, List of Political Jokes, My Little Sister's Jokes,
---
US Military Prepares for democrat cutbacks...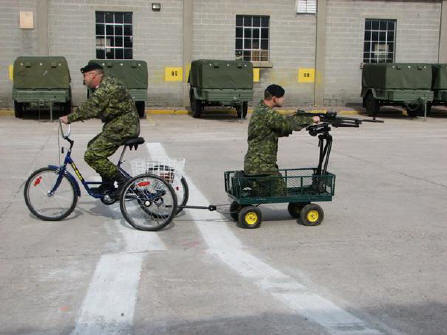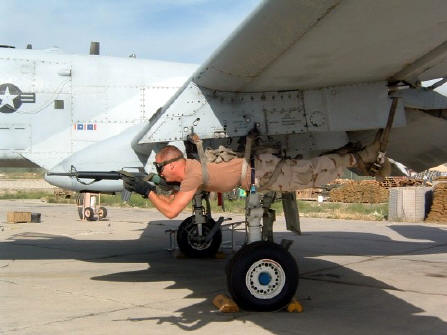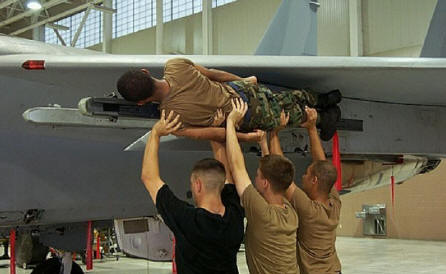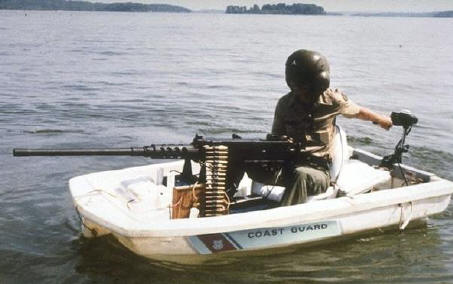 Submitted by Don, Hagerstown, Md.
Return to: Top of Page, List of Photos, My Little Sister's Jokes,
---