A husband and wife were going away for a long weekend.
They made sure the parrot's cage was well watered and seeded and there was enough food left outside for their cat, because if they left her inside, she would try to get at the bird.
The taxi they were taking to the airport arrived, and as they left the house with their luggage the cat streaked inside.
"Damn," said the man, "you wait for me, I won't be a minute." He went back in, chased the cat around the family room before it headed up the stairs to the bedroom.
His wife got in the taxi and noticed the driver was a rather unsavoury looking character, so rather than let him know the house was going to be empty for a few days, she said "My husband won't be a minute, he's just seeing that his elderly mother is comfortable."
A few minutes later he got into the taxi and said "I had to push her out from under the bed with a coat hanger. Well, her claws are so sharp I finally had to wrap a towel around her before throwing her into the backyard."
The taxi driver ran into a parked car.
Submitted by Lindsey, Melbourne, Australia

Return to: Top of Page, Clean Joke List, My Little Sister's Jokes,
---
Three vampires walk into a bar and sit down at a table.
The waitress comes over and asks the first vampire what he would like. The first vampire responds, "I vould like some blood."

The waitress turns to the second vampire and asks what he would like. The vampire responds, "I vould like some blood."

The waitress turns to the third vampire and asks what he would like. The vampire responds, "I vould like some plasma."

The waitress looks up and says, "Let me see if I have this order correct. You want two bloods and a blood light?"
Submitted by Kenneth, Shropshire, England

Return to: Top of Page, Groaner Joke List, My Little Sister's Jokes,
---
Questions to ponder over first cup of coffee of the day ....
Why is the third hand on the watch called the second hand?
If a word is misspelled in the dictionary, how would we ever know?
If Webster wrote the first dictionary, where did he find the words?
Why do we say something is out of whack? What is a whack?
Why does "slow down" and "slow up" mean the same thing?
Why does "fat chance" and "slim chance" mean the same thing?
Why do "tug" boats push their barges?
Why do we sing "Take me out to the ball game" when we are already there?
Why are they called "stands" when they are made for sitting?
Why is it called "after dark" when it really is "after light"?
Doesn't "expecting the unexpected" make the unexpected expected?
Why are a "wise man" and a "wise guy" opposites?
Why do "overlook" and "oversee" mean opposite things?
Why is "phonics" not spelled the way it sounds?
If all the world is a stage, where is the audience sitting?
If love is blind, why is lingerie so popular?
If you are cross-eyed and have dyslexia, can you read all right?
Why is bra singular and panties plural?
Why do we put suits in garment bags and garments in a suitcase?
How come abbreviated is such a long word?
Why do we wash bath towels? Aren't we clean when we use them?
Why doesn't glue stick to the inside of the bottle?
Why do they call it a TV set when you only have one?
Christmas - What other time of the year do you sit in front of a dead tree and eat candy out of your socks?
Submitted by Eleanor, San Francisco, Calif.

Return to: Top of Page, List of Humorous Sayings, My Little Sister's Jokes,
---
A Japanese car company (Any) and an American car company ...
... decided to have a canoe race on the Missouri River. Both teams practiced long and hard to reach their peak performance before the race. On the big day, the Japanese won by a mile.
The Americans, very discouraged and depressed, decided to investigate the reason for the crushing defeat. A management team made up of senior management was formed to investigate and recommend appropriate action.
Their conclusion was the Japanese had 8 people rowing and 1 person steering, while the American team had 8 people steering and 1 person rowing. So American management hired a consulting company referred to them by the US Government and paid them a large amount of money for a second opinion.
The consultants advised that too many people were steering the boat, while not enough people were rowing. To prevent another loss to the Japanese, the rowing team's management structure was totally reorganized into 3 steering supervisors, 1 area steering superintendents, 1 publicity manager, 1 HR diversity coordinator, 1 union rep, and a rower.
They also implemented a new performance system that would give the 1 person rowing the boat greater incentive to work harder. It was called the "Rowing Team Quality First Program", with a lunch and a free company pen for the rower. There was discussion of getting new paddles, canoes, and other equipment, extra vacation days for practices and performance-tied bonuses but that decision was held up in committee.
The next year the Japanese won by two miles.
Humiliated, the American management laid off the rower for poor performance, halted development of a new canoe, sold the paddles, and canceled all capital investments for new equipment. The money from all sales and all forecasted moneys saved from further competition was distributed to the Senior Executives as bonuses and the next year's racing team was out-sourced to India.
The End.
Submitted by Bill, Ardmore, Pa.

Return to: Top of Page, List of Jokes about Work, My Little Sister's Jokes,
---
Ever wonder what happened to Mad Magazine's Alfred E. Newman?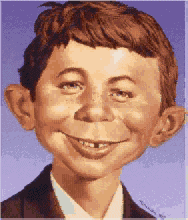 Submitted by Dick, Williamsport, Md.

Return to: Top of Page, List of Photos, My Little Sister's Jokes,
---